Jerry Perenchio, Former Head Of Univision, Dead At 86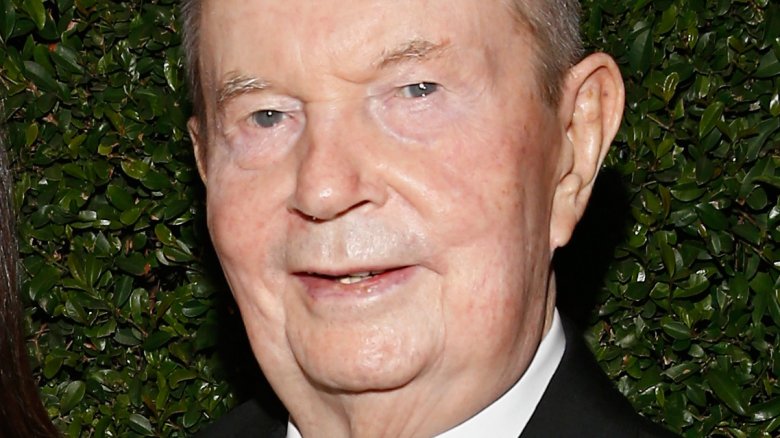 Getty Images
Distinguished Hollywood dealmaker and one-time head of Univision Jerry Perenchio has died. Variety confirms Perenchio passed away on Tuesday, May 23 of lung cancer in his Bel Air, California home. He was 86. 
Born A. Jerrold Perenchio, the former talent agent, promoter, and television executive came from a family of vintners; his grandfather even founded the Fresno Grape Exchange and the Crestview Winery. But Perenchio never acquired a taste for the wine industry. Instead, he attended a high school in Los Angeles, taking an interest in entertainment. 
Perenchio later attended the University of California, Los Angeles for five-and-a-half years. During his studies, Perenchio founded a company called Party Management, which booked bands and catered events for colleges in the LA area. He earned his B.S. in Business in 1954, and later served in the U.S. Air Force as a fighter pilot. Perenchio was honorably discharged in 1958, after earning his wings as a single-engine pilot and receiving a promotion to 1st Lieutenant. 
Perenchio kick-started career in show business in working for Hollywood mogul Lew Wasserman, manager of the Music Corporation of America. He worked in the mailroom, then moved up the ranks to become a talent agent.
In 1963, Perenchio founded Chartwell Artists, his very own talent agency. Clients of Chartwell Artists included actors like Elizabeth Taylor, Marlon Brando, and Richard Burton as well as musicians like Henry Mancini, Glen Campbell, Johnny Mathis, and the Righteous Brothers.
Perenchio was also a business partner of TV writer and producers Norman Lear and Bud Yorkin. The three worked together at Tandem Productions on series like The Jeffersons and One Day at a Time. Perenchio amassed an impressive fortune from these massive '70s TV hits, due in large part to the sale of the series into syndication.
Perenchio's clout also stretched to the sports world. He and co-promoted Jack Kent Cooke financed the first of boxer Muhammad Ali's matches against Joe Frazier, including the March 1971 match-up at New York's Madison Square Garden that guaranteed a $5 million purse. In September 1973, Perenchio orchestrated the "Battle of the Sexes" tennis match between Billie Jean King and Bobby Riggs. A film based on the historic sports showdown, titled Battle of the Sexes, is set for release this September. Perenchio went on to promote Oscar "The Golden Boy" de la Hoya, the East LA-bred former pro boxer.    
In 1992, Perenchio acquired Univision, the Spanish-language TV network, from greeting-card company Hallmark. The deal was made for a mere $550. Fifteen years later, in 2007, Perenchio sold Univision to a Haim Saban-led consortium for $13.7 billion. 
Despite his status in the TV industry, Perenchio wasn't fond of the media and rarely sat down for interviews. "I really don't want my name in the g****** paper," Perenchio once told a Los Angeles Times reporter (via Variety). "I really don't mean to be rude. I just don't want to give out interviews. I just hate them."
But he wasn't a recluse. Perenchio was an avid political donor, fundraiser, and philanthropist. In 2014, Perenchio announced that his $500 million art collection would be given to the Los Angeles County Museum of Art upon his passing. Last year, Forbes (via Variety) estimated his net work at a whopping $2.6 million. 
Perenchio is survived by his wife, Margaret.