Emma Stone, Steve Carell's Battle Of The Sexes Hits Theaters In September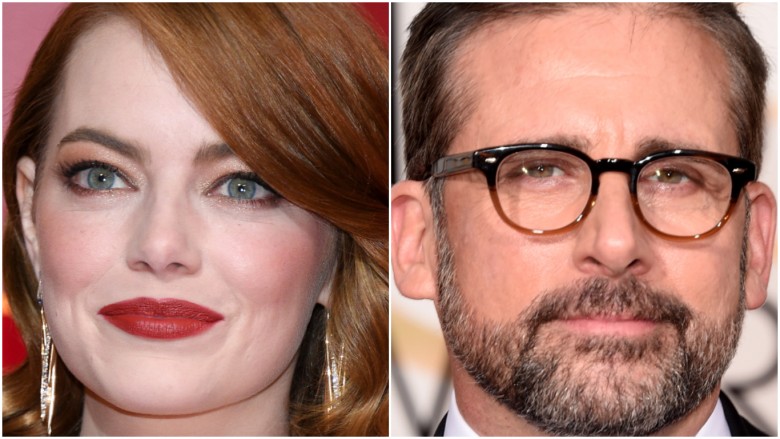 Getty Images
Fans will get to see more of the La La Land darling and the actor who played everyone's favorite blundering office manager in the upcoming sports comedy-drama flick, Battle of the Sexes.
Fox Searchlight confirms (via The Hollywood Reporter) that Battle of the Sexes will debut in theaters on September 22. Based on the gripping, real-life story of tennis professionals Billie Jean King and Bobby Riggs—played by Emma Stone and Steve Carell, respectively—in the wake of their heated and historic 1973 match, Battle of the Sexes is set to explore not only what became the "most watched television sports event of all time," but also the conversations and controversies that came afterward.
The match around which the film centers incited a new wave of feminism and motivated people to discuss gender equality, but it also impacted King and Riggs on a personal level. Where King struggled with both receiving equal pay in the professional world and with her sexual identity, Riggs had trouble preserving his reputation as a tennis player and proving he was still as skilled as he was in his glory days.
Joining Stone as the former tennis World number one and Carell as the "ex-champ and serial hustler" are a slew of talented actors, including Alan Cumming, Andrea Riseborough, Elizabeth Shue, Austin Stowell, and Sarah Silverman. The Jonathan Dayton and Valerie Faris-directed flick works off a script penned by Simon Beaufoy, and is produced by Danny Boyle (Trainspotting, 28 Days Later), Christian Colson (Slumdog Millionaire), and Robert Graf. It'll find box office competition with Granite Mountain from Lionsgate and The LEGO Ninjago Movie from Warner Bros.
While we wait to see Stone in Battle of the Sexes, check out the secret behind why we never got to see more of her as Gwen Stacy (even in a flashback!) with what really happened with The Amazing Spider-Man 3.