Netflix December 2021 - The Best New Movies And TV Shows To Watch
The start of a new month brings many things. It's time to pay rent and a prime opportunity to look ahead to see what holidays you'll have off from work in the near future. The first of the month also means there's a brand new batch of movies and TV shows making their way onto Netflix, so now's ideal to schedule what you'll be binge-watching for the next 31 days. 
December is the holiday season, and while there's much to look forward to, you'll also likely be very busy. From shopping for presents for loved ones to planning what you'll bring to the family potluck, it may feel like you're being pulled in a thousand different directions coming up. When you have some time just to relax, it's essential to do so with your favorite series or film. From Netflix originals to old classics, the streaming platform has a little something for everyone, and you won't want to miss out on the next "Squid Game."
A bunch of great new shows drop on Netflix in December
Netflix has no shortage of original shows coming to the service in December 2021, and the platform's been on a bit of a hot streak as of late. "Squid Game" has dominated the pop culture conversation for several weeks now, and anime fans can't help but discuss the live-action adaptation of "Cowboy Bebop." Which will be the breakout hit of December? There are a couple of worthwhile contenders to keep in the back of your mind.
It should come as no surprise that the holidays can become stressful quickly. When you just need to kick back and unwind, you can do so with the latest season of "The Great British Baking Show: Holidays." It's not as intense as other cooking shows out there, and you can get some ideas for what to bring to your next family gathering. 
Of course, if you don't mind something a bit tenser, the second part of "Money Heist" Season 5 will debut on December 3. But that's really just the tip of the iceberg. Here's what else to expect from Netflix going into the next month. 
December 1
Lost in Space: Season 3
Are You The One: Season 3
JoJo's Bizarre Adventure: STONE OCEAN
December 2
Coyotes
December 3
Coming Out Colton
Money Heist: Part 5 Vol 2
The Great British Baking Show: Holidays: Season 4
December 9
Bonus Family: Season 4
December 10
Aranyak
How To Ruin Christmas: The Funeral
Twentysomethings: Austin
Saturday Morning All Star Hits!
December 11
The Hungry and the Hairy
December 15
Selling Tampa
December 16
Aggretsuko: Season 4
December 17
The Witcher: Season 2
December 18
Bulgasi: Immortal Souls
December 19
What Happened in Oslo
December 20
Elite Short Stories: Samuel Omar
December 22
Emily in Paris: Season 2
December 23
Elite Short Stories: Patrick
December 24
The Silent Sea
December 25
Single's Inferno
December 29
Anxious People
December 30
Kitz
December 31
Cobra Kai: Season 4
Queer Eye: Season 6
Stay Close
Coming Soon
Decoupled
Netflix goes all in on Christmas movies for 2021
December means one thing — every channel known to humankind busts out holiday specials, new and old, to get you into the festive spirit. The likes of The Hallmark Channel and Lifetime may think they have a cornerstone on that market, but Netflix is quickly making headway. Many Christmas titles are coming to the platform in the next 31 days, and most of them are appropriate to watch with the entire family. When you need a break from opening presents, you can relax with a low-stakes flick where you know there's going to be a happy ending.
A few of the movies you'll want to keep on your radar if you love a good holiday film include "Single All the Way," "David and the Elves," and "A California Christmas: City Lights." Each title may be different in its own unique way, but you can be relatively certain there will be ample fare where attractive people fall in love set against a snowy backdrop. But if holiday movies aren't your thing, then never fear! Netflix has a ton of other original movies coming out this month that have nothing to do with the reason for the season.
December 1
The Power of the Dog
December 2
Single All The Way
The Whole Truth
December 3
Cobalt Blue
Mixtape
December 6
David and the Elves
December 9
Asakusa Kid
December 10
Anonymously Yours
Back to the Outback
Still Out of My League
Two
The Unforgivable
December 15
The Hand of God
December 16
A California Christmas: City Lights
A Naija Christmas
December 21
Grumpy Christmas
December 24
1000 Miles from Christmas
Don't Look Up
Minnal Murali
STAND BY ME Doraemon 2
Vicky and Her Mystery
December 26
Lulli
December 31
The Lost Daughter
Seal Team
Original documentaries and comedy specials will fill you with glee
Just when you thought Netflix couldn't possibly offer anything more, there's an array of original documentaries and comedy specials to bear in mind. One of the most highly anticipated docs making its way to the platform offers a behind-the-scenes look of "Money Heist" and the making of Season 5, Volume 2. "Money Heist" has remained one of the platform's most beloved original series, an impressive feat for a non-English language title. Seeing how Volume 2 marks the end of the series, it only seems appropriate for Netflix to make it go out with a bang, giving audiences a glimpse into the making of this title that they may not have seen before.
When you need a good laugh, a few comedy specials are coming out in December 2021 to put on your watchlist. Most notably, Jimmy Carr has a new special titled "His Dark Material" coming out on Christmas Day. Just make sure you put the kids to bed before cuing that one up, as Carr's humor is notorious for being a bit blue.
December 3
Money Heist: From Tokyo to Berlin: Volume 2
December 6
Voir
December 7
Nicole Byer: BBW (Big Beautiful Weirdo)
December 8
Carolin Kebekus: The Last Christmas Special
December 9
The Family That Sings Together: The Camargos
December 14
Russell Howard: Lubricant
December 16
Puff: Wonders of the Reef
December 21
Jim Gaffigan: Comedy Monster
December 25
Jimmy Carr: His Dark Material
Stories of a Generation – with Pope Francis
December 29
Crime Scene: The Times Square Killer
Netflix is the place for families this December
The holidays are a time to come together as a family. What do you most enjoy doing with the people closest to you? For some people, family time may involve hiking or looking at Christmas decorations around the neighborhood. For others, the family gathers around the television set to check out the latest buzz on social media. Luckily, Netflix makes it easy to navigate family-friendly viewing choices so that you don't accidentally put on some Jimmy Carr while the kids are around.
One of the most exciting offerings the streaming service has for December is the next season of "Jurassic World: Camp Cretaceous." The show may have begun during the events of "Jurassic World," but it's carved out an intriguing niche for itself within the franchise. From last season, it appeared as though the main kids finally found a way off the island, but it seems as though the dinosaurs lurking about aren't entirely done with them yet as more episodes are on the horizon. 
Here's what else will make for worthwhile viewing when you want something everyone can enjoy.
December 1
Kayko and Kokosh
Kayko and Kokosh: Season 2
December 3
Jurassic World Camp Cretaceous: Season 4
Shaun the Sheep: The Flight Before Christmas
December 7
Centaurworld: Season 2
Go Dog Go: Season 2
December 14
StarBeam: Beaming in the New Year
December 17
Fast & Furious Spy Racers: Season 6: Homecoming
December 28
World Party Presents: Math!
Netflix will have plenty of classic movies and TV shows, as well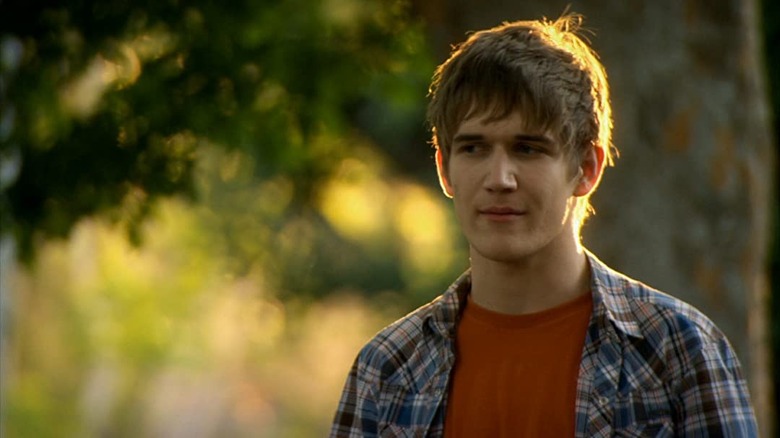 MTV
You would think the plethora of Netflix original content would be enough for most platforms and their viewing bases. It turns out Netflix was just getting started with the likes of "Money Heist" and "Jurassic World: Camp Cretaceous." There's also a ton of pre-existing content finally coming to the streaming service, and it's bound to put a smile on your face when you see what will soon be readily accessible at your fingertips. 
There's a little something for everyone on deck. Hardcore science-fiction fans can look forward to the time-bending "Looper" coming to the platform, while horror enthusiasts have multiple "Final Destination" films entering the mix. One of the biggest hits for Netflix in 2021 was Bo Burnham's stand-up special, "Inside," and it looks like the platform's striking while the iron's hot. On Christmas Eve, Netflix acquires Burnham's short-lived and criminally-underrated MTV series "Zach Stone Is Gonna Be Famous," so you can see what the comedian was like before he was associated so closely with Jeffrey Bezos.
December 1
Are You The One: Season 3
Blood and Bone
Body of Lies
Bordertown: Mural Murders
Chloe
Chocolat
Closer
Death at a Funeral
Dr. Seuss' The Cat in the Hat
The Final Destination
Final Destination 3
Final Destination 5
Fool's Gold
The Fourth Kind
Ink Master: Seasons 3 & 4
Knight Rider 2000
Knight Rider: Seasons 1-4
Law Abiding Citizen
The Legend of Zorro
Life
Looper
The Mask of Zorro
Minority Report
Pet Sematary (1989)
Premonition
Sabrina (1995)
Soul Surfer
Stepmom
Stuart Little 2
Sucker Punch
Think Like a Man
Tremors
We Were Soldiers
Wild Things
Wyatt Earp
December 2
The Alpinist
December 9
Bathtubs Over Broadway
December 10
The Shack
December 11
Fast Color
December 13
Eye in the Sky
December 14
The Future Diary
December 15
Black Ink Crew New York: Seasons 3-4
The Challenge: Season 12
The Challenge: Season 25
The Giver
Masha and the Bear: Nursery Rhymes: Season 1 Part 2
Masha and the Bear: Season 5
Teen Mom 2: Seasons 3-4
December 16
Darkest Hour
December 18
Oldboy
December 24
Zach Stone Is Gonna Be Famous
In with the new, out with the old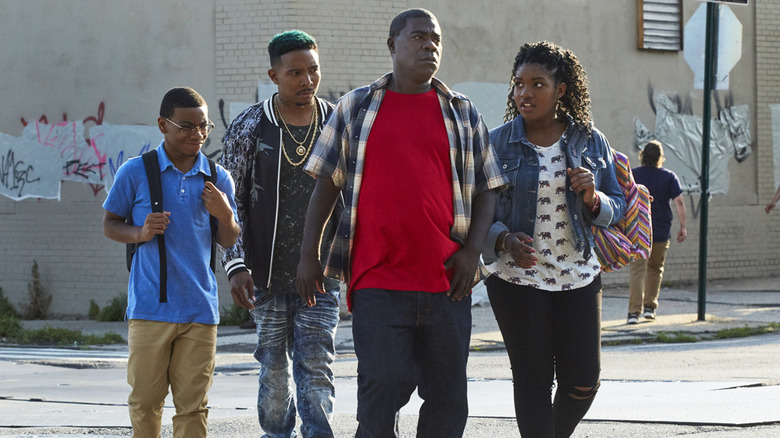 TBS
Of course, with such a plethora of titles making their way onto Netflix, some room has to be made somewhere. As is the case with every month, audiences have to say goodbye to some films and TV shows, but you at least have a little extra time to catch them before they're gone. 
Anyone looking for a good laugh will definitely want to tune in to "The Last O.G." before it leaves on December 3. Tracy Morgan's hit show earned rave reviews, and Morgan is just as funny as ever compared to his days on "Saturday Night Live." On the movie side of things, now's the perfect time to check out the likes of "A Cinderella Story," "American Gangster," and "Spy Kids." One of the biggest movies of all time, "Titanic," is also destined for the Netflix exit cue, as it's leaving at the end of December. That's just a small list of the influential titles leaving that deserve your attention because you never know when, or if, they'll return to Netflix down the road.
December 3
The Last O.G.: Seasons 1-2
December 4
The Guest
December 7
Before I Fall
December 8
It Comes at Night
Mariah Carey's Merriest Christmas
December 13
Halt and Catch Fire: Seasons 1-4
Fifty: The Series: Seasons 1-2
Saint Seiya: Seasons 1-6
December 15
Lee Daniels' The Butler
Maps to the Stars
The Theory of Everything
December 21
Jacob's Ladder
Private Practice: Seasons 1-6
December 25
Captain Fantastic
December 30
Winchester
December 31
A Cinderella Story
American Gangster
Beethoven
Beethoven's 2nd
Charlie's Angels
Cold Mountain
Defiance
The Devil Inside
Do the Right Thing
Don't Be a Menace to South Central While Drinking Your Juice in the Hood
Double Jeopardy
Forensic Files: Collections 1-9
Fullmetal Alchemist: Brotherhood: Parts 1-5
Fullmetal Alchemist: Season 1
Ghost
Gladiator
The Great British Baking Show: The Beginnings: Season 1
House Party
House Party 2
House Party 3
Lara Croft Tomb Raider: The Cradle of Life
The Last Airbender
Like Crazy
Love Don't Cost a Thing
Love Jones
The Lovely Bones
The Machinist
Magnolia
Memoirs of a Geisha
My Fair Lady
Mystic Pizza
Pan's Labyrinth
Puss in Boots
Rumor Has It... 
Serendipity
Spy Kids
Spy Kids 2: The Island of Lost Dreams
Spy Kids 3: Game Over
Stuart Little
The Strangers
Titanic
Tommy Boy
Underworld
Underworld: Awakening
Underworld: Rise of the Lycans
What a Girl Wants
What's Eating Gilbert Grape
Zodiac