This Red Notice Blooper Reel Will Make You Love The Cast Even More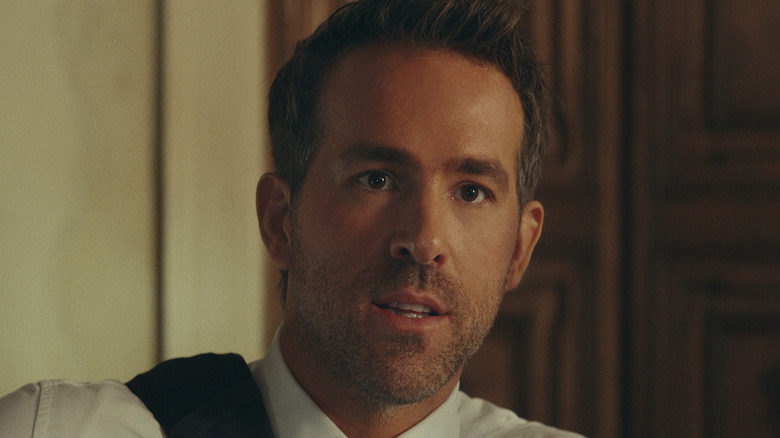 Netflix
Dwayne Johnson and Ryan Reynolds are two of the biggest Hollywood stars, with Reynolds best known for playing the titular character in "Deadpool" and "Deadpool 2." He has also appeared in two major films already this year in "Hitman's Wife's Bodyguard" and "Free Guy." Johnson, who has appeared in the "Fast & Furious" and "Jumanji" films, and is scheduled to appear as the titular character in 2022's DC film "Black Adam," wasn't far behind himself, appearing in "Jungle Cruise" and the TV series "Young Rock," which is based on his own life story.
News that the two of them would team up for a new film thus brought a lot of excitement for fans of both performers. This excitement only increased with the announcement that the film would also star "Wonder Woman" actress Gal Gadot. Titled "Red Notice," the movie revolves around an art thief and an FBI agent who team up to catch a criminal. Recently, Johnson posted a blooper reel for the film, and chances are it'll crack you up as you watch the cast having fun on set.
The cast is unable to stop laughing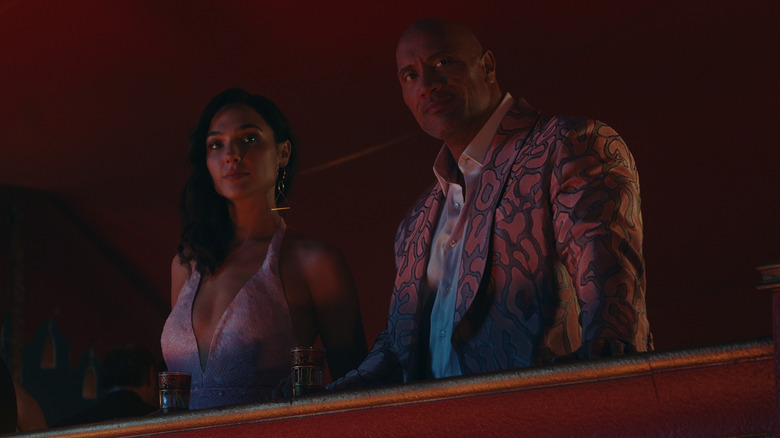 Netflix
The blooper reel, which Dwayne Johnson posted on his Instagram, seems to begin innocuously, as Ryan Reynolds pulls an item out from a crate. But then the prop slips out of his gloved hands, and despite his best efforts, Reynolds is unable to stop it from clattering to the floor, leading to laughs from the crew. Subsequent bloopers show Reynolds causing first Johnson, then Gal Gadot to crack up, with Gadot mildly slapping herself to try to get back into character. Reynolds goes on to point out that his character, Nolan Booth, having a cell phone "creates extraordinary logic problems for the film."
The blooper reel continues to show Gadot flub a line all on her own, Johnson accidentally knock a clapperboard out of a crewmember's hand, a prop security screen coming off its bearings on the wall, and Reynolds flub a line himself. Reynolds also drops a couple of movie references, telling Johnson "Nice job! Real 'Skyscraper' stuff" after Johnson's character John Hartley jumps into a helicopter, and then responding to a question about whether a watch belongs to Booth's father with "No, it's the watch from 'Pulp Fiction.'" After a scene of Reynolds having trouble saying the word "Liechtenstein," the reel ends with a montage of the cast laughing and cheering each other on.
It's clear that the cast had a blast making the film, which was reiterated by Johnson in the accompanying caption. "Red Notice" is currently available on Netflix.