Why Henry Cavill Believes His Superman Arc Is Unfinished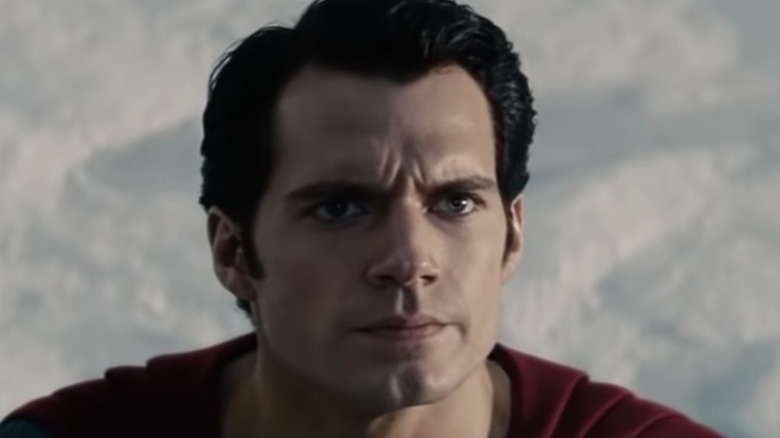 Warner Bros
Henry Cavill first appeared as Superman in 2013's "Man of Steel," a film that many thought would launch the DC Comics heroes into a close competition with the Marvel Cinematic Universe. While "Man of Steel" received mixed reviews, many appreciated Cavill's take on Kal-El, and hoped to see more of him. 
In the time since the release of "Man of Steel," the DC Extended Universe has released a total of 10 films that — in addition to repeated struggles with critics — have simply failed to generate the billions of dollars in box office revenue that executives were likely hoping for, particularly in the case of long-awaited crossovers like "Batman v Superman: Dawn of Justice" (via Box Office Mojo). As a result, the DC film world has suffered from numerous behind-the-scenes shakeups over the years. 
As of this moment, Zack Snyder is no longer involved in DC films, and Ben Affleck is mostly retired from the role of Batman, outside of (presumably) one final appearance in the upcoming multiverse film "The Flash." Additionally, there are a number of other projects set to focus on the famous last son of Krypton without Cavill's involvement, including one where Michael B. Jordan appears primed to take on the role of Val-Zod, an alternate version of Superman. 
In short, the original concept of the Snyderverse, in which Cavill's Superman exists, is in tatters. However, plenty of fans are continuing to ask the question: Will Henry Cavill ever don the red cape again?
Henry Cavill sees Man of Steel and Batman v Superman as the beginning, not the end
In the years since his final appearance as Superman, Cavill has been very open about his hopes to star in another film focused on the comic book hero. In a recent interview with GQ, "Man of Steel" actor Henry Cavill broke down eight of his most iconic characters, with a substantial portion of the video focused on his role as Clark Kent. 
Reflecting on "Man of Steel" and "Batman v Superman," Cavill told GQ, "I was very keen on really fleshing out Superman's early stages of his journey first. We had 'Man of Steel,' and then we went quite a bit darker with 'Batman v Superman.' And if he were to succumb to the Anti-Life Equation and become bad Superman [in 'Justice League' sequels], I really wanted to make sure that we saw the hero Superman and we saw the true symbol of hope, the beacon of light, before we went down the path of darkness and then redemption." 
In that interview, Cavill later added, "It's still something that I'm very keen to flesh out."
Additionally, Cavill recently commented on his potential future as Superman in a recent interview with The Hollywood Reporter. "There is still a lot of storytelling for me to do as a Superman, and I would absolutely love the opportunity," Cavill said. He later commented on the lasting effects that Superman's killing of Zod in "Man of Steel" had on his character, and his hope for what could come next. "He just killed the last remaining member of his species," Cavill told The Hollywood Reporter. "That's the choice he made in that moment, and he'll never do that again. There's an opportunity for growth after that, to explore the psyche of Superman as a deep, seemingly invulnerable god-like being but with real feeling on the inside. As I always say, 'The cape is still in the closet.'"