Tiana - What We Know So Far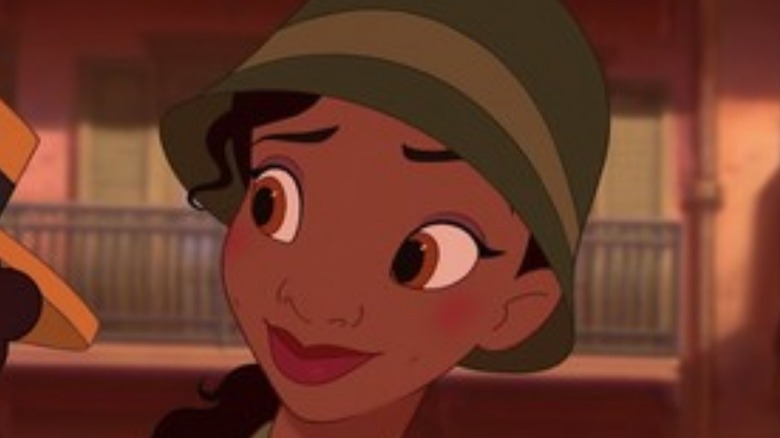 Disney
"The Princess and the Frog" is getting a TV adaptation named "Tiana." Once upon a time, every Disney movie got its own animated series. "The Little Mermaid," "Aladdin," "Hercules," and others all got their adaptations, some of which went unnoticed. Disney's latest big-to-small screen adaptation, "Tiana," will be unique in that it will be the first done by Walt Disney Animation Studios (per The Wrap). As explained by Yesterworld, Disney used to farm out its TV animation to other, cheaper studios. That will not be the case with "Tiana."
Deadline reports that "Tiana" will be helmed by Stella Meghie, who previously wrote and directed "The Photograph" starring Issa Rae and Lakeith Stanfield. She has also directed episodes of "Insecure" and "Grown-ish." Meghie has a proven record of directing young Black women's stories with empathy and flair. It will be interesting to see how her live-action directing skills translate to animation.
Here's everything we know about "Tiana," including when it's coming out, how it connects to "The Princess and the Frog," and more.
When is "Tiana" coming out?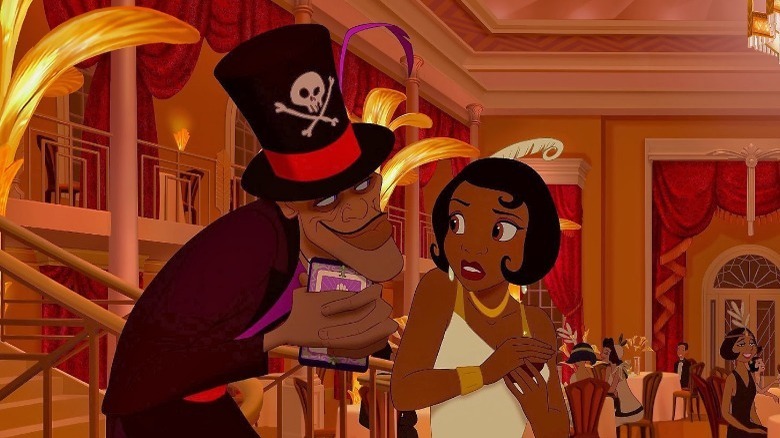 Disney
No firm release date has been given for "Tiana." During Disney+ Day, we learned that the show would come out sometime in 2023. Showrunner Stella Meghie is currently also working on a Whitney Houston biopic, according to The Hollywood Reporter. That film is slated for a Thanksgiving 2022 release, which implies that Meghie will be pretty busy for most of next year
One factor that could affect the show's release is whether the animation will be 2-D or 3-D. "The Princess and the Frog" was one of the last hand-drawn releases from Disney, and although 2-D animation is done primarily with computers nowadays (as exemplified with "The Simpsons"), it's still a very different process than 3-D animation. Initial concept art released for the show echoes the hand-drawn vibe of the 2009 film, but a lot can happen between the concept art stage and a work's final premiere. Wacky comedy "The Emperor's New Groove," for example, started life as a serious period piece a la "Pocahontas" called "Kingdom of the Sun." That film changed characters, tone, animation style, and voice actors when the movie came out, as shown in Sting's wife's documentary "The Sweatbox" (per IndieWire).
What is the plot of Tiana?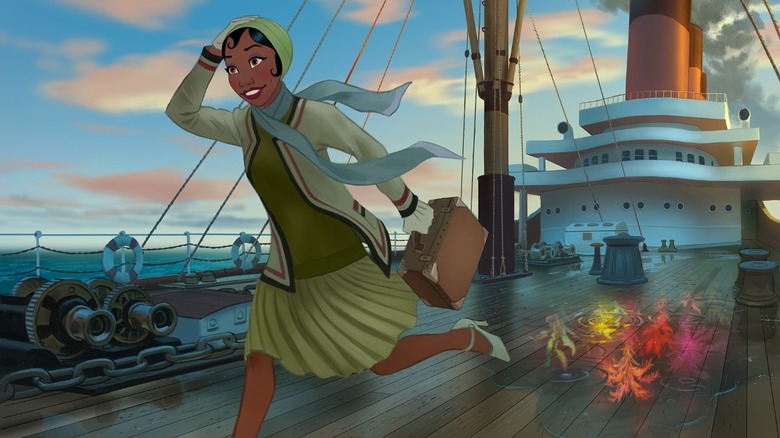 Disney+
Per Deadline, "Tiana" will follow the newly crowned Princess of Maldonia as she sets off for a "grand new adventure." But she will still feel a pull to her Native New Orleans. The first-look art shows Tiana on a steam liner, with magical swirls of color following the excited princess. Combined with the logline, it gives a sense that the magic of Mama Odie will be accompanying Tiana wherever she goes. You can take the girl out of the bayou, but you can't take the bayou out of the girl.
It seems likely that one place Tiana will journey to is Maldonia itself. We never saw the fictional country from which Prince Naveen hails, but we got a vibe check from his parents. While not stuck up, the citizens of Maldonia we met in "The Princess and the Frog" were definitely high society. It seems possible that we'll get a certain amount of fish-out-of-water, using the wrong fork-type misunderstandings with the new princess.
One more detail has been shared about "Tiana:" it's a musical. Like the film that inspired it, "Tiana" is set to feature songs aplenty. Presumably, they will also echo New Orleans-style jazz, just like "The Princess and the Frog," which featured songs by Randy Newman and the Dirty Dozen Brass Band.
What characters are in Tiana?
Disney
There is only one character we know for sure will be in "Tiana" — Tiana herself. But if she is traveling to Maldonia, it seems highly likely that her husband will accompany her for at least some of her journey. She will also most likely spend more time with the King and Queen of Maldonia, who are still rebuilding their relationship with their son.
Presumably left out of this Maldonian reunion will be Lawrence, Naveen's two-timing butler. He ends "The Princess and the Frog" in jail. It's possible Lawrence will step into the Big Bad shoes that Doctor Facilier vacated when he got yanked into the Other Side, but it's equally likely that new foes will be created for the show.
Lotte could possibly accompany Tiana on her journeys. She is still hunting for her prince, and where better to look for him than a grand adventure? But not all of Tiana's friends make sense as travel companions. Louis, the alligator, would probably have trouble at customs unless he wants to pretend to be a gator skin suitcase.