The Real Reason Ashley Youle Left Gold Rush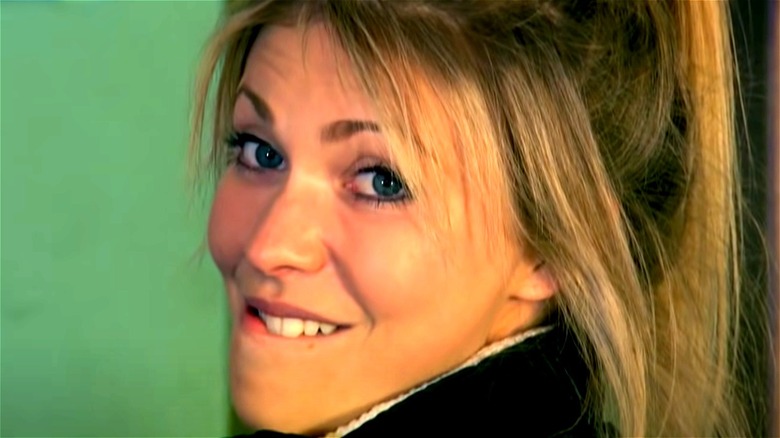 Discovery/Youtube
Now in its 12th season, Discovery Channel's top-rated "Gold Rush" has been through some big events over the years, including monsoons, cast changes, the launch of a spinoff, and plenty of reality-driven drama. Among the show's high-profile moments was the arrival and departure of Ashley Youle, Parker Schnabel's girlfriend. Youle, a veterinary nurse, was introduced as part of the cast during "Gold Rush" Season 7 after meeting Schnabel in Australia in 2016. Following their meeting, he invited her to spend the summer mining with him (via Distractify). In a 2017 Maxim interview, Schnabel commented that "Ashley was a huge help" in helping the "Gold Rush" star settle into the season's Alaskan site. "I don't think she gets quite enough credit for how well the summer went. She is great to be around, she is great for me, and she is just a really cool chick," he concluded.
Unfortunately, Schnabel and Youle's relationship did not last, with the "Gold Rush" girlfriend exiting the show after Season 8. While her involvement in the series overall was minimal while she was there, her appearance did add some intrigue. For example, at one point, the crew started a "Big Kiss Competition" to see who could catch the two showing affection on camera (via YouTube). Schnabel expressed determination to make sure that such a moment was private, even when Youle tried to help the cameramen out by instigating a kiss on camera.
But, Youle was gone by the time Season 9 kicked off in 2018. Then, in 2019, fans commenting on a Gold Rush News YouTube video expressed mixed feelings about her time on the show as well as her departure. If they weren't paying attention, they may not know the real reason behind why Youle left "Gold Rush."
Youle's Gold Rush exit was revealed at the end of season 8
Could the pressures of television, as exemplified in that failed kiss competition, have contributed to the breakup of "Gold Rush" couple Parker Schnabel and Ashley Youle? It's hard to say, but that was not a reason mentioned in the statement that Schnabel made in the Season 8 episode "Win Big or Die Trying," when he revealed that he and Youle and split up (via Inquisitr). "As successful as our season was, there was, for me personally, one pretty big failure," Schnabel related during the episode. "Ashley and I broke up. I just never made the relationship a priority, I didn't make her a priority. And honestly, she deserves a lot better than that"  (via Gold Rush News).
While Schnabel has spoken about the incident publicly, Youle herself has kept a much lower profile. Youle has an Instagram that showcases her love of animals, her fondness for her big brother, and her past travels to places like Costa Rica, London, and Africa (where she volunteered to offer free veterinarian services), but the Melbourne native doesn't post much these days. She appears to have scrubbed all traces of her time in Klondike and with Schnabel from her social media. Additionally, she has never addressed her reasons for leaving the Discovery show. That means Schnabel's version is the only story out there telling what happened. Ultimately, the reason Youle is no longer on "Gold Rush" is her breakup with Schnabel.