Every Version Of The Addams Family Ranked From Worst To Best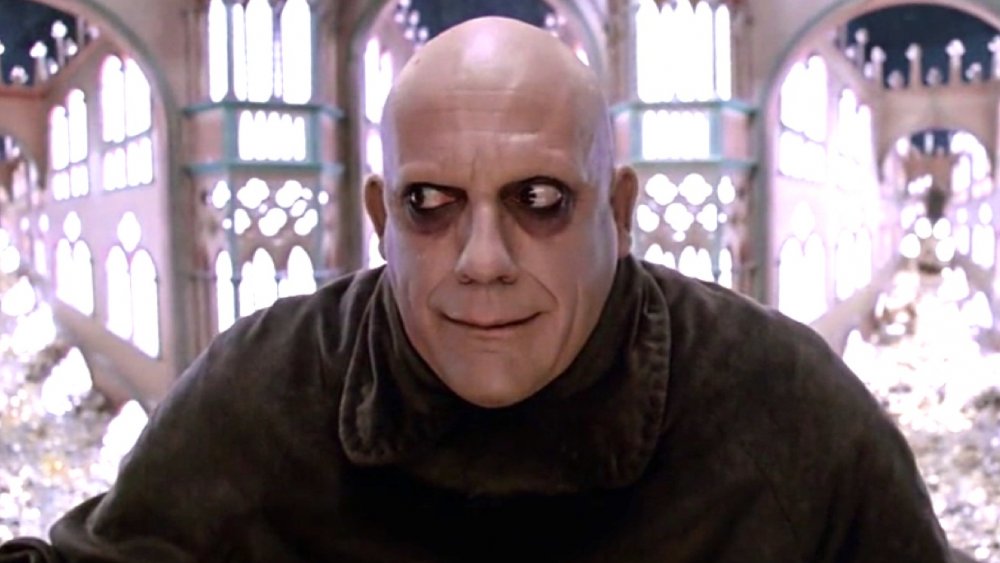 Debuting in 1938 as nameless characters in a New Yorker comic strip by cartoonist Charles Addams, the Addams Family went on to become an unlikely pop culture mainstay. They're just your regular family unit with two parents (Gomez and Morticia) and two kids (Wednesday and Pugsley), plus monstrous Uncle Fester, witchy Grandmama, towering butler Lurch, and a helpful disembodied hand named Thing. 
But despite their distinctive characters, the vibe of the Addams Family is a little tricky to nail down. Are they dead people? Murderers? Ageless ghouls? It's all up for interpretation, which is probably why there have been so many adaptations of the Addams Family over the years. (That, and the fact that they're well-known, well-liked, marketable characters with a distinctive look that prove perpetually popular.) Different TV producers and filmmakers have offered up their own takes on the family — and some have worked a lot better than others. Here, then, is every major Addams Family movie and TV series iteration, ranked in order from worst to best.
8. All those short-lived Addams Family projects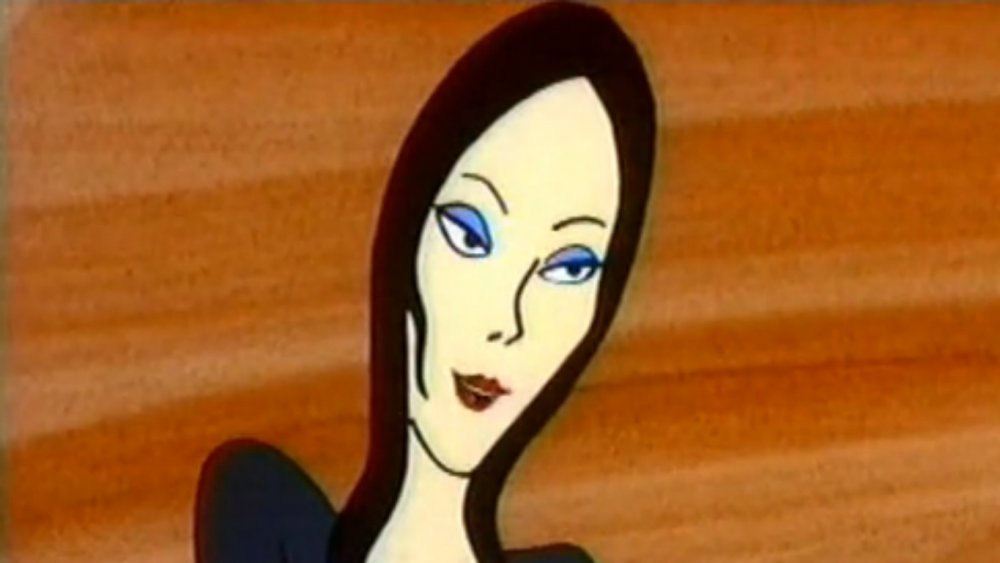 CBS
Outside of their own movies and TV shows, that creepy, kooky, mysterious, and spooky family has occasionally popped up for some very special appearances. 
In 1972, the Addams Family crossed over with Scooby-Doo on an episode of The New Scooby-Doo Movies. The Mystery Machine breaks down outside the Addams Family house, and, in what's probably the darkest plot in the Addams canon, Shaggy and the gang help Gomez and Morticia (voices of John Astin and Carolyn Jones) recover Wednesday Addams, who has been kidnapped for a ransom. Four years later, most of the cast of the 1964-1966 The Addams Family TV series returned for the made-for-TV reunion movie Halloween with the New Addams Family. While it's a little off-putting to see the black-and-white Addams clan in full color, it's fun to see Wednesday (Lisa Loring) and Pugsley (Ken Weatherwax) all grown up. (Wednesday studies music and Pugsley is pursuing a career as a witch doctor.) 
But probably the weirdest ever but of Addams Family has to be the 1973 ABC special — and failed pilot — The Addams Family Fun House. It's a cheesy, '70s-style variety show, hosted in-character by actors dressed up as the Addams Family. Jack Riley (Elliot Carlin from The Bob Newhart Show) and Liz Torres (Miss Patty from Gilmore Girls) star as Gomez and Morticia, while Butch Patrick, best known for portraying Eddie Munster on Addams Family rival series The Munsters, switches sides to play Pugsley.
7. The Addams Family (2019 animated feature)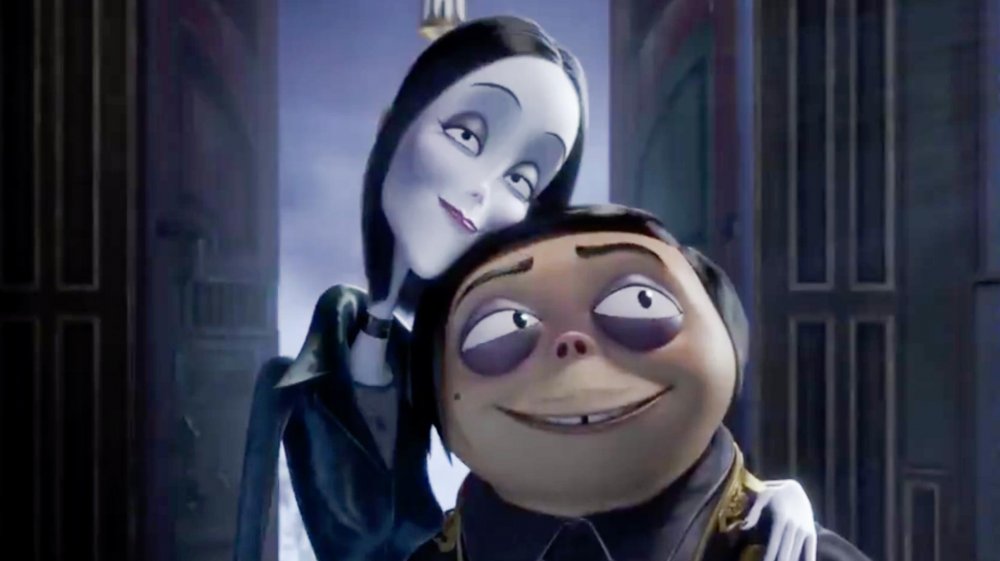 Universal Pictures
The 2019 animated The Addams Family is everything no Addams Family project has ever been: loud, fast, bright, and moralizing. This movie feels less like an expansion of the Addams universe and more like a lesser Tim Burton animated project, or a knockoff of Adam Sandler's Hotel Transylvania movies. 
No matter the format, the Addamses have just always seemed like they've been doing their thing forever, or at least for an indefinite period of time, but this movie gives the characters an unnecessary and clunky origin story: After an angry mob breaks up the wedding of Gomez and Morticia because they're too weird, the loving couple runs away to New Jersey (with Thing in tow) and takes up residence in an abandoned asylum, where they recruit mental patient Lurch to be their butler. Flash forward into the future, where the Addams have lived in sad isolation for more than decade, and not confidently doing their own thing or living life by their rules. There's also an awkward plot about a reality TV host wanting to get rid of this family that isn't bothering anybody, and Wednesday befriending that host's tween daughter. And, of course, there's a lesson about how it's a good thing to be yourself. 
6. The New Addams Family (1998-1999 live-action TV series)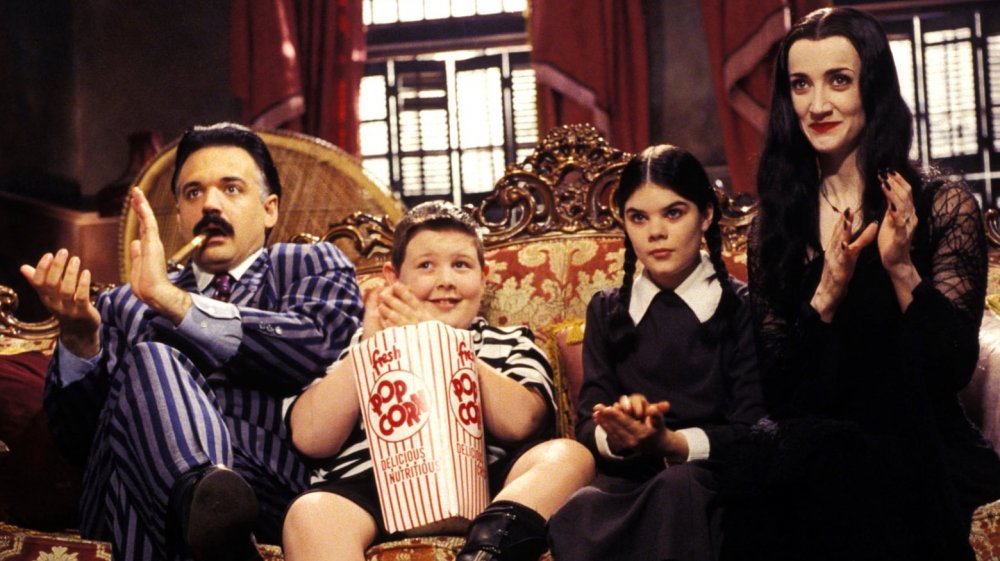 Fox Family Channel
Nothing about any Addams Family property made it unfriendly to kids (except for kids spooked out by just a general sense of the macabre), so there doesn't seem to be much of a point to The New Addams Family. A Canadian production which aired the Fox Family Channel in the U.S., The New Addams Family inadvertently gave away its premise in its title: It's the same old Addams Family as presented by the 1960s The Addams Family sitcom; it's just... new. It plays like an eerie (but not in a good "Addams" way) remake of its predecessor, with many of the actors not so much interpreting their characters but imitating their counterparts from the 1964-'66 series. At least they had the good sense to bring in original Gomez John Astin as occasional character Grandpapa Addams, but his presence just reminded viewers of the greatness that once was. The only true innovation of The New Addams Family is how it took a cue from the early 1990s Addams Family movies — or perhaps was just aware of its child and tween target audience — and gave much more screentime to Wednesday and Pugsley Addams than the '60s show ever did.
5. The Addams Family: The Animated Series (1992-1993)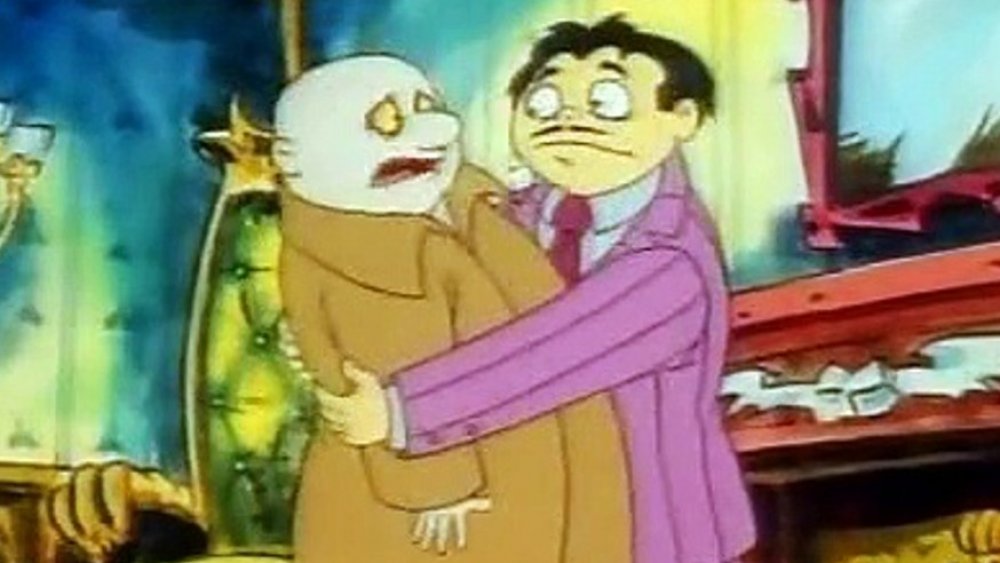 ABC
This early '90s animated cash-in on the popular live-action movies aired on ABC Saturday mornings, so it's obviously geared toward children... but the people who made it focused so hard on making it squeaky clean that they lost the spirit of what makes the Addams Family special. Sure, the Addamses live in a creepy, shadowy mansion, and yes, Wednesday and Uncle Fester gleefully like to blow stuff up whenever they get the chance, but the show leans too heavily on the family's interactions with the outside world and its suffocating normalcy. It's a little heavy-handed, too — Gomez, Morticia, and the rest live in a sunny town called Happydale Heights, next door to Norman and Normina Normanmeyer, who are as normal as their name suggests, except for their seething resentment of the Addamses and their mysterious and spooky ways. At least The Addams Family: The Animated Series restores and updates the 1960s sitcom version's iconic, snap-happy theme song, and draws inspiration from the rich, busy look of the 1991 Addams Family film.
4. The Addams Family (1973 animated TV series)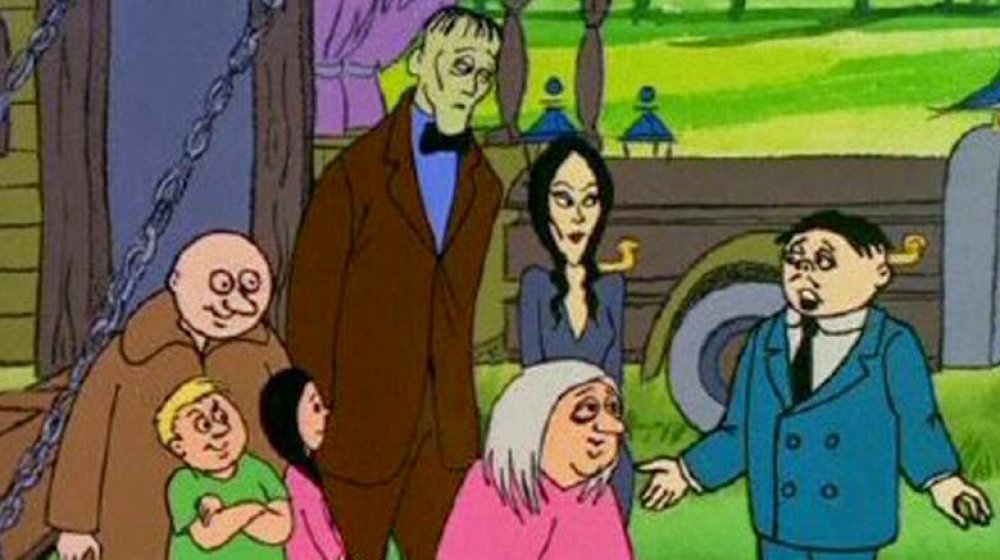 NBC
This first animated take on The Addams Family combines the charmingly grotesque look of Charles Addams' creations with the voices and vaudevillian interplay of '60s TV Gomez and Morticia, all mixed in with the trappings and cliches of '70s Saturday morning cartoons. That is to say the animation is cheap and stilted, there are wacky animal sidekicks like Mr. B the vulture and Ali the alligator, and every joke is met with a braying laugh track for some reason. 
This Addams Family feels an awful lot like Scooby-Doo, Where Are You?, only it embraces the spooky and creepy instead of fearing or unmasking it. Like the Mysteries, Inc. gang, this version of the Addams Family also drives around endlessly, not in a van but a "Creepy Camper," which looks like the Addamses miniaturized their awesome mansion and put it on top of a hearse. They cause a stir in a new location in every episode, and, true to Addams Family spirit, they're oblivious to how the way they do things is not the way the rest of the world does things. Veterans of the 1960s Addams Family series Ted Cassidy and Jackie Coogan returned to voice Lurch and Uncle Fester, respectively, while Lennie Weinrib (also the voice of Scrappy-Doo) and Janet Waldo (Judy Jetson) sound a lot like the sitcom Gomez and Morticia, played by John Astin and Carolyn Jones.
3. Addams Family Reunion (1998 direct-to-video movie)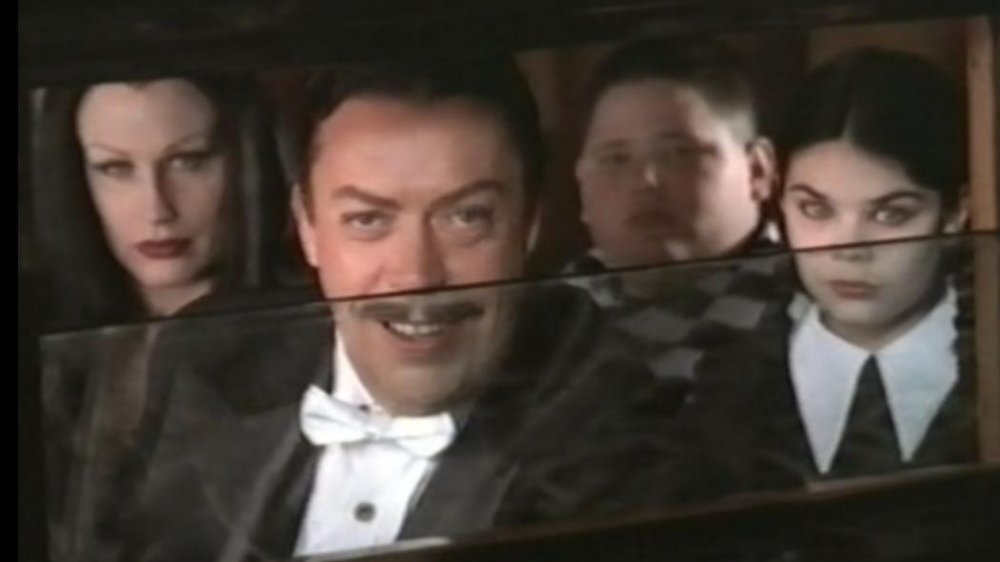 Warner Bros. Pictures
With The Addams Family (1991) and Addams Family Values (1993) both box office hits, a third movie in the trilogy seemed like a no-brainer. However, Raul Julia, who played Gomez Addams in those films, passed away in 1994, so a new sequel just wouldn't have the same dynamic. And so, Addams fans eventually got Addams Family Reunion, a franchise reboot in the form of a non-theatrical movie. It doesn't stand up to the other films in its decidedly B-level production values — and the plot is a little weak too, involving the Addams Family attending the incorrect family reunion by mistake and getting mixed up in a guy's murder-and-inheritance scheme. While it lacks a lot of the dark comedy and joyful playfulness of the two Addams Family movies that preceded it, it's agreeable and family-friendly, and the filmmakers wisely cast the great Tim Curry of Clue and The Rocky Horror Picture Show in the role of Gomez, while Daryl Hannah turns in a serviceable Morticia.
2. The Addams Family (1964-1966 live-action TV series)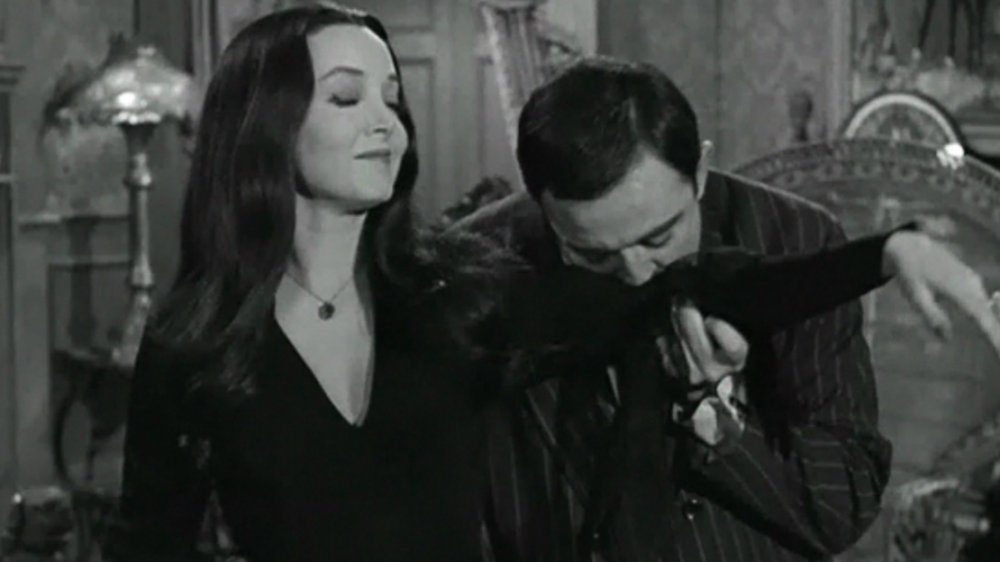 ABC
There were a lot of weird sitcoms in the '60s, many of them built around fish-out-of-water scenarios like The Beverly Hillbillies and My Favorite Martian. The Addams Family took a different approach — let the water come to the fish. The Addams lived and hung out all day in their gigantic, well-appointed 19th century mansion full of sentient plants, suits of armor, a lion and more, enjoying each other's company and occasionally dealing with the stuffy local conservative figures who populated the generic town outside its doors. (Plus they casually tossed off references to death, darkness, and the macabre, which certainly wasn't happening on Gilligan's Island.) John Astin has a constant glint in his eye as Gomez, who is just so into his wife, Morticia, kissing her arms ferociously whenever she tosses off a French phrase. She knits or paints, he fences and checks his stocks, and deals mildly in the dark arts. It's all to a satirical end: It's a transgressive rejection of the stuffy 1960s rat race. If Charles Addams' original creations were meant to be a thorough contrast to the strictures of modern life, the TV series helped get the point across. 
1. The Addams Family (early '90s live-action feature films)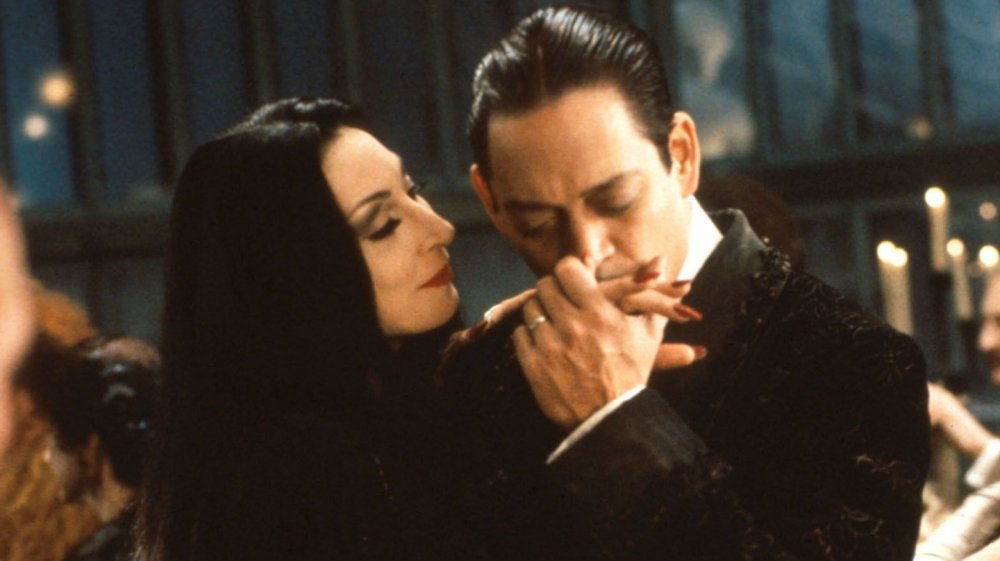 Paramount Pictures
When screenwriters Caroline Thompson and Larry Wilson and director Barry Sonnenfeld got the go-ahead to bring the Addams Family to the big screen with The Addams Family in 1991, they amped up all the Addams' quirks and the franchise's tropes without taking it too far. Morticia (Anjelica Huston) is more elegant and enigmatic than ever, Gomez (Raul Julia) is bursting with a zest for life (and death), Uncle Fester (Christopher Lloyd) is downright frightening, and Wednesday Addams is just casually, unflinchingly interested in torture and mayhem. These characters are allowed to finally embrace the behaviors and activities only hinted at in other Addams Family media, while the big budget affords a realistically rendered Thing (the hand of Christopher Hart) expressively darting around the Addams' gloriously well-appointed but decaying mansion. Moreover, the prevailing message of Addams Family shows of the past is more clearly conveyed in both The Addams Family and Addams Family Values (1993): The people in this family aren't the creeps, it's the modern world — with its forced cheerfulness and scams with a smile — that's truly villainous.