Adam Driver Reveals Why He Asked To Wear A Darth Vader Mask At His First Comic-Con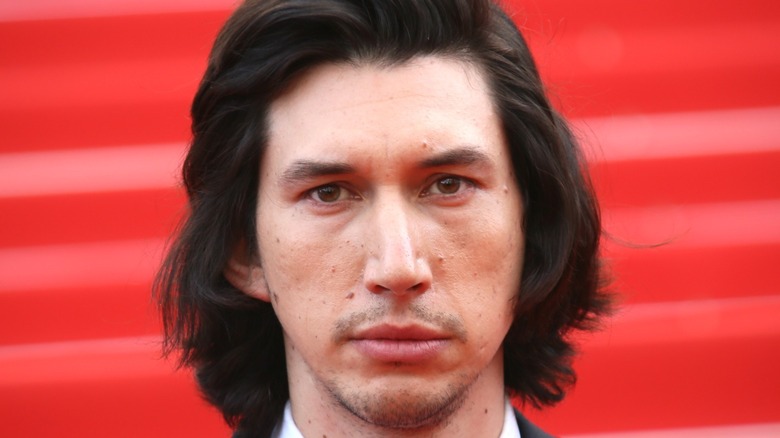 Denis Makarenko/Shutterstock
While Adam Driver's career started picking up momentum thanks to his memorable role in the comedy series "Girls" beginning in 2012, nothing could prepare him for the fan frenzy that awaited him three years later after he was cast in "Star Wars: The Force Awakens." In fact, the actor was so oblivious to the world of "Star Wars" revelry that when he was hired to play Darth Vader's villainous grandson, Kylo Ren, for the sequel trilogy, he thought he could go to fan conventions and mill about the surroundings without being noticed.
Driver, as it turns out, got a quick lesson about the loss of anonymity when he arrived at the San Diego Comic-Con in July of 2015, just five months before the debut of the seventh episode of the blockbuster "Star Wars" saga in theaters. The irony is that the actor was given a choice to conceal his distinct visage with a mask that hit very close to home — providing an awakening that the actor was not anticipating.
Adam Driver was offered Darth Vader and Iron Man masks to hide from fans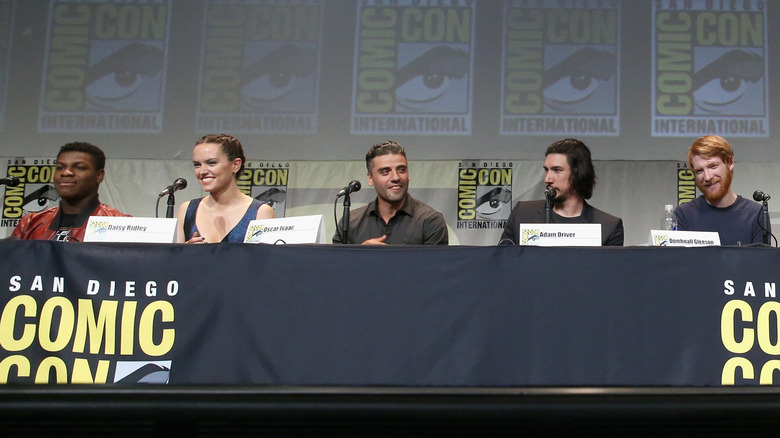 Jesse Grant/Getty Images
In an appearance with Lady Gaga to discuss their new film "House of Gucci" on "The Graham Norton Show," Adam Driver recalled the wild events surrounding his first visit to San Diego Comic-Con. The actor recalled for Norton that when he arrived at his hotel near the event, he asked his representatives if he could leave the premises to get a coffee, and he was told, "No, you can't get a coffee." When the actor asked if he could go get a coffee within the hotel, the reps said, "No" to that, too. It was then that Driver realized that he "didn't know the rules of a Comic-Con," and the implication was that he would get recognized and mobbed by "Star Wars" fans.
The actor remembered being told that if he were to leave his room, he had one option. "[The reps said], 'We have some masks in a bag if you want to put on one of the masks in the bag' ... They had an option of an Iron Man mask or a Darth Vader mask ... If you want to go outside, just put a mask on and nobody knows who you are because 'Star Wars' hadn't come out yet — 'The Force Awakens,' the first one," Driver told Norton, resulting in laughs from the TV talker's interview panel.
Adam Driver experienced a rush of Star Wars energy at Comic-Con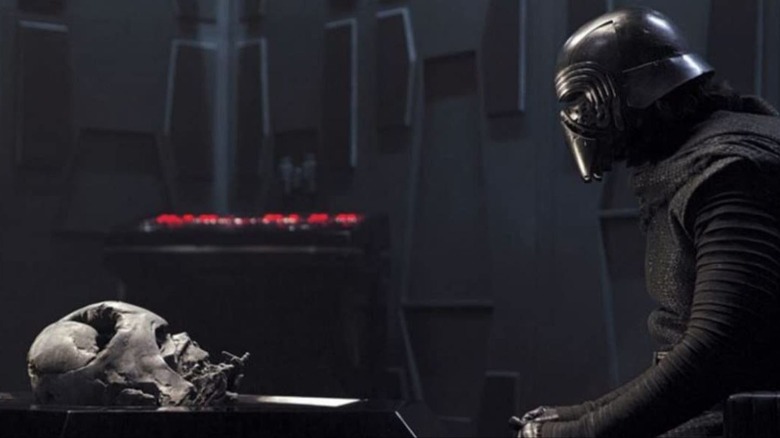 Lucasfilm/Disney
As it turns out, the costume mask mandate was only the beginning of Adam Driver's out-of-this-world experiences at Comic-Con. After being holed up in his room for 24 hours before "The Force Awakens" panel, Driver said he opened his window — where he felt the full force, so to speak, of "Star Wars" fandom.
"There was a band at the bottom of the building, playing the 'Star Wars' theme on repeat because we were all staying at the hotel, and it was scary ... When you show up, it's 2,000 people who are very devoted," Driver told Norton. "It's just a lot of energy, as you could imagine."
Driver said it was "only the once" that he'd been to a Comic-Con in San Diego. "I saw what it was. It's nice, [but] I'm not anxious to go again," he said.
Fans can see Driver in "House of Gucci" on November 24.