John Boyega Says Finn Has A 'Massive Adventure' In 'The Last Jedi'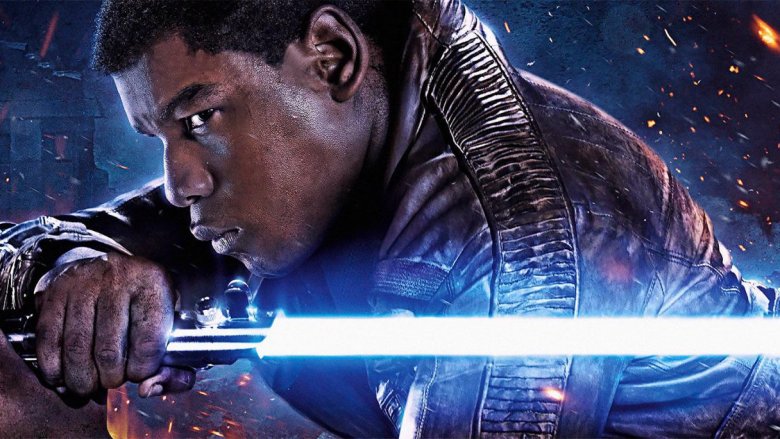 It sounds like Star Wars fans can expect to see a lot more of Finn in action when The Last Jedi arrives in theaters on Dec. 15.
John Boyega, who plays the First Order stormtrooper turned Resistance fighter, spoke with Entertainment Weekly recently, and dropped a few hints about what Finn will be up to in the saga's eighth installment. After joking that his character finally lives up to the "big deal" status he lied about while boasting to Han Solo in The Force Awakens, Boyega revealed that when the movie begins, Finn's life is still very much in the balance due to the injuries he sustained in a lightsaber battle with Kylo Ren.
"Once it's in, it continues to burn the skin and the cells. It's not a piece of flame that whacks your body. It's not something that works like a stab wound. It's really brutal," explained Boyega. But never fear: Finn will be back on his feet before the final act. "It's a grounding injury. It's going to take him some time to get back on the ball," he added. "But when he does... oh, he does."
In fact, it sounds like Finn's storyline in The Last Jedi will be kind of epic—and it involves the new Star Wars character who gets the most screen time in this outing: Resistance mechanic Rose Tico, played by Kelly Marie Tran.
"It's Finn and Rose, they're on a massive adventure. It's a big mission they need to complete," hinted Boyega. "The Resistance is under immense pressure, and it's time for them to get a bit of help. That's where Finn and Rose come in, and they're thrust into a crazy adventure."