Shows Like All American That Sports Drama Fans Need To Watch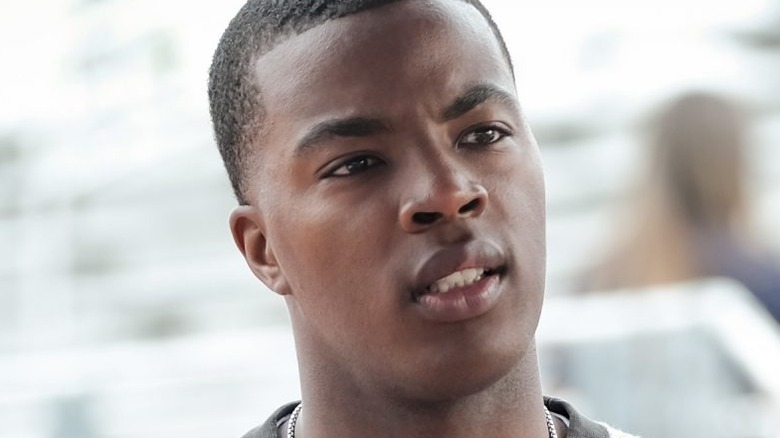 The CW
The CW's high school sports drama "All American" has become a sweeping success, and for good reason. The story of Daniel Ezra's Spencer James – based on real-life NFL linebacker Spencer Paysinger — is packed with emotion, stellar performances, and heavy themes of racial inequity and class division. While "All American" has had solid ratings on The CW, it gained even more popularity after appearing on Netflix streaming, attracting a whole new group of fans to the rich world of the series.
There are many reasons for the broad appeal of "All American." The show's multigenerational ensemble — led by Ezra and including other talented stars like Bre-Z, Greta Onieogou, Karimah Westbrook, and Taye Diggs — has phenomenal onscreen chemistry, building a layered narrative web of complex characters and relationships. "All American" also doesn't shy away from the harsher realities of high school sports, including the sometimes sickening disparities in resources and opportunities between wealthy districts and those in lower income areas — divisions that are frequently drawn along racial lines.
For anyone who's become captivated by the powerful characters and story of "All American," there are many other similar shows available across TV and streaming that scratch the same itches. The sports drama genre is packed with beloved classics, shocking true stories, and some lesser-known but equally entertaining tales of perseverance and teamwork waiting to be discovered. Here are some shows like "All American" that sports drama fans should check out next.
Brockmire (2017-2020)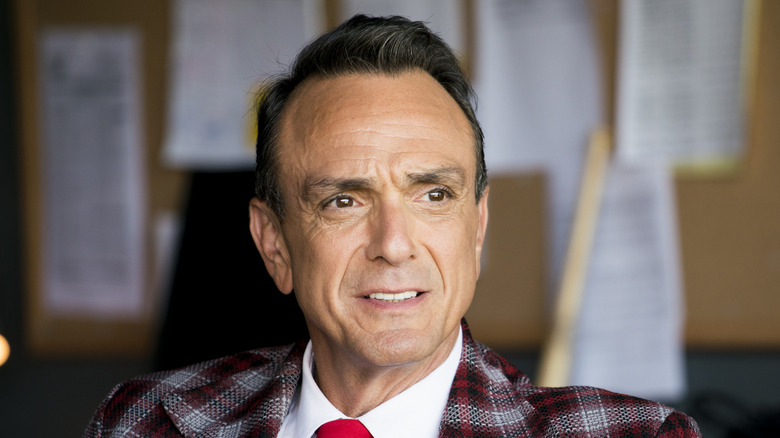 IFC
Where "All American" shows the ups and downs of life in sports through the eyes of a young star athlete, "Brockmire" focuses on its eponymous, aging sportscaster. Played to perfection by comedic great Hank Azaria, Jim Brockmire is a legendary and beloved Major League Baseball announcer whose life goes down the tubes after he spews an alcohol-fueled tirade about his wife's infidelity in the middle of calling a game. The IFC series follows Brockmire a decade after his fall from grace, showing his return to baseball as the announcer for the Frackers, a minor league team from Morristown, Pennsylvania.
Like "All American," "Brockmire" is really a show about people contending with the serious realities of life through the lens of sports. It's a comedy first and foremost, and in that area it's exceptional, but the jokes don't detract at all from the humanity of the characters or the complexity of their struggles. Brockmire is at the same time hilarious and grounded, striking a delicate balance that makes it absolutely worth the watch. And with a cast of guest stars and real-world sports personality cameos that includes everyone from J. K. Simmons and Carrie Preston to Bob Costas and Joe Buck, Brockmire is a great time through all of its four-season run.
Survivor's Remorse (2014-2017)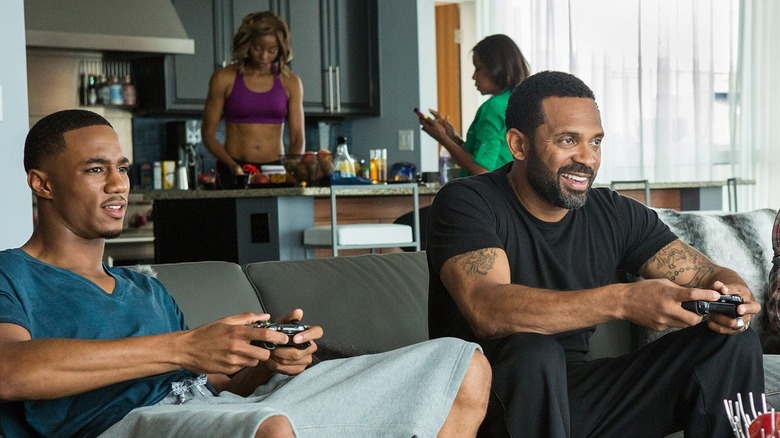 Starz
"All American" is a show about teenage athletic talent and what it can mean for those who wield it. "Survivor's Remorse," which ran for four seasons on Starz from 2014 to 2017, can be seen as the next chapter in that story, albeit with a focus on basketball instead of football. The series follows new NBA player Cam Calloway (Jessie T. Usher), whose life and relationships begin to change dramatically after he signs his first multimillion-dollar contract. "Survivor's Guilt" also stars RonReaco Lee, Erica Ash, Tichina Arnold, Mike Epps, and Teyonah Parris.
Like "Brockmire," Survivor's Remorse is a comedy first and foremost, but it also deals with serious themes of race, class, family, and fame. Real-life NBA superstar LeBron James served as a producer on the series, adding an extra layer of authenticity to the show's sports story. Though "Survivor's Remorse" ran without much fanfare in its day — due in part to the smaller audience of Starz — it received widespread critical acclaim. The show as a whole holds a stunning 97% fresh rating on Rotten Tomatoes, with seasons 2 and 3 both earning perfect 100% scores.
Sadly, "Survivor's Remorse" was cancelled two seasons short of its original six-season plan, leaving some plotlines unfinished. Still, what is available to watch today is spectacular and well worth the time for fans of the genre, or of good TV in general.
Swagger (2021-present)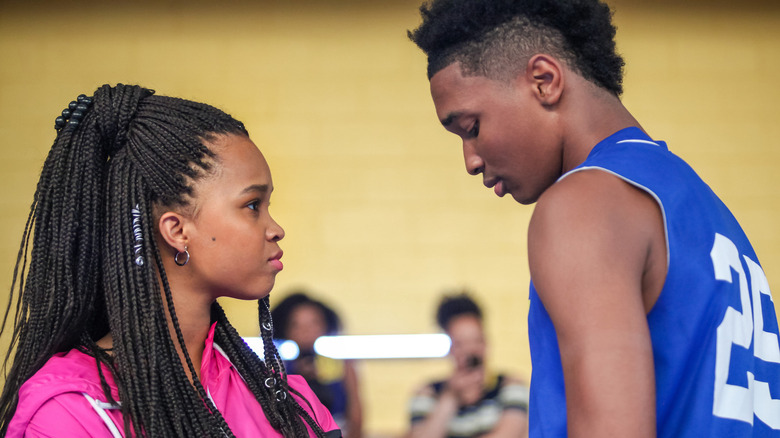 Apple TV+
Apple TV+ has entered the sports TV show space in a big way since the streaming platform debuted in 2019, and one of its forays into the genre, "Swagger," is incredibly similar to "All American" in many ways. It too follows young star athletes through various personal and societal challenges, and it too is based on a true story — in this case, NBA superstar Kevin Durant's experiences playing basketball in the Amateur Athletic Union (AAU). "Swagger" stars an ensemble cast that includes O'Shea Jackson Jr., Quvenzhané Wallis, Caleel Harris, Isaiah Hill, Tristan Wilds, Tessa Ferrer, and Shinelle Azoroh.
For fans looking for a new series that's as close as possible to the overall structure and tone of "All American," Swagger is a great choice. It's a strong cast with solid chemistry, a level of authenticity from Durant's executive producer status, and great production values. The jump from football to basketball is significant in some ways, but it doesn't get in the way of the more central, human stories of the show.
The White Shadow (1978-1981)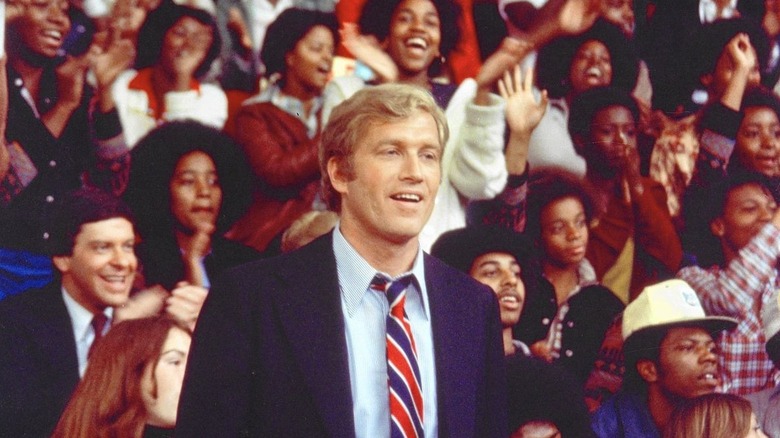 CBS
It may be a bit old, but "The White Shadow" still holds up in many ways. Starring Ken Howard as high school basketball coach Ken Reeves, the series broke significant ground in its handling of serious social issues like racial discrimination, sexual identity, and the many disadvantages placed on students in inner city schools. Like "All American," "The White Shadow" is set against the backdrop of Los Angeles' severe socioeconomic divisions.
Of course, with a show that premiered in the late 1970s and ended in 1981, there are bound to be some dated production and writing choices. The series wasn't made on the budget of modern series like "All American," and while the storylines that centered on race and sexuality were hugely important and progressive for the time, some of them have inevitably started to show their age. Despite all that, "The White Shadow" remains a hugely influential show, both in the sports genre and in the broader realm of socially cognizant dramas at large. For fans of contemporary series like "All American," it's well worth it to go back and see the show that originally set the stage.
Cobra Kai (2018-present)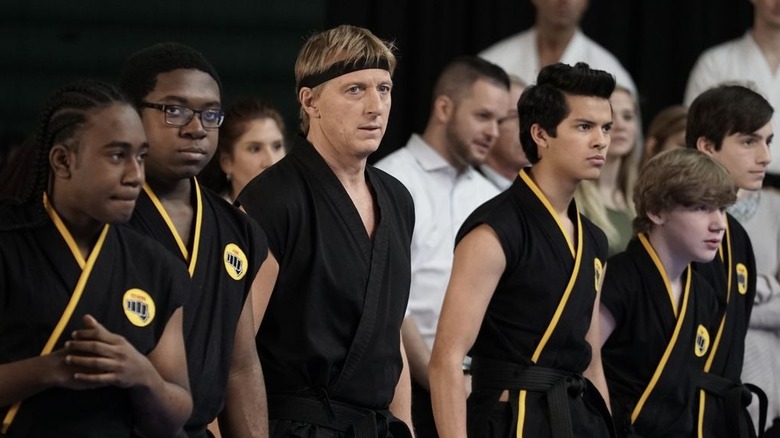 Netflix
"Cobra Kai" is, at times, a very silly show. It's a show that leans heavily on 1980s nostalgia and preexisting love for the "Karate Kid" franchise. At the same time, "Cobra Kai" is an endlessly entertaining show with a great multigenerational cast, spectacular martial arts choreography, and loads of style. There are funny moments, but there are also moments of true humanity — moments of characters, both young and old, struggling with the mistakes they've made, acknowledging their own flaws, and fighting to become better people.
Anyone who enjoys a good sports training montage will find plenty to love in "Cobra Kai," but the series has much more to offer than flash and style. Since moving from YouTube to Netflix, "Cobra Kai" has exploded in popularity, garnering new fans of all ages. Stars like William Zabka, Xolo Maridueña, Ralph Macchio, Mary Mouser, Tanner Buchanan, Peyton List, Courtney Henggeler, and Martin Kove all turn in solid performances, but it's the chemistry between them all that elevates "Cobra Kai" to must-watch territory for fans of the genre. At this point, anyone with a Netflix subscription owes it to themselves to at least give the show a try.
Coach (1989-1997)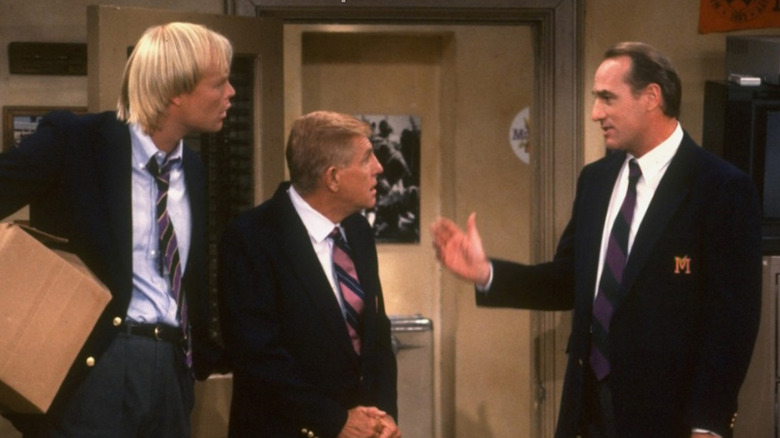 ABC
In the world of scripted sports television series, "Coach" is a true classic. The Craig T. Nelson-led sitcom ran for an impressive nine seasons on ABC, earning great ratings throughout. Nelson's performance as college (and later professional) football coach Hayden Fox is iconic, and the show is bolstered by stars like Shelley Fabares, Jerry Van Dyke, Bill Fagerbakke, Clare Carey, Katherine Helmond, and Kenneth Kimmins. Tonally, the series is light and comedic, similar to many other sitcoms of the era like "Cheers" and "Full House."
The main appeal of "Coach" for fans of "All American" is definitely the football culture itself, which is omnipresent throughout the series' nine seasons. The comedy is just as forefront in the locker room as it is in the other parts of the show, yielding some highly entertaining coach/player interactions, especially for fans of the era. "Coach may not have quite the same depth or complexity as other shows on this list, but in its nostalgia, football, and classic comedy, it still has plenty to offer contemporary viewers.
Last Chance U (2016-2020)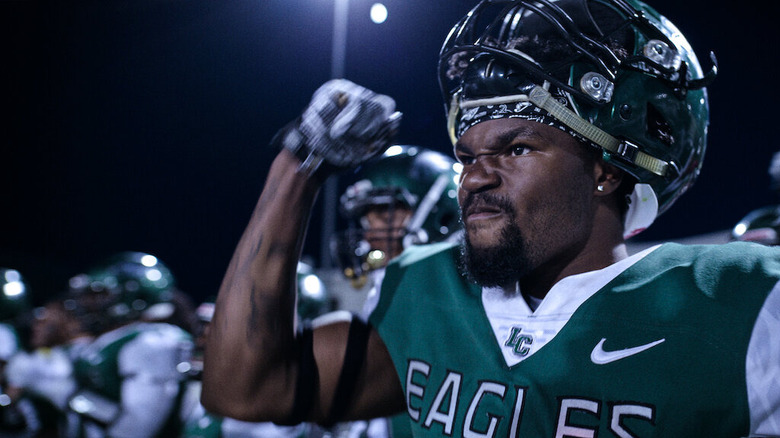 Netflix
To be fair, "Last Chance U" is not a drama in the traditional sense. It's a Netflix documentary series that follows real community college and junior college football players trying to push through challenging circumstances to rise to the realm of Division I. Just because the show isn't scripted, however, doesn't mean the story isn't just as rich and compelling as dramas like "All American." "Last Chance U" lays bare the true difficulties of making it to the NFL, the many stumbling blocks that stand in players' way, and the often brutal regimen necessary to even get a shot at the pros. It's gripping, affecting, and sometimes heartbreaking.
"Last Chance U" visits several different school programs over the course of its five seasons, all of which are focused on football. However, for hoops fans with a Netflix subscription, there's also an equally watchable spinoff entitled "Last Chance U: Basketball," which tackles many of the same issues, but on the hardwood instead of the gridiron. There's also a scripted adaptation of the original show's first two seasons on the way, reportedly starring and produced by "Friends" star Courteney Cox.
Ted Lasso (2020-present)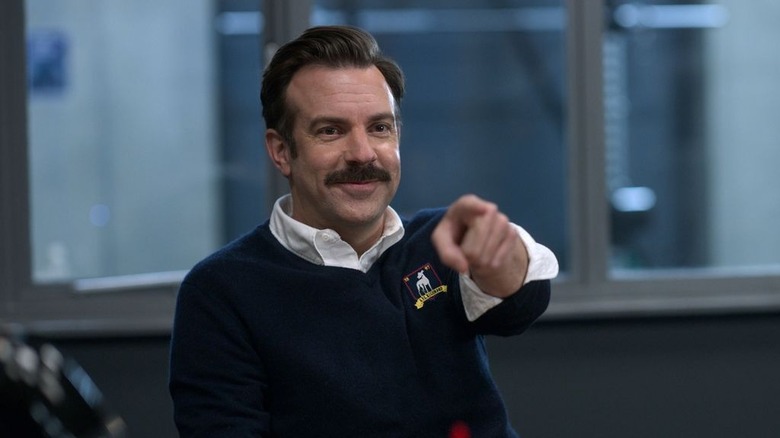 Apple TV+
"Ted Lasso" isn't just one of the best sports shows on television — it's one of the best shows on television, full stop. The cast is exceptional, the writing is sublime, and the actual sports content stays central and entertaining throughout. The show's ensemble, led by a powerhouse performance from Jason Sudeikis as the eponymous Coach Lasso, features a wide range of fully-formed and deeply nuanced characters brought to life by Hannah Waddingham, Juno Temple, Brett Goldstein, Nick Mohammed, Phil Dunster, Brendan Hunt, Jeremy Swift, Sarah Niles, and others.
Through its run, "Ted Lasso" has been called a show about kindness, and while that's true, it's only part of the story. It's a show about the human struggle to improve and build community. Characters grapple with bad parents, divorces, jealousy, fame, love, loss, and so much more, all with a consistent blend of brilliant comedy and tactful moments of serious emotional consequence. There's also plenty of team-building, locker room rivalry, and on-pitch action to keep even the most dedicated sports fans satisfied. Shows like "Ted Lasso" are few and far between, and it's a natural next watch for anyone who's been captivated by the grounded sports drama of "All American."
When a series captures the zeitgeist as fiercely as "Ted Lasso" has, it can be tough to buy into all the ensuing hype. In this case, however, all the praise, buzz, and Emmy Award victories are in fact well deserved.
On My Block (2018-2021)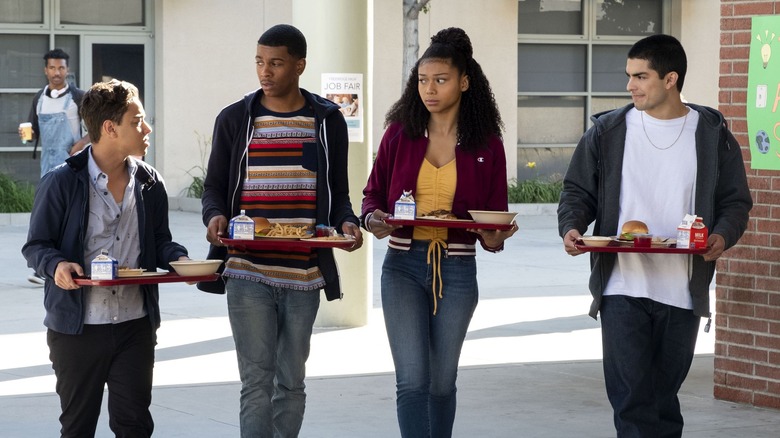 Netflix
"On My Block" is not a sports show, but in nearly every other way, it directly mirrors the best parts of "All American." Starring a young ensemble cast led by Sierra Capri, Jason Genao, Brett Gray, and Diego Tinoco, this Netflix drama vividly shows the life struggles of teenagers growing up in LA's inner city communities. In a TV era when soapy, stylized teen dramas like "Riverdale" and "Outer Banks" reign supreme, "On My Block" offers a far more grounded and vivid story about the many societal dangers and barricades placed on marginalized youth.
No subject is too heavy for "On My Block" to take on. Latinx characters and their families face the grim dangers of deportation. Numerous teenagers are roped into the cycle of gang violence with no real alternative or way out. Young characters are killed by the violence inherent to their environment, and through it all, the show handles its characters and stories with empathy, intelligence, and skill. Those who come to "All American" strictly for the football may find less common ground here, but for anyone who appreciates the human drama of the CW show, "On My Block" is a perfect next step.
One Tree Hill (2003-2012)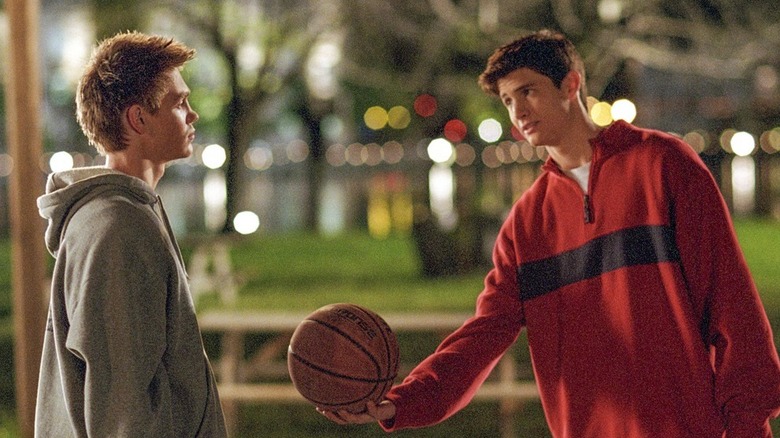 The CW
Where "On My Block" is the exception to the modern era of shiny, soapy teen dramas, "One Tree Hill" is the show that, in many ways, started the trend. Ostensibly about basketball at the start and keeping a tenuous connection to the sports world throughout, the nine-season series stars Chad Michael Murray and James Lafferty as half-brothers Lucas and Nathan Scott, who experiences love, loss, and various other issues while growing up in small-town North Carolina. Is it hard-hitting? No. Does it have the knack for topical social commentary that "All American" and "On My Block" do? Not quite. It is, however, thoroughly and easily bingeable, and it doesn't ask too much emotionally in return.
That's not to say that "One Tree Hill" doesn't have more serious moments or bouts of powerful character writing. To the contrary, the show has a good cast with great chemistry and a web of plotlines that venture frequently into more serious territory. However, the real appeal of shows like "One Tree Hill" is in how easy they are to watch. This is teen drama in its purest form, with just enough basketball sprinkled around the edges to keep sports fans entertained. A healthy dose of nostalgia certainly helps when returning to "One Tree Hill," but there's lots to love for first-time viewers just the same.
Kingdom (2014-2017)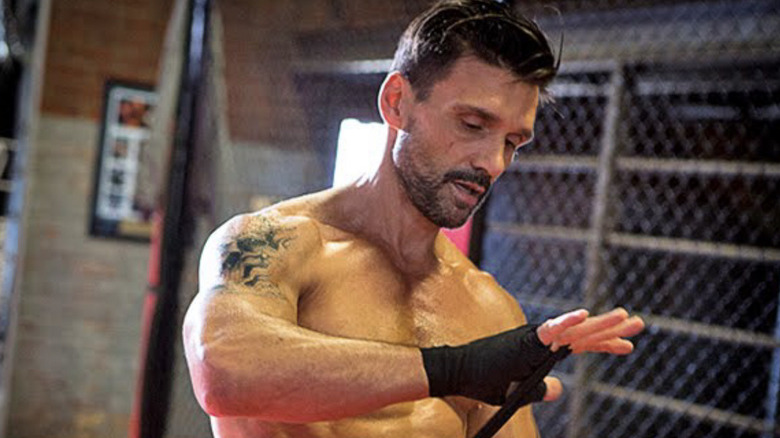 AT&T
Perhaps the definitive show about the gritty world of mixed martial arts, "Kingdom" has all the tension, atmosphere, talent, and drama needed for full-on binging. It has a great cast in Frank Grillo, Kiele Sanchez, Matt Lauria, Jonathan Tucker, Nick Jonas, Joanna Going, and Natalie Martinez. It has a lot of style and exciting MMA action throughout. Unfortunately, it also wound up going largely unnoticed during its initial run due to its airing on the now-defunct Audience Network from AT&T.
To be fair, "Kingdom" has a relatively specific appeal. It's far from the most diverse show on this list, and its story is largely dominated by its male characters. However, that doesn't take away from the series' sharp writing, strong performances, and gritty aesthetic, which perfectly capture the world of professional combat sports. "Kingdom" is a show that didn't get its due when it was airing, but it's gained some more attention in the years since, and it's definitely worth a try for fans of "All American."
Blue Mountain State (2010-2011)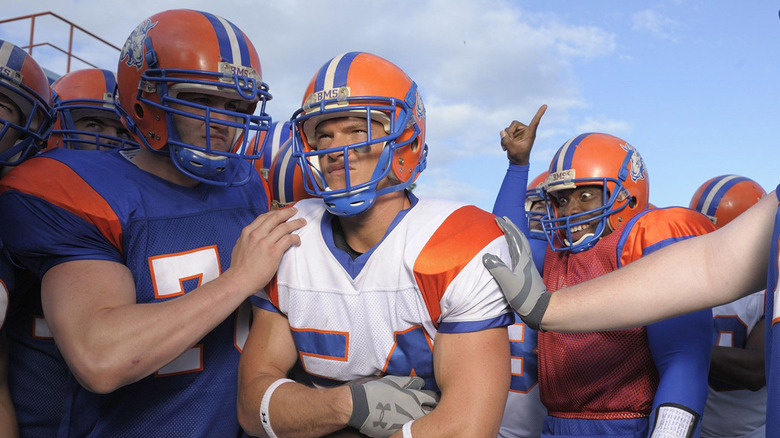 Spike
"All American" is a serious show about football. "Blue Mountain State" is not. It's silly, sarcastic, and frequently crass. But with that understanding going in, and a healthy amount of irony, it's still entertaining and can be a perfect respite from some of the more serious sports dramas available today. Though "Blue Mountain State" only ran for three seasons, it garnered a dedicated fanbase in that timeframe, which it has retained in the years since it ended. The show even crowdfunded a follow-up film through Kickstarter, which was released in 2016.
Make no mistake — "Blue Mountain State" is exactly what it looks like. It's a low-brow college football comedy with dumb jokes, frat parties, keggers, and everything else the genre brings. By fully embracing all the clichés and tropes, however, "Blue Mountain State" becomes quite a fun watch for any sports fans okay with a few dirty jokes. It lacks the nuance of "All American," "Ted Lasso," and other similar series on this list, but sometimes, the best show is the silly one that shouldn't be taken too seriously.
Pitch (2016)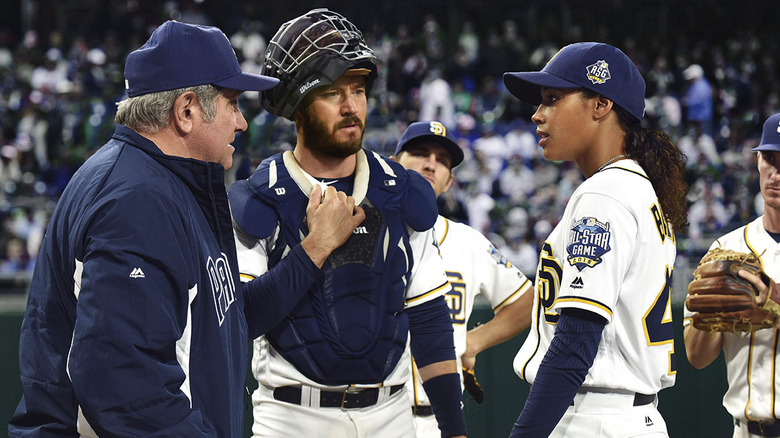 Fox
Ultimately, "All American" is a fish-out-of-water story. It's a show about someone coming face to face with the prejudices society has leveraged against them and persevering in the face of those prejudices. That, too, is the story of "Pitch" — a fantastic show about a female Major League baseball pitcher that ran for just one season on Fox before being cancelled. While there's a lot to like about "Pitch," the high point is absolutely Kylie Bunbury's sweeping performance as lead protagonist Ginny Baker, which led the show to an impressive 93% fresh rating on Rotten Tomatoes.
Though it's tragic that a show with as much promise and polish as "Pitch" only got ten episodes, the silver lining is that it's now a quick watch for anyone interested. It's an easy, captivating, and satisfying weekend binge loaded with strong writing and thought-provoking commentary about the inherently exclusive nature of the professional athletic world. In short, "Pitch" is too good and too easily watchable to justify missing out on.
Friday Night Lights (2006-2011)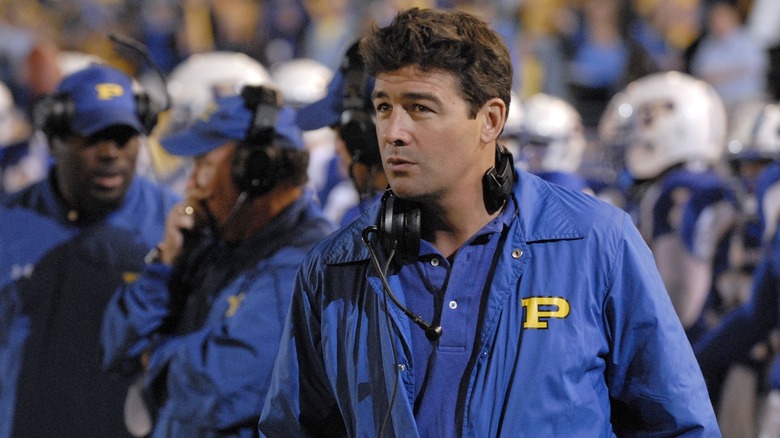 NBC
No list of sports dramas is complete without "Friday Night Lights" — a show that remains the holy grail for the genre. Like "All American," the show tackles the world of high school football, but in small-town Middle America instead of the high-speed urban environment of Los Angeles. In five seasons, "Friday Night Lights" never became the massive success it could have been, but it made up for disappointing ratings with ceaseless torrent of awards and high critical praise.
Most fans of the sports drama genre have likely already seen "Friday Night Lights" all the way through at least once, but for those who haven't, it's still excellent and worth the watch. Kyle Chandler, Connie Britton, Gaius Charles, and the rest of the "Friday Night Lights" cast all turn in strong performances, bringing to life a collection of characters who are all written with compassion and subtlety. "Friday Night Lights" is a show about sports, but really, like "All American," it's a show about ordinary people and their triumphs and struggles. Despite the drastic differences in setting, there's a lot of shared DNA between the two shows.