The Real Reason Why Ernie Hudson Got Emotional On The Set Of Ghostbusters: Afterlife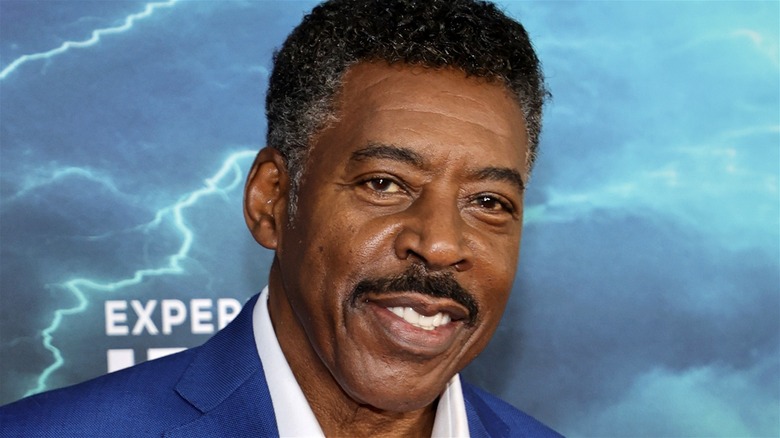 Mike Coppola/Getty
Contains spoilers for "Ghostbusters: Afterlife"
For much of "Ghostbusters: Afterlife," the film's focus is on setting up and exploring the promise of a new generation of Ghostbusters. The film follows the grandchildren of the late Egon Spengler (Harold Ramis) as they find their grandfather's old ghostbusting equipment, and begin to use it to investigate a series of new paranormal disturbances occurring in the town of Summerville, Oklahoma, where Egon fled after leaving New York.
That said, the franchise's iconic theme song is pretty clear about who to contact in the event of such an emergency. So when push comes to shove and Keymaster meets Gatekeeper, the film's rookie group is joined by the only destructors that series villain Gozer has ever known: Peter Venkman (Bill Murray), Ray Stantz (Dan Aykroyd), and Winston Zeddemore (Ernie Hudson), AKA the surviving members of the original Ghostbusters.
Fans of the first "Ghostbusters" should also know that they aren't the only ones whose heartstrings were pulled by the prospect of seeing three of the original four donning their proton packs again. Indeed, for Ernie Hudson, the opportunity to reunite with Aykroyd and Murray on-screen was one he didn't think he'd ever get, and he was determined to soak up every minute of it.
Ernie Hudson had given up hope for a Ghostbusters reunion
Theo Wargo/Getty Images
"It was cool — just how much I love that family. It was almost spiritual. I didn't cry, but some of those emotions welled up in me," Ernie Hudson recently told The Hollywood Reporter about reuniting with his old co-stars for "Ghostbusters: Afterlife." The actor talked about how amusing it was, and how proud he was, to be taking direction from director Jason Reitman, who he remembers "running around the set at 6 years old" when his father, Ivan Reitman, directed the first "Ghostbusters." But by far the biggest, most moving reunion Hudson experienced on the new film's set was the one he shared with his surviving co-stars.
"I had heard, although he never told me this, that Bill [in prior years] did not want to do another one. So I wrapped it up as this will never happen," Hudson told THR. He acknowledged that the original Ghostbusters all worked together on 2009's "Ghostbusters: The Video Game," but said they were never in the same room for that project, which was written in part by Harold Ramis and Dan Aykroyd (via IMDb). While Hudson, Aykroyd, and Bill Murray all made cameo appearances in the 2016 "Ghostbusters" reboot as well, they didn't share any scenes together and did not play their original "Ghostbusters" characters in it. "I had accepted that [a film] was never going to happen," Hudson said.
When the opportunity arrived to work on "Afterlife," Hudson was happy to take the chance to pay homage to the franchise and help bring it to a new generation of viewers. "'Ghostbusters' altered my life in a weird way," Hudson noted. "The way people responded to it and continue to respond to it — it crosses generations. I see little kids who just love the movie."