The Hilarious Way James And Oliver Phelps Auditioned For Harry Potter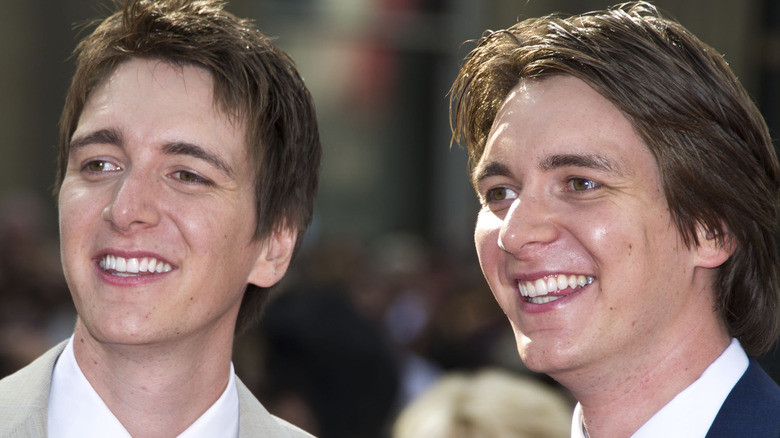 Featureflash Photo Agency/Shutterstock
When it comes to fictional universes, the "Harry Potter" franchise is as giant as they come — ranking alongside titans like "Star Wars" and the Marvel Cinematic Universe — and the Wizarding World behemoth shows no sign of slowing down. It now spans J.K. Rowling's best-selling series of books, the blockbuster "Harry Potter" movie series, the "Fantastic Beasts" spinoff series, two Wizarding World theme parks, and a still-growing family of video games that includes 17 console games and 15 mobile games.
In this massively magical cross-platform media universe, the beloved film series arguably forms the core; the eight spellbinding classics boast amazing writing, directing, and visual effects. But their strongest asset is the massive ensemble cast of unforgettable characters, featuring a who's who of British thespian talent. Among the best-loved characters remain the cheeky duo of Fred and George Weasley, played by real-life brothers James and Oliver Phelps, respectively. The twin tricksters had no problem standing out among the nine-strong Weasley tribe thanks to their mischief-making and anti-authoritarian antics.
"Harry Potter" fans may be amused, but probably not surprised, to learn that James and Oliver Phelps auditioned for the first film in a very Fred and George way.
The Phelps Bros. skipped school to become the Weasley Bros.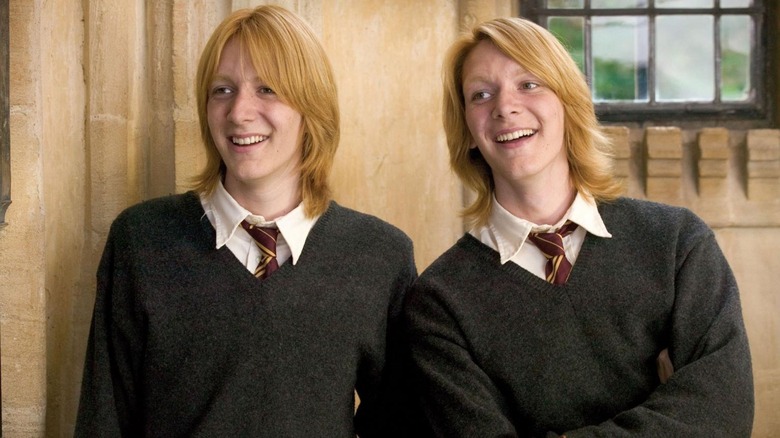 Warner Bros. Pictures
Sometimes life imitates the magical arts and vice versa. In an interview with Cosmopolitan UK, James and Oliver revealed that, much like Fred and George, the brothers engaged in some Weasley-esque on-set pranks by switching roles during filming, without their fellow cast members realizing. But perhaps the cheekiest real-life Weasley move the boys ever pulled was way back in the year 2000, when the lads were auditioning for the film that started the whole franchise, "Harry Potter and the Sorcerer's Stone." Auditions were held in Leeds, UK and the then-14-year-old James and Oliver were still in school at the time, but the boys didn't let that stop them, as Oliver revealed via Twitter in 2014:" 14 years ago today @James_Phelps and I skipped school & auditioned for @HarryPotterFilm. It certainly was the start of something great!"
The revelation delighted Weasley fans around the world and Twitter exploded with a mix of joy and fond nostalgia for the cinematic versions of the Weasley brothers. Perhaps @riddkulus said it best by simply exclaiming "AWESOME." User @CaseyJones96 declared "glad you did it! It wouldn't be the same without you two."