How Much ABC Really Paid Suzanne Somers For Three's Company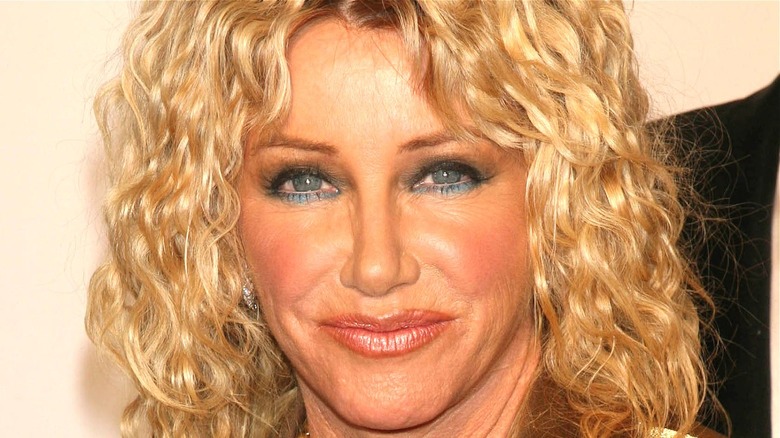 S. Bukley/Shutterstock
"Three's Company," an old-school sitcom that still holds up today, originally aired its eight seasons from 1977 to 1984 (per IMDb). Based on the British sitcom "Man About the House," the series follows the lives of three young singles — two women and one man — who live as platonic roommates.
At the start of the series, secretary Chrissy Snow (Suzanne Somers) and florist Janet Wood (Joyce DeWitt), roommates in a Santa Monica apartment, have just lost their third roommate and are looking for someone to take over the old roommate's rent. When culinary student Jack Tripper (John Ritter) crashes a party at their place and ends the night passed out in their bathtub, Chrissy and Janet eventually agree to let him take over the spot. The only issue is that their strict landlord Stanley Roper (Norman Fell) won't allow men and women to live together platonically. However, Stanley agrees after they tell him that Jack is gay — from then on, the three of them must keep up the charade that Jack isn't straight.
Based on the name of the sitcom alone, it's clear that the entire premise of the show hinges on its three leading characters. However, the original lineup got shaken up in Season 5 when Somers departed the show. Within the narrative, viewers found out that Chrissy had moved home to Fresno to look after her sick mother. In reality, Somers had asked for a pay raise, and ABC had refused.
So how much money was ABC paying Somers, anyway?
Somers was making a fraction of Ritter's pay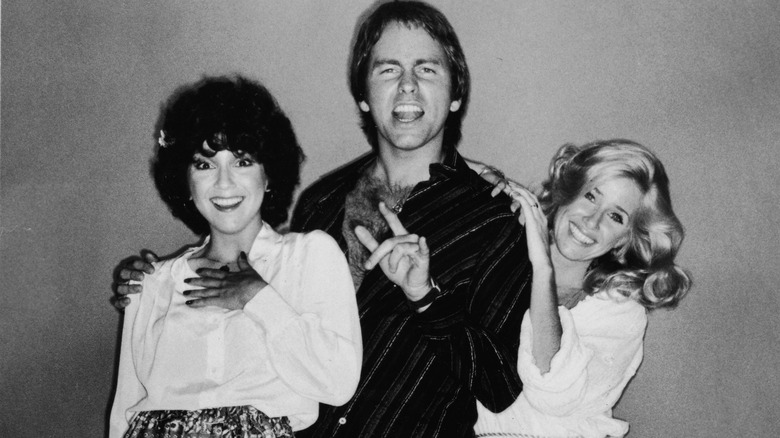 Hulton Archive/Getty Images
"Three's Company" was hands down Somers' breakout role — IMDb shows that her acting credits prior to the sitcom include small parts in films such as "American Graffiti" and "Billy Jack Goes to Washington." As she told Yahoo! in an interview, when Somers signed on for "Three's Company" with an offer of $3,500 a week she was "thrilled," because it felt like a lot of money at the time.
According to People, by the end of Season 4, Somers was making $30,000 an episode. In 1980 ahead of Season 5, when contracts were going to be renegotiated, Somers decided to ask for a significant raise. She felt she deserved it, seeing as her character had been considered a breakout — Somers even appeared on a whopping 50 magazine covers in one year (via Television Academy Foundation). She also noticed that her male co-stars were making significantly more than she was. In her interview with the Television Academy Foundation, Somers said, "I'm looking around and thinking, 'Why are all the men...making 10 times more?'"
Somers asked for $150,000 an episode, which was equal to what Ritter was making. However, ABC was not on the same page as Somers. She told People, "The show's response was, 'Who do you think you are?' They said, 'John Ritter is the star.'" According to The Hollywood Reporter, ABC offered her a $5,000 raise, but Somers insisted on making the same as Ritter — leading her to be fired.
Another ABC show played a role in Somers' salary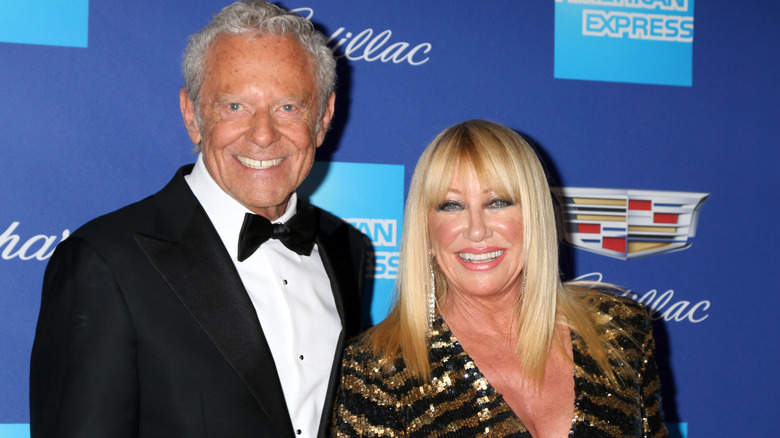 Kathy Hutchins/Shutterstock
It turns out that another ABC series, "Laverne & Shirley," played a role in ABC refusing to pay Somers what she was asking for. The show's two female stars — Penny Marshall and Cindy Williams — had also just asked for more money and, because they played the title characters of their show, were granted their raises. Following the raises given to Marshall and Williams, ABC was reluctant to hand out more money — especially to female actors, according to Somers and her husband Alan Hamel, who had helped her negotiate with ABC.
Hamel told People, "'Laverne & Shirley' had just negotiated a monster deal, and afterwards, they decided they needed to make an example of female actresses so that no other woman would ask to be paid what men were making. And then [Suzanne] was fired." Hamel elaborated that part of the issue was that so few women had been asking for raises up until that point. He continued, "It worked because for years, no woman asked to be paid what men were making, until Roseanne [Barr]. But Suzanne was the first feminist to ask to be paid what the men were making."
Somers' career took a hit in the aftermath. She explained to People, "I probably would have never left network series. I would have kept on going and probably been in every sitcom after that were it not to end the way it ended. But I was ostracized. So I went away."