The Surprising Cameo Fans Hope To See In Cobra Kai's Future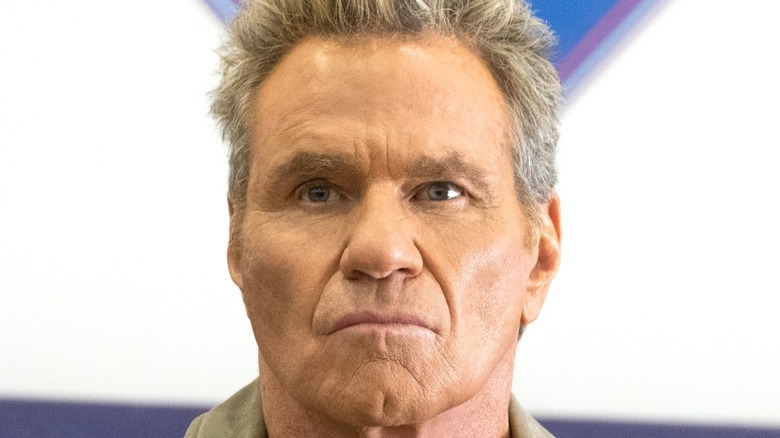 Curtis Bonds Baker/Netflix
The "Cobra Kai" series started life as a YouTube Premium original, quickly developing a cult following that only got bigger after it was acquired by Netflix before the show's third season. Serving as a sequel to the "Karate Kid" franchise of films, "Cobra Kai" looks at life through the eyes of Johnny Lawrence (William Zabka), the former karate rival of Daniel LaRusso (Ralph Macchio), 34 years after they go head to head at the 1984 All Valley Karate Tournament.
Johnny and Daniel suffer a reversal of fortune since the last time fans see them. Johnny, financially cut off from his wealthy and abusive stepfather, becomes a divorced handyman, while Daniel owns a used car lot and is a thriving father and husband. But each of them still bears scars from the past. When Johnny decides to reclaim a slice of his former glory by reopening the Cobra Kai dojo, his long-dead rivalry with Daniel sparks back to life. Daniel's wife, Amanda (Courtney Henggeler), his daughter, Samantha (Mary Mouser), and Johnny's estranged son, Robby Keene (Tanner Buchanan), soon become entangled in Johnny and Daniel's old grudge.
Fans of "Cobra Kai" are understandably jazzed for the show's upcoming fourth season, which is set to debut on December 31. In fact, the folks who gather at the "Cobra Kai" subreddit are hoping that one surprising cameo might occur during Season 4 or in a future season of the show. So who are fans longing to see?
Fans would love to see Neil Patrick Harris on Cobra Kai
Actor Neil Patrick Harris has an unusual connection to the "Cobra Kai" universe through one of his own signature characters — insatiable bachelor Barney Stinson of "How I Met Your Mother." It's well-established during the course of the CBS sitcom that Barney idolizes Johnny and William Zabka. Barney even helps popularize a fan theory that Daniel is the one bullying Johnny all along. This plot point results in Zabka playing a fictionalized version of himself on the show seven times (per IMDb).
U/Original-Joke-3739 on Reddit brought up their hopes that Harris will return the favor to Zabka and guest star on an episode of "Cobra Kai." Posting a screencap from Julia Macchio's (Ralph Macchio's actress daughter) Instagram showing the Macchio family hanging out with Harris and his husband, David Burtka, u/Original-Joke-3739 said, "I hope we see nph at some point in the show," and added that "a little cameo is the least they could do." The suggestion met with mixed responses on the subreddit. "That would be awesome," said u/Superbunny0302, exemplifying more positive responders. 
While some other fans weren't up for a Barney cameo, they hope Harris might pop up on the show in the guise of another of his iconic television characters. "A grown up Dr. Doogie Howser could be the doctor on call at the tournament,"  proposed u/justadude0815, suggesting that the character then proclaim "that Daniel is the real bully" after hearing about Daniel and Johnny's shared past. Others disagreed with the notion of having Harris on the program. "I'd find it distracting," said u/HereNowHappy, presenting the thoughts of those who dislike the idea. Fans will find out whether or not the show dares to go meta when "Cobra Kai" debuts a fresh season in December.