Get Your First Look At The Paramount+ Feature South Park: Post Covid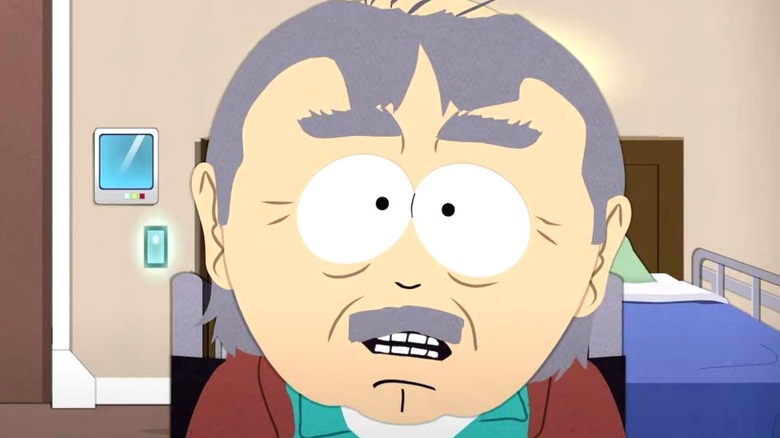 Paramount+/YouTube
Like just about everyone else you know, the kids at "South Park" are over COVID-19. Will they be ready for what comes next?
A new South Park movie, "South Park: Post Covid," will follow Cartman, Kyle, Stan, and Kenny in the aftermath of the COVID-19 pandemic. The new "made-for-TV" movie will premiere exclusively on the streaming service Paramount+. It's the first of a planned 14 "South Park" films destined for the streaming service, agreed to as part of "South Park" creators Trey Parker and Matt Stone's $900 million new deal with ViacomCBS that will keep the long-running series on the air through 2027, according to Deadline. The second of these is due to hit the streaming service in December, ahead of the as-yet-undetermined premiere of the show's 24th season. 
The new film won't be the first time the gang has tackled the pandemic. A pair of special episodes –– "The Pandemic Special" and "South ParQ Vaccination Special" –– were released in 2020 and 2021, respectively. But for a show so steeped in the national mood, it's no surprise that it isn't done with COVID yet. As a new teaser released November 18 indicates, the gang could be feeling the pandemic's aftereffects for quite a while.
South Park: Post Covid will find the South Park gang all grown up
The short trailer begins in typical "South Park" style, with a foul-mouthed Cartman cracking up his class. But it soon transitions behind the text "What Will The Future Hold?" to show an adult Stan and Kyle, reconnecting — perhaps for the first time in a while. Kyle, whose wall is adorned with his psychology diploma from the University of Colorado, reminds Stan that they once said they would always be there for one another when things got bad. 
"What happened?" Stan asks. And how is it Cartman's fault, the viewers at home might add.
"South Park: Post Covid" is just the second "South Park" film, and the first film the duo of Parker and Stone have worked on together since "Team America: World Police." In an interview with The Hollywood Reporter, the pair don't seem entirely comfortable with the term "movies" for this and the other thirteen Paramount+ projects they'll be doing. "With Viacom, we realized we could make them as long or as short as we needed," Parker said. "They are the ones who said we are giving them 14 movies in seven years. All I can say is for me, personally, I am 52 years old, I have made three movies in my life. So you do the math."
Stone added that "hourlong made-for-TV movies is where our head is at....They will be big, but they are not quite movie scale."
"South Park" fans will be able to see for themselves what that means when "South Park: Post Covid" releases this Thanksgiving, November 25, on Paramount+.