The Behind-The-Scenes Drama On Seinfeld That Had Susan Ross Written Off The Show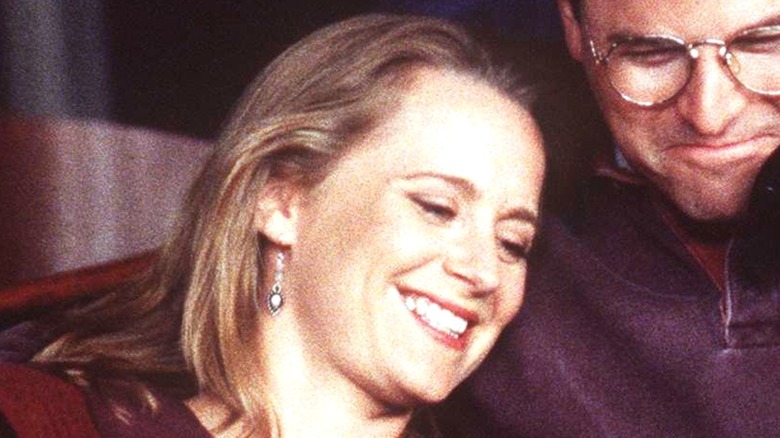 Getty Images
"Seinfeld" is one of the quintessential comedy series of the '90s and of all time. The sidesplitting show about nothing has provided some of the most memorable episodes and quotable lines in pop culture history, including "No Soup for You!" and "yada yada yada." Over 30 years after its pilot premiered, "Seinfeld" is still making its fans both cackle in tears and cringe in second-hand embarrassment on Netflix, even though some are annoyed by its appearance on the widely-used streaming platform.
For nine seasons, friends Jerry Seinfeld (Jerry Seinfeld, playing a fictionalized version of himself), George Costanza (Jason Alexander), Elaine Benes (Julia Louis-Dreyfus), and Cosmo Kramer (Michael Richards) found themselves in various face-palm-inducing situations within and occasionally outside New York City. "Seinfeld" broke the sitcom mold by ensuring its four main characters never learned from their mistakes or evolved on a deep emotional level. 
Main stars Seinfeld, Alexander, Louis-Dreyfus, and Richards had apparent comedic chemistry. However, some of the supporting cast members struggled to click with their co-stars. In 28 episodes, Heidi Swedberg played George's fiancée, Susan Ross. Sadly, the character died in the Season 7 finale, but what exactly caused Swedberg to be written off of "Seinfeld" in the first place?
Heidi Swedberg lacked chemistry with her castmates
As cited by Us Weekly, Jason Alexander revealed to Howard Stern why Susan Ross was killed off. He said he "couldn't figure out how to play off of" actress Heidi Swedberg, and their instincts "were always misfiring" during scenes together. Alexander wasn't the only one on the "Seinfeld" set who felt this way. He also told Stern that Jerry Seinfeld himself and Julia Louis-Dreyfus said it was "impossible" to act with Swedberg, and they wanted to "kill" her character.
The "Seinfeld" stars got their wish in the 1996 episode "The Invitations." Susan was poisoned by the toxic glue of the cheap wedding invitation envelopes George insisted they purchase. Her untimely demise would make generations of TV viewers think twice about licking envelopes.
After the interview on "The Howard Stern Show," some interpreted Alexander's comments as hateful toward Swedberg. The comedian responded in a Twitter post that he felt "officially awful" about how his remarks had been misconstrued. Alexander clarified that he and the rest of the "Seinfeld" cast and crew "really liked" Swedberg, and she is "a kind, lovely person." He also offered a direct apology to his former castmate and called her "a sweetheart."