Is Jesse L. Martin Really Leaving The Flash As Joe West?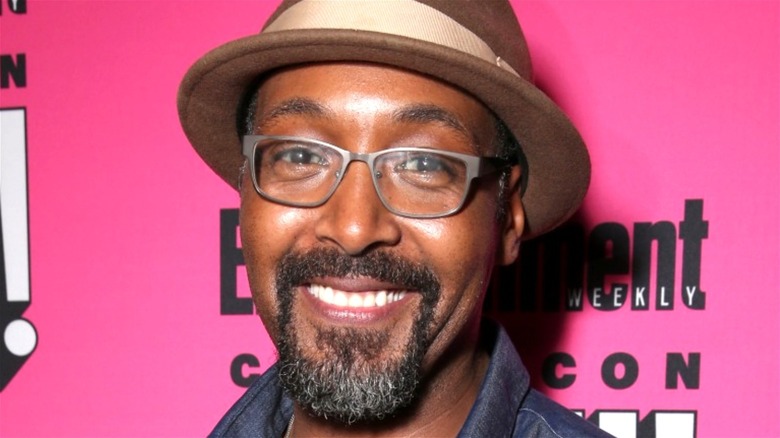 Todd Williamson/Getty Images
This article contains spoilers for "The Flash" Season 8, Episode 1, "Armageddon, Part 1."
"The Flash" actor Jesse L. Martin has been portraying Joe West, the father of Iris West-Allen (Candice Patton) and former legal guardian of Barry Allen (Grant Gustin), since The CW action drama's first season. Barry's life — and the lives of those around him — changes forever when he chooses to fight crime under the guise of The Flash after being struck by a bolt of lightning which grants him the ability to, among other things, run very quickly. Joe and Iris often find themselves swept up in Barry's crime-fighting activities.
During the premiere episode of "The Flash" Season 8, titled "Armageddon, Part 1" (via IMDb), Joe's absence stoked worry among the show's faithful viewers. A scene between Joe's girlfriend, Cecile Horton (Danielle Nicolet), and Chester P. Runk (Brandon McKnight) caused even more worry. During their conversation, Chester says another character is "dead" to him, which provokes an emotional response from Cecile and then a quick apology from Chester (via CBR). Fans worried that this meant Joe had somehow passed away between Season 7 and Season 8. 
So, what do we know about Martin's status with "The Flash"?
It looks like Joe will still be on The Flash
While fans might be worried that Joe West is done for, all signs point to "The Flash" character still being a big part of the program. We know Jesse L. Martin signed a contract extension with the CW series in June 2021 (per Deadline) that will cover the show's entire eighth season. Additionally, per Bam Smack Pow, there are recent shots of the Martin's Joe West in the revamped Season 8 opening credits, which debuted on November 16 ahead of the "Armageddon, Part 1" story. With all of this in mind, it's highly unlikely that Joe will exit "The Flash" during the show's eighth season, even though he has yet to appear.
But that doesn't mean that the door isn't open for something sinister to happen to the West family patriarch sometime later in the season. It's The CW, after all, and anything can (and often does) occur during a typically narratively twisty batch of new episodes of "The Flash." However, for the moment, it appears Joe is still alive, well, and on the show's radar.
New episodes of "The Flash" Season 8 air every Tuesday on The CW.