Here's Where You Can Watch The Flash Season 8 Online
It's been almost four months since the Season 7 finale of "The Flash," and fans are eager to see what happens next for Barry Allen (Grant Gustin) and company. The last we saw of the hero, he was battling Godspeed (Karan Oberoi) with the help of — surprise — Eobard Thawne, aka Reverse-Flash. It was the fighting duo no one saw coming, and it was Reverse-Flash would stop Godspeed by impaling him with a lightning sword.
Just after taking down the gold speedster, Reverse-Flash turned on Barry in a twist everyone saw coming. Realizing he'll never be as fast as Barry, Reverse-Flash took off, leaving Barry and Iris (Candice Patton) unharmed.
Now, Season 8 is kicking off with a special five-episode event that features characters from throughout the Arrowverse (or whatever-verse you want to call it these days). If you're unable to catch the massive crossover event live on The CW, there are several ways to watch it online.
There are several options for watching The Flash Season 8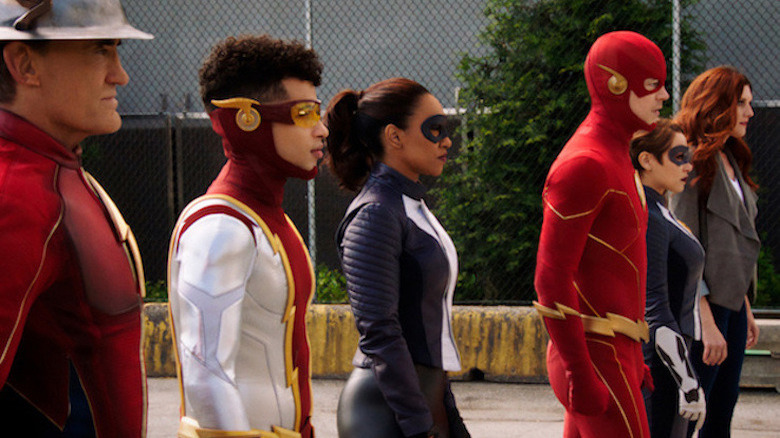 The CW
If watching "The Flash" Season 8 live on The CW is not an option for you, several apps will provide episodes via streaming. Fubo TV, Hulu With Live TV, YouTube TV, and AT&T TV all carry The CW on their apps and will be airing "The Flash" live every Tuesday night.
However, if you don't have a subscription to any of those streamers, you can always watch "The Flash" on The CW App or CWTV.com. When going this route, you will have to suffer through some ads, but that's the price you pay when content is free. Unfortunately, you cannot watch "The Flash" live either of those ways, as the episodes are only available the next day. If going this route, you'll have to wait until Wednesday morning to see the Scarlet Speedster in action.
"The Flash" Season 8 kicks off its epic five-part crossover event on November 15.