The American Pie Sequel Flop Gaining New Life On Netflix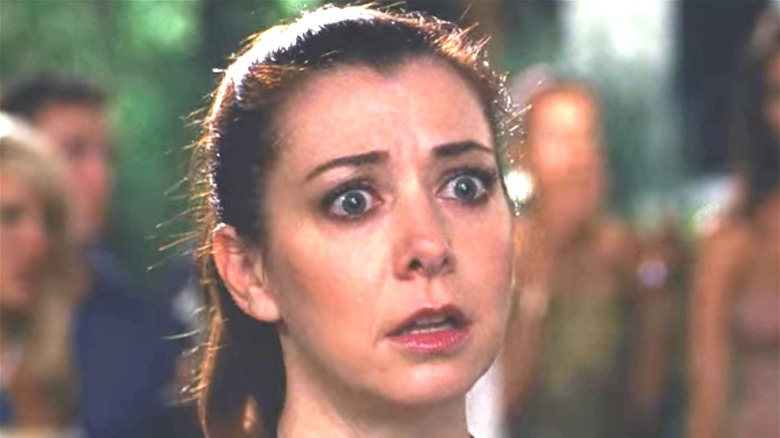 Universal Pictures/Netflix
Whether or not you were around to experience the cultural phenomenon that was the original "American Pie," you most likely know the series for its ubiquitous catchphrases and the cavalcade of spin-off movies like 2020's "American Pie Presents: Girls' Rules." You may not be aware, though, that after releasing the first three movies almost back-to-back in the late '90s and early '00s, the franchise took a break before returning with another mainline entry in 2012. That movie was "American Reunion" and it didn't exactly set the world on fire.
Whereas the original three movies follow the characters from their senior year of high school through the years just after college, "American Reunion" picks up well after they have all entered the adult world. As the title suggests, the plot of the film sees most of the characters coming together for a high school reunion. Old friendships are tested, old flames burn anew, and Stifler's Mom (Jennifer Coolidge) makes a grand return.
On the whole, critics weren't exactly thrilled to be invited to this particular reunion. The films were never known for getting stellar reviews but "American Reunion" set a new low bar for the mainline franchise with a measly 45% approval rating on Rotten Tomatoes. But as we see so often, Netflix viewers have been giving the film a second look. It's currently on the streamer's list of their top 10 most viewed movies and the reasons why have nothing to do with the critical consensus.
If you're fond of the classic American Pie characters, you'll want to attend this reunion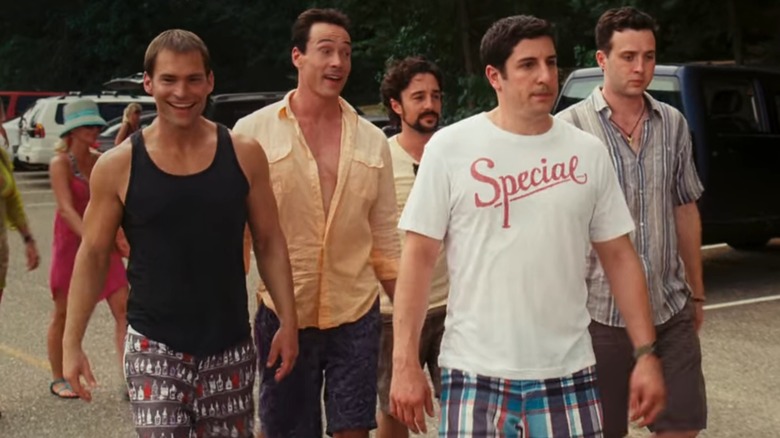 Universal Pictures/Netflix
When it hit theaters, "American Reunion" got a big "meh" from reviewers. But this is one of those movies where mainstream critical reception should be taken with a grain of salt. Ultimately, whether or not you enjoy the film is contingent on how you feel about the ensemble of characters and their chemistry together. For all the raunchy humor, that was the real special ingredient at the heart of the original movie and according to the cast, filming "American Reunion" was just as magical all those years later.
Around the time of the film's release, LAist interviewed the cast, many of whom spoke to how much they all enjoyed working together. Tara Reid, who plays Vicky, said, "There is this magic in this cast when you put all of us together. There is this great chemistry that comes out, because there's just so much fun."
That point was echoed by Stifler himself, Sean William Scott. "I'm at a point now, having this much fun with these guys means more to me now, as an actor," he revealed. "I'd be happy to do this, as long as it lasts, because I have so much fun." And for Eddie Kaye Thomas aka Finch, getting the gang back together felt like more than a mere reunion: "What was nice was that it didn't seem like we were making a fourth film, as much as an homage to the first one."
It's clear that Netflix viewers are picking up on those good vibes. You can join them by streaming "American Reunion," which is currently available on Netflix.