Only Murders In The Building Fans Want To See More Of This Character In Season 2
Craig Blankenhorn/Hulu
If you loved Hulu's "Only Murders in the Building" series, you're not alone. The hit show is Hulu's most-watched comedy ever, as reported by Vulture. With that cliffhanger ending and a second season already ordered, we can't wait to see more of our favorite unlikely trio of mystery solvers work their way out of another sticky situation. Comedy legends Martin Short and Steve Martin shine in the series alongside Selena Gomez, who proves she's just as talented as the old-timers. 
While these three may be the stars of "Only Murders in the Building," the supporting cast members are equally as impressive. Audiences loved Broadway legend Nathan Lane as the suspicious Teddy Dimas, and Amy Ryan of "The Wire" and "The Office" as Jan, the noisy neighbor, with The Suffolk Journal calling the side characters a "great addition to the cast and hilarious opportunities for plot growth." Tina Fey and handsome newcomer Aaron Dominguez also add their talents to the show — along with a few other major cameos — but there's one character who audiences really can't get enough of. 
Fans love Da'Vine Joy Randolph's Detective Williams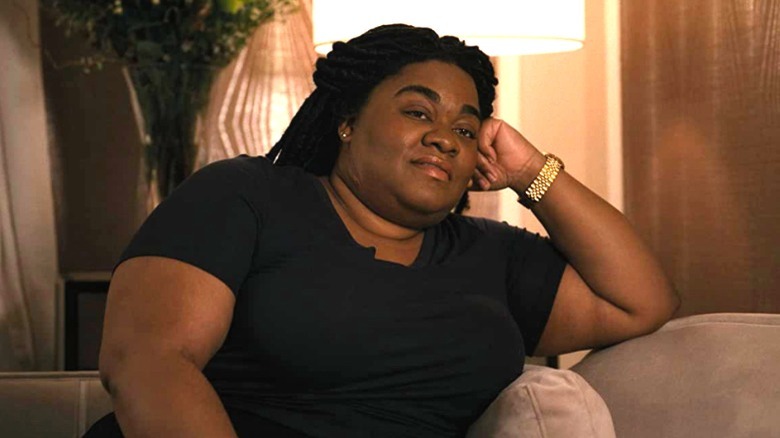 Hulu
On the "Only Murders in the Building" subreddit, user alievans719 said "I can't stop thinking about the cop at the end [of the finale]. I really hope she gets a bigger part in S2." The cop in question is Detective Williams, played by the extremely talented Da'Vine Joy Randolph. While Williams is initially skeptical of Mabel, Charles, and Oliver's amateur sleuthing, she ultimately becomes their ally and has an integral role in their pursuit of the killer of Tim Kono (Julian Cihi). Her allegiance to the podcasting squad is cemented in those jaw-dropping final moments of Episode 10, when she warns the trio to keep their mouths shut as they are taken into police custody. 
Redditor vibesfromgomez remarked that perhaps the Detective knows that the gang has been set u and wants them to maintain their silence until she can work out what is going on. Of course, it's also possible she is just skeptical that Mabel, Charles, and Oliver would commit a murder themselves, and is simply offering some basic advice. Regardless, we're confident that Detective Williams will be playing a major role in the sophomore season of "Only Murders."  With filming already taking place (via Elle), fans hopefully won't have to wait too long to see yet another mystery unfold at The Arconia.