Rihanna, Lupita Nyong'o To Star In Buddy Movie For Netflix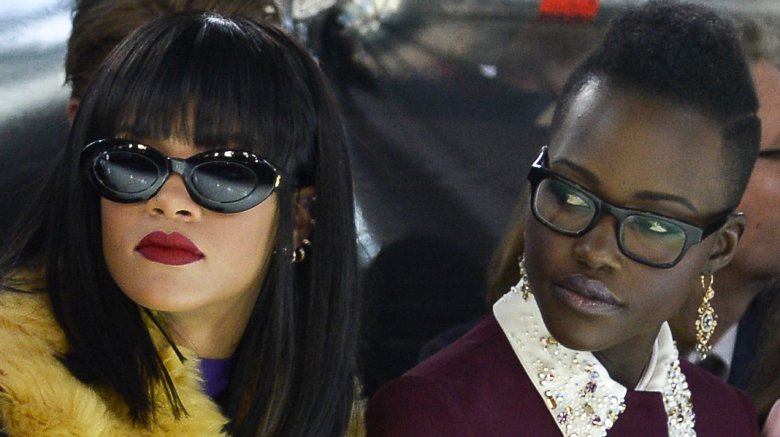 Getty Images
A meme becomes reality. 
Entertainment Weekly confirms that Rihanna and Lupita Nyong'o will co-star in an upcoming film for Netflix, in a concept that began as an Internet in-joke.
The streaming service picked up the project after a "dramatic negotiation session" during this year's Cannes Film Festival. Reportedly, Netflix beat out "multiple other suitors" with a "very aggressive bid." And it's not difficult to see why: with a Grammy-winning singer-songwriter and an Oscar-snagging actress at the center, the bidding war was bound to get heated. 
Selma director Ava DuVernay will helm the film, and Insecure series creator Issa Rae is currently in talks to pen the script. 
The upcoming film's concept began as a simple social media post that soon exploded into a wide-reaching meme. Back in 2014, Rihanna and Nyong'o were photographed in the front row of a Miu Miu fashion show, looking aesthetically innovative as ever (evidenced in the photo above). 
One Tumblr user took a liking to the snap and shared it to their followers. The photo, which has since amassed over 400,000 likes and shares on the site, was accompanied with a caption that could easily serve as an elevator-pitch synopsis: "They look like they're in a heist movie with Rihanna as the tough-as-nails leader/master thief and Lupita as the genius computer hacker."
The photo also popped up on Twitter, with an equally divisive scenario attached to it. One Twitter user retweeted the pic of the two women and added, "Rihanna looks like she scams rich white men and Lupita is the computer smart best friend that helps plan the [scams]." 
Nyong'o caught wind of the idea and expressed her interest in making the movie; Rihanna then stated she was totally in. DuVernay followed up by tweeting, "Lights set. Camera's up. Ready to call action for these queens." The final piece of the puzzle came together when Rae shared a GIF of a cat typing away at a computer, indicating she was down to write the script. 
It's unclear just how closely the film will stick to the "scammer story" concept, or whether Rihanna will play a heist mastermind or an epic con artist. What we do know, however, is that Rae will credit and include, in some form, the "the original Twitter users who imagined the concept for this film" (via Vanity Fair). 
Reportedly, Rae has already gotten started on the script. Netflix is eyeing a 2018 production start date, after DuVernay completes her current film, A Wrinkle in Time.
Before Rihanna and Nyong'o become Netflix's newest stars, take a look at the site's hidden gems you need to watch.