The Surprising Amount Of Screen Time Darth Vader Had In The Original Star Wars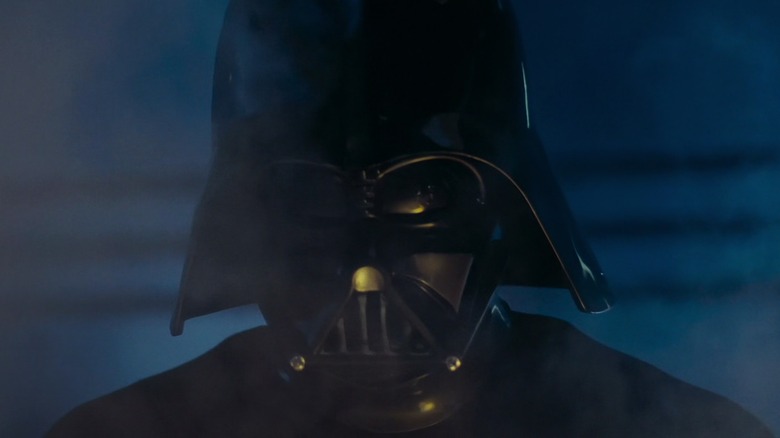 Lucasfilm/Disney
The black mask and cape. The imposing, life-sustaining suit. The deep, authoritative voice of James Earl Jones and the memorable, formal-sounding name. Yup, Darth Vader was a complete original when the character made his debut in the first "Star Wars" movie — now known as "Star Wars: Episode IV—A New Hope" — back in 1977. While it might be hard to imagine for fans who grew up with the legendary character as an established force in the pop culture zeitgeist, Darth Vader (like most of George Lucas' new characters back then) was like no other character seen on the big screen before, and he rocketed to fame as the most iconic villain in cinematic history.
Now, nearly 45 years later, after countless explorations of Vader and his backstory in sequels, prequels, animated series, novels and comic books, it's easy to look back and assume that Darth Vader dominated the original "Star Wars" film, much like the Sith Lord dominated the galaxy. But that assumption would be just as wrong as assuming that the Emperor might be as forgiving as Vader, to quote a memorable moment from "Star Wars: Episode VI—Return of the Jedi."
In fact, it turns out that out of the first film's 125 minutes, Vader was onscreen for surprisingly few of them. 
Darth Vader was seen for only 8 minutes in the original Star Wars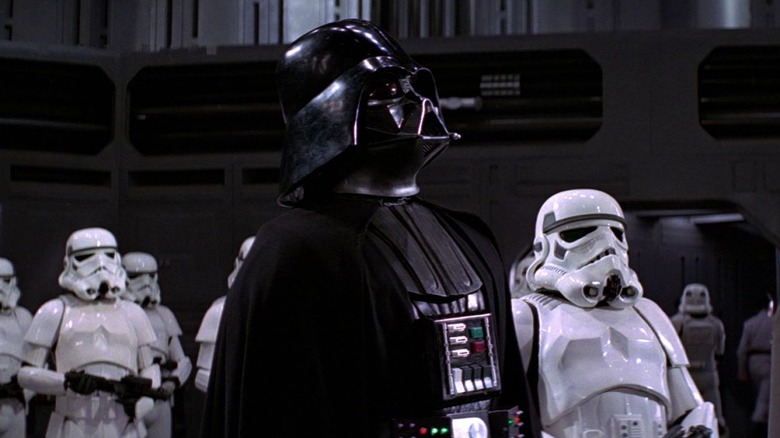 Lucasfilm/Disney
The folks over at H8URS have done a deep dive into the original "Star Wars" trilogy and determined that Vader is on screen for only eight minutes and six seconds of "A New Hope" — which accounts for just six percent of the entire movie, a shockingly low percentage for the story's main villain. 
According to the site, that number jumped up slightly to 11 minutes and 51 seconds for the next installment in the saga, 1980's "Star Wars: Episode V — The Empire Strikes Back," and then rose a bit again, to 13 minutes and 44 seconds in the trilogy's finale, "Star Wars: Episode VI — Return of the Jedi" in 1983. Clearly, it's a testament to the power of Geroge Lucas' creation that Vader stood out so prominently from the very beginning. His legend is even more remarkable given that out of the original trilogy's combined 6 hours and 28 minutes, Vader appears in only 34 of them.
But classic Vader may be getting a lot more screen time soon. Hayden Christensen, who played Vader-to-be Anakin Skywalker in Episodes II and III, will soon be returning to the "Star Wars" universe in two Disney+ projects expected to take place after Anakin donned the forbidding black mask. First, Hayden Christensen is slated to appear in the 2022 series "Obi-Wan Kenobi," and then, as was recently reported by The Hollywood Reporter, Christensen will join the live-action "Ahsoka." No details are yet known about those shows, but one thing's for sure: even if Darth Vader is only seen for a few minutes, he's sure to make a lasting impact.