What Is Milly Shapiro From Hereditary Doing Now?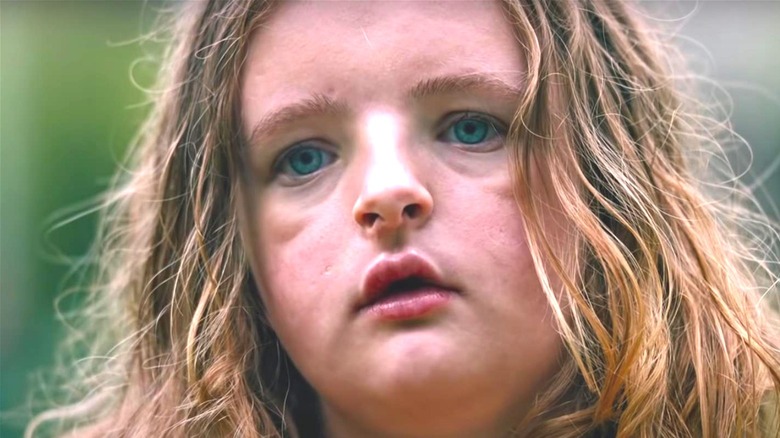 A24/YouTube
When the psychological horror film "Hereditary" debuted at the Sundance Film Festival in 2018, it received praise from critics and audience members alike right off the bat (via Screen Daily). It's been dubbed "Certified Fresh" by Rotten Tomatoes and the critics consensus from the review site goes: "Hereditary uses its classic setup as the framework for a harrowing, uncommonly unsettling horror film whose cold touch lingers long beyond the closing credits."
The film is written and directed by Ari Aster and follows miniature artist Annie, played by the impeccable Toni Collette, and her family after the death of Annie's mysteriously private mother. A week after the funeral, her mother's gravesite is found desecrated, signifying the start of strange paranormal activity that proves deadly for the family. Maybe it's the tragic car accident ending in decapitation, or the scene involving a body going up in flames, but this film certainly left viewers with their jaws dropped.
Arguably one of the most memorable performances of "Hereditary" would have be Milly Shapiro, who plays Annie's 13-year-old daughter, Charlie. To put it frankly, Charlie is downright creepy. She likes to cut off dead birds' heads and draw disturbing images of her dead grandmother for fun. Not to mention she has an eerie blank stare stamped on her face and occasionally makes an ominous clicking sound. "Hereditary" marks Shapiro's theatrical debut, but she's taken a bit of a break from movies to pursue other passions. So what is she doing now?
Milly Shapiro is now a TikTok star
Milly Shapiro started her acting career on Broadway as the titular character in 2013's "Matilda the Musical," which earned her a Tony Honor for Excellence (via Playbill). She went on to star in the off-Broadway production of "You're a Good Man, Charlie Brown," before starring in "Hereditary." She's played some small roles in a few TV shows since then, but her recent acting credits have remained minor (via IMDb). Now 19 years old, Shapiro has turned to TikTok to showcase her other talents on a more personal level.
Currently, Shapiro has over 398,000 followers and 12.7 million likes on TikTok, earning her star status on the social media platform. Shapiro looks to be all grown up from her "Hereditary" role and sports a punk rock look with brightly-colored hair and studded jewelry. She takes to the platform to tell her followers all about the film classes she's currently studying and to promote her band, AFTERxCLASS. Thanks to TikTok, fans can catch all of Shapiro's latest happenings, and hopefully what she'll be up to next.