When Will There Be A Home Sweet Home Alone 2?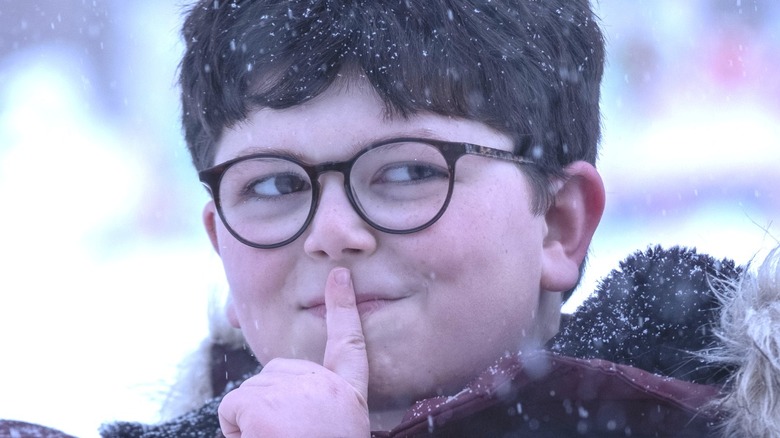 Philippe Bosse/20th Century Studios
"Home Sweet Home Alone," now available on Disney+, has certainly stirred up a fervent response from fans of the franchise. The reimagining of the iconic Christmas classic replaces the Wet Bandits — played by Daniel Stern and Joe Pesci in 1990's "Home Alone" and the sequel, "Home Alone 2: Lost in New York" — with married couple Pam (Ellie Kemper) and Jeff McKenzie (Rob Delaney). The couple is desperate for money to keep their family afloat amidst financial difficulties, and they try to retrieve a valuable antique doll from the home of Max Mercer (Archie Yates), whom they correctly guess has stolen it from their open house event. They are pitted against young Max, who is accidentally left behind while the rest of his family heads to Tokyo on Christmas vacation. Believing that the McKenzies have arrived to kidnap him, Max takes it upon himself to defend his family's domicile.
"Home Sweet Home Alone" has been met with poor reception from all sides following its November 12 debut. Rotten Tomatoes cites a 17% critical approval score and an even lower audience approval score of 15%. The 20th Century Studios release doesn't seem to have been met with favorable fan response, either. Currently, it sits at a 3.6 out of 10 on IMDb. However, that doesn't mean this holiday family flick can't be greenlit for a sequel. So, will there be a "Home Sweet Home Alone 2"? Here's what we know.
There are no plans for a Home Sweet Home Alone 2
Courtesy of Disney+
The rest of this article contains spoilers for "Home Sweet Home Alone."
As of press time, no plans for a sequel to "Home Sweet Home Alone" have been announced. Additionally, per IGN, the holiday movie was not included among the many upcoming projects announced for the streamer during Disney+ Day. While this still falls under the umbrella of a "never say never" situation, it looks like fans of the movie will have to stay patient as they wait for a sequel.
One matter complicating the situation may be that the conclusion of "Home Sweet Home Alone" doesn't leave a lot of elbow room for a sequel. Unlike the relationship between the Wet Bandits Kevin McCallister (Macaulay Culkin) in the original "Home Alone," Max, Pam, and Jeff manage to become friends. There is no menace attached to Pam and Jeff's presence and no threat that they'll return for revenge on the youngster. While it's always possible all three of them could team up against a new foe — and that Pam and Jeff's kids might be involved, too — things between the McKenzies and Max's family are pretty much solved. Even the couple's money woes are cured by the time the movie ends.
Should a sequel to the film be greenlit, perhaps 20th Century Studios (or parent company Disney) might try again with a new kid and a new set of villains. Fans will just have to keep holding on until the fate of this franchise installment is decided.