Is Michael Grant Really Leaving 9-1-1?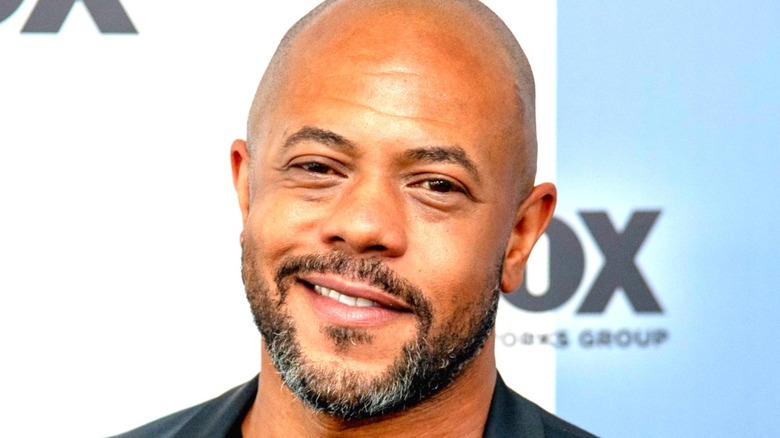 Roy Rochlin/Getty Images
"9-1-1," a police procedural drama from frequent collaborators Ryan Murphy, Brad Falchuk, and Tim Minear, follows the lives of first responders in Los Angeles. The Fox series is led by "American Horror Story" alum Angela Bassett as LAPD Sergeant Athena Grant-Nash.
While the show focuses on the professional lives of police officers, paramedics, and firefighters, it also delves into their intersecting personal lives. For instance, Athena's family dynamic is often explored, especially her complicated relationship with her ex-husband, Michael Grant (Rockmond Dunbar), who came out as gay after they'd been married for more than a decade. By Season 5 of "9-1-1," Athena and Michael are friends and manage to co-parent with relative ease. 
The show's latest episode, "Defend in Place," follows Michael as he grapples with finding out that his boyfriend, David Hale (La Monde Byrd), is traveling to Haiti to help with hurricane relief. Michael decides to propose, and Athena, her husband, and their children help him plan the perfect proposal. However, their plan gets derailed when an explosion at the hospital where David works puts his life in jeopardy. David, a neurosurgeon, refuses to leave until his patient's procedure is complete despite the increasingly dangerous conditions of the environment around him.
Although Michael's proposal doesn't go according to plan, the couple still gets engaged and prepares to enter the next phase of their lives together. But, as one door opens for Michael, another seems to be closing.
Michael Grant is joining his fiancé in Haiti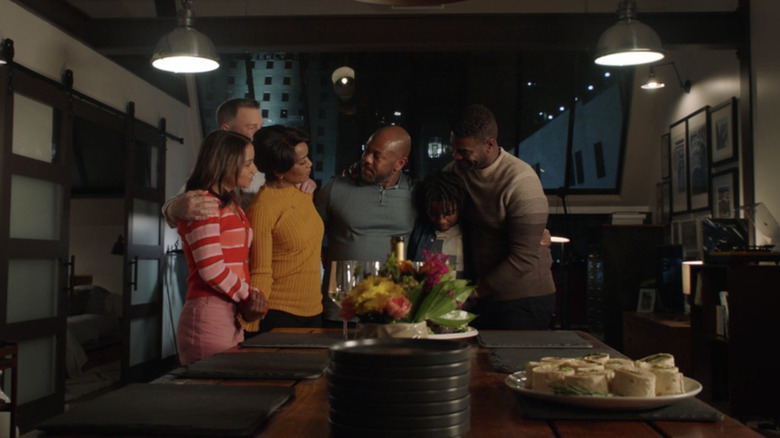 Fox/Hulu
Unfortunately for "9-1-1" fans, Michael Grant will be leaving Los Angeles to move to Haiti with his fiancé, David Hale. At the end of the episode, he reveals the news to his family and admits that the explosion at the hospital convinced him that he wants to be a part of something bigger. "I can't save lives, but I can help rebuild one," he adds, recounting his recent health struggles and desire for a fresh start.
As for whether or not actor Rockmond Dunbar will ever return to reprise his role on "9-1-1," it's hard to say. In a recently released statement (via Deadline), Dunbar revealed that his "9-1-1" departure is the result of a disagreement between himself and the show's producers over the production's Covid-19 protocols. "I applied for religious and medical accommodations pursuant to the law and unfortunately was denied by my employer," Dunbar said.
"I have enjoyed the last 5 seasons with this wonderful cast and crew and will cherish the time I've been blessed to spend with this series and wish everyone involved nothing but the best," the actor added. 20th Television, meanwhile, confirmed the circumstances behind Dunbar's departure, with a spokesperson telling Deadline, "We take the health and safety of all of our employees very seriously, and have implemented a mandatory vaccination confirmation process for those working in Zone A on our productions. In order to ensure a safer workplace for all, Zone A personnel who do not confirm their vaccination status and do not meet the criteria for exemption will not be eligible to work."
Of course, with Michael's ex-wife and children still present on the show, there is always the chance that "9-1-1" fans will get to hear updates about his relief work in Haiti, and possibly even see and hear him talk to them through phone calls or video chats. However, for the time being, it seems like "9-1-1" viewers should get used to Rockmond Dunbar's absence.