Ryan Reynolds And Dwayne Johnson In Red Notice Is The Bromance We Never Knew We Needed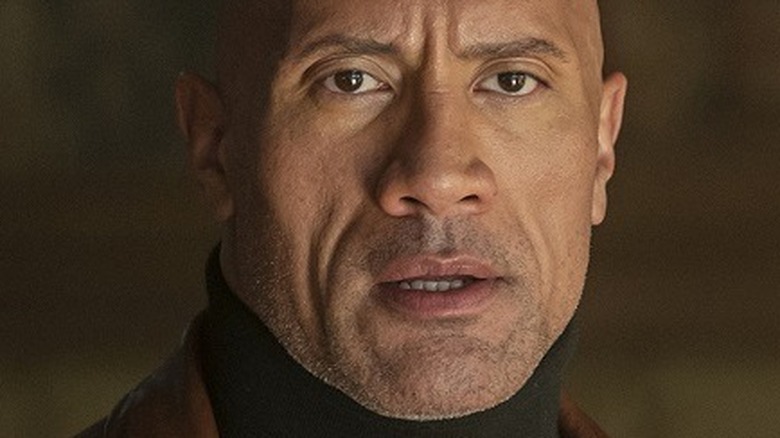 Frank Masi/Netflix
This content was paid for by Netflix and created by Looper.
Ryan Reynolds and Dwayne Johnson team up for the action-adventure experience of a lifetime in "Red Notice." The film features Reynolds as Nolan Booth, one of the world's most notorious art thieves, who manages to elude capture until he crosses paths with Johnson's dedicated FBI agent, John Hartley, during a key heist. Not only does Hartley see right through Booth's plot to steal a priceless piece of history — the first of three fabled eggs that once belonged to Cleopatra — but Hartley also tracks down Booth's secret hideaway and surprises him with a taste of some long-overdue justice.
Unfortunately for both of these fellas, there's an even more evasive international criminal on the loose, one who uses her technical trickery to land Booth and Hartley in a remote Russian prison together. To catch this crook, known as the Bishop (Gal Gadot), and clear his own name, Hartley has to join forces with his former foe, however difficult that may be for each of them. What follows is an exhilarating global game of cat and mouse that brings these unlikely allies closer and closer together and showcases how delightful Reynolds and Johnson are when they share the screen.
Every one of their interactions in "Red Notice" is a treat, and there's one scene in particular that shows just how much fun these two Hollywood powerhouses have together in this film. Here's a look at how "Red Notice" gives us the Ryan Reynolds and Dwayne Johnson bromance we never knew we needed.
Seeing through the act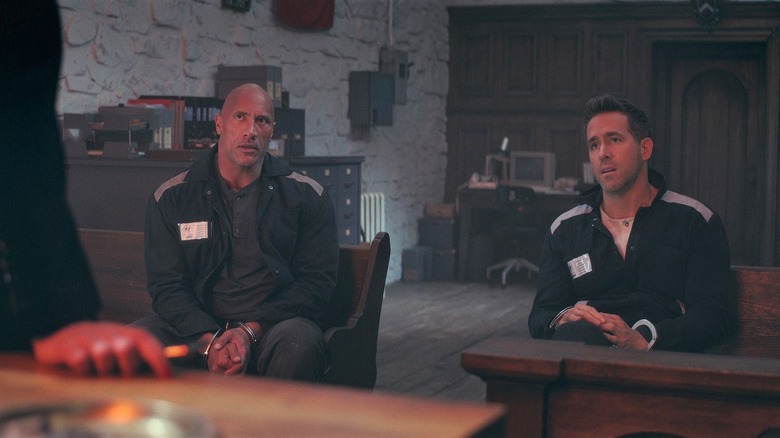 Netflix
Hartley has the upper hand against Booth from the very moment we meet him in "Red Notice." As a profiler, he's able to see through Booth's cavalier demeanor and determine that he's got some personal issues that stem from his childhood, which is what leads him to Booth's little lair. Eventually, Booth confirms Hartley's suspicions about his difficult relationship with his father, and the two manage to bond by teasing each other before making a grand escape from their wintry prison together.
They may not consider each other fully fledged friends just yet when they break out, but this moment of clarity is meaningful enough to make Hartley want to save Booth from falling to his death when they have to scale a teeny-tiny ledge together. Booth still tries to leave Hartley behind after he steals a helicopter, which leads to some hilarious backtracking by Reynold's character, but Hartley puts aside any hurt feelings from that snub and quickly gets back to work.
Both Reynolds and Johnson play to this tenuous character connection with perfection. As Booth, Reynolds relies on his wit to get him out of the stickiest situations and is visibly surprised when someone takes him seriously. And as Hartley, Johnson is no-nonsense but also has an air of compassion and patience that makes him impossible to dislike. As they move on from the confines of the Russian prison, it's clear that even though they're both snappy with each other, there's a bit of a bromance bubbling between them.
Making a plan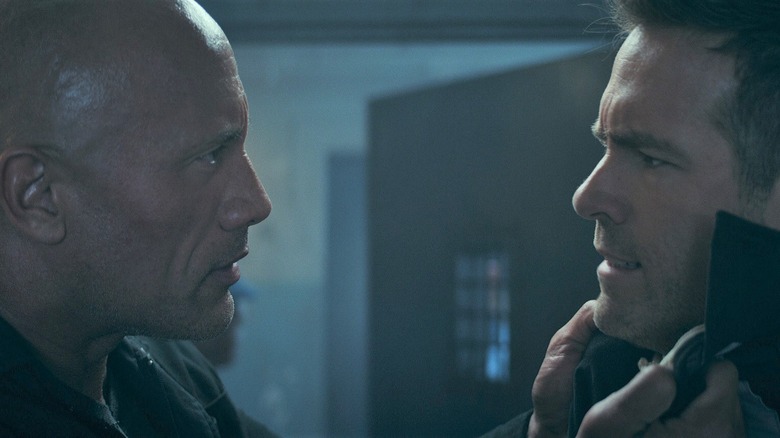 Netflix
To track down the second egg of Cleopatra and keep it out of the Bishop's hands, Hartley and Booth have to be perfectly in sync, but they don't hesitate to give each other a hilariously hard time along the way. From outfitting Hartley with some '90s-tastic tween gear to saying he wants a divorce when Hartley calls their partnership a "marriage of convenience," Booth uses his humor to keep Hartley at arm's length, which is clearly a well-developed defense mechanism of his.
However, they both begin to drop their guard once they infiltrate the home of international arms dealer Sotto Voce (Chris Diamantopoulos) and find that they've got company in a ravishing red dress. Though Booth is initially miffed that Hartley seems distracted by the Bishop, he's highly impressed when he learns that Hartley was simply using his psychological evaluation skills to lure Sotto Voce in so he could steal his phone.
Booth might've literally dressed Hartley down and consistently taunted him before they got to this spot, but now, he's using terms of endearment like "you sneaky little minx." Suddenly, his teases are more affectionate than argumentative, and both Reynolds and Johnson begin to imbue their characters with an air of respect and physical rhythm as they continue on with their plan.
Saving the day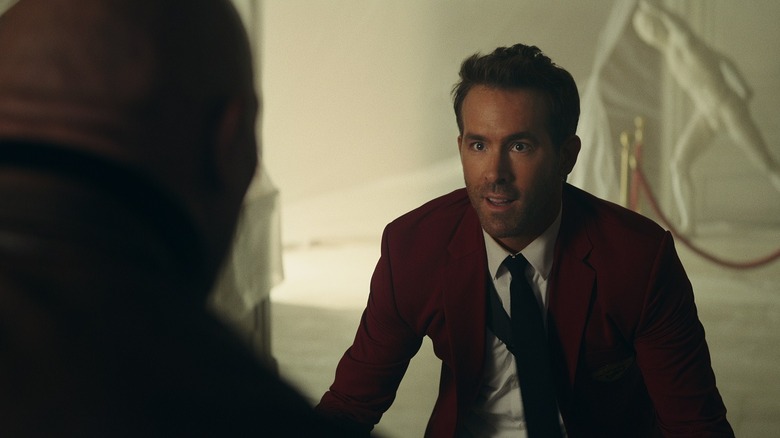 Netflix
After a couple of quick hiccups, Hartley and Booth finally open Sotto Voce's vault, but they're surprised to discover yet another foil to their plan as Hartley's former law enforcement ally, Inspector Urvashi Das (Ritu Arya), shows up and holds them up at gunpoint. Seeing the two in action for this egg heist, Das has some understandable doubts about Hartley's claims of innocence, and Booth leans into another round of rambling to deal with the situation, teasing that he's proud of Hartley's newfound thieving skills.
However, Das challenges Hartley to prove his innocence by arresting his friend, and no clever word volleys over the correct categorization of their relationship can get them out of this one. Booth is initially upset to see Hartley appear to acquiesce to Das, but when Hartley only pretends to cuff him, he realizes the FBI agent is fully on his side.
"You love me?" he whispers with puppy eyes. "I hate you," Hartley replies with faux earnestness. He then pushes Booth and himself into the vault, sealing out both Das and his own chance to prove his innocence. Once inside, Booth scrambles to catch up to what just happened. He insists the two have just had a "moment," and even though Hartley insists otherwise, it's clear that they've both completely committed to being buddies now.
This scene is just one of the many highly entertaining exchanges Reynolds and Johnson have in "Red Notice," but with its clever blend of the actors' individual gifts for fast-paced wit and deadpanning, respectively, it's a truly standout moment of bromance between these two superstars. Granted, Reynolds and Johnson have worked together before, with memorable cameos in each other's movies ("Hobbs and Shaw" and "Free Guy"). However, "Red Notice" is the movie that really gives the two a chance to play as unlikely buddies, and it's clear in every scene that both actors had an absolute ball sharing the screen together.