The Only Walking Dead Stars Who Actually Know How The Series Ends
On October 10, the 8th episode of "The Walking Dead" Season 11A aired on AMC, bringing the first part of the series' 11th season to a close. While the completion of a mere third of a TV season may not typically be noteworthy, the 11th and final season of "The Walking Dead" is divided into three discrete blocks of eight episodes (via Deadline), between each of which is a months-long break.
In effect, this means that, though "The Walking Dead" Season 11 is already underway, the series finale will not air until well into 2022. That said, fans have a vague idea of what to expect in the show's future. For example, executive producer Denise Huth revealed that certain aspects of Season 11 will call back to elements of the series' first.
Of course, on the whole, the "Walking Dead" finale is largely shrouded in mystery. As it turns out, however, two cast members are among the exclusive group of those privy to how the series will wrap up in its final episode.
Khary Payton and Eleanor Matsuura know how The Walking Dead will end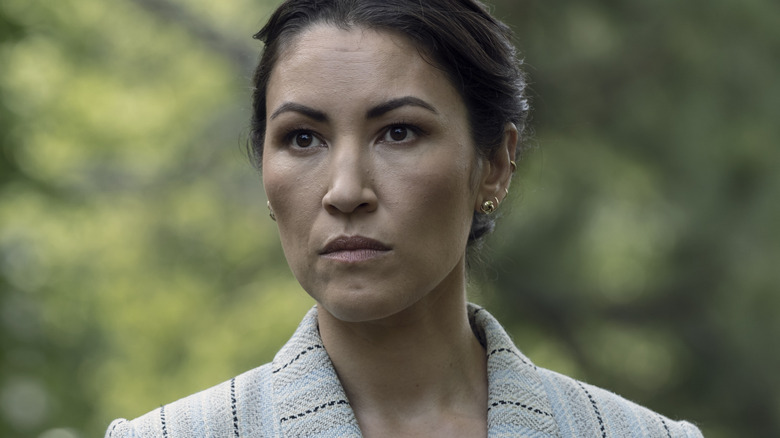 AMC
During an interview with ComicBook prior to a "Walking Dead" panel at San Diego Comic-Con@Home, actors Khary Payton and Eleanor Matsuura revealed that they both possess insider info about how the series will end, courtesy of showrunner Angela Kang.
"I will tell you that they did tell me how this winds up and I am so excited for it," said Payton, who portrays Ezekiel. "I love that I have that. I love that I have this secret that I can't tell."
Meanwhile Matsuura, who portrays Yumiko, described herself as smug about her foreknowledge of the series' conclusion. "I'm walking around, I'm like, 'I know how it ends,'" she said. "'I have all the information.' It's so fun that you get to revel in it, so let's have this, guys. I have no qualms with enjoying the fact I know the ending."
By contrast, Negan actor Jeffrey Dean Morgan separately told ComicBook that he's virtually in the dark about the content of the series finale. Payton and Matsuura, then, seem to be on a very short list of people with knowledge of the show's endgame.
"The Walking Dead" Season 11B will begin airing on February 20, inching ever closer to its mysterious series finale.