The 9-1-1 Season 5 Episode 7 Storyline That Has Fans Scratching Their Heads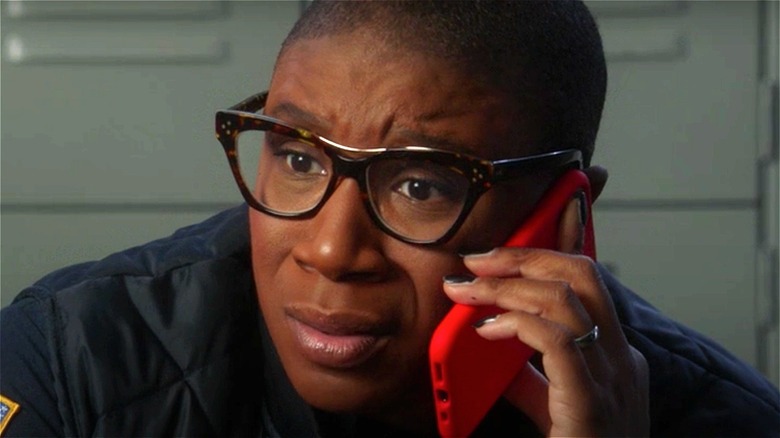 FOX/Hulu
Fox's disaster-heavy drama "9-1-1" has become a successful Monday night staple for the network. It recently spun off an equally-popular companion series, "9-1-1: Lone Star," and it manages to stand out among contemporaries like NBC's "Chicago Fire" and ABC's "Station 19" by crafting big-budget action scenes which revolve around the lives of a disparate but closely-knit group of first responders in the Los Angeles area. Dispatchers, firefighters, paramedics, and police officers comingle while they try to manage scenes as harrowing as a hostage crisis or as intimate as an allergic reaction gone terribly wrong.
Fans of the show are hugely devoted to the program, and when they want to talk about plot details they often gather at the show's subreddit. But a detail related to the seventh episode of Season 5 utterly boggled the minds of the fans posting there, and it's something casual viewers may have missed entirely. What detail had fans scratching their heads?
The case of the missing scene
According to fans posting to a discussion thread for Episode 7 of Season 5 of "9-1-1," "Ghost Stories," the problem wasn't what the episode contained — it was what it didn't.
"What happened to most of the promo?" asked u/dukegirlie. Other fans registered their disappointment, such as u/diddum, who was saddened that the show "cut all the fun looking ghost stuff," adding a frowny-faced emoji.
Per the promo, archived by BettyTrend TV on YouTube, there were a lot of supernatural shenanigans that didn't make the episode's final cut, including a scene where a patient declares  "I don't have a roommate" when paramedics arrive at her apartment after a 9-1-1 call was placed by someone at the location. 
"Didn't the original promo 3 weeks ago sho [sic] both the buried alive and the ghost-roommate story as well?" asked u/AvenueNick. They noted that the network re-edited the promo they were referring to and by the time it was attached it to the end credits of Episode 4, the promotional department had "removed the buried alive part altogether and just showed the ghost story, only for us to watch an episode that was only the buried alive story and no ghost-roommate story at all."
u/benderlax came up with a rational explanation for the footage's disappearance; with Halloween over, it's possible that Fox recut the episode to reduce its supernatural content, deciding that viewers would no longer be interested. Whatever really happened to those missing scenes, it's certainly worth puzzling over.