Riverdale Showrunner Gives An Exciting Tease For The Sabrina Crossover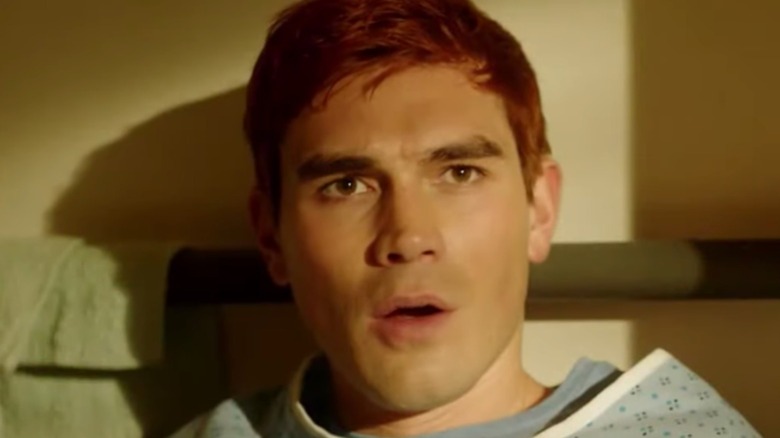 The CW
The first issue of Archie Comics arrived on newsstands everywhere way back in 1942, sharing the rack with such print icons as Batman and Superman. However, instead of trying to put a new spin on capes, spandex, and crime-fighting, this title put the focus on average, everyday teenagers and their endeavors at Riverdale High School. Little did anyone realize then, but this colorful, campy comic book line would go on to serve as the basis for one of the most popular yet dark and brooding teen dramas in the history of The CW: "Riverdale."
There's no denying that the stories told on "Riverdale" and, naturally, its take on such fan-favorite characters as Archie Andrews (KJ Apa) and Jughead Jones (Cole Sprouse) are major departures from the source material. Since 2017, the program has taken its cast of characters' lives in some very grim directions, covering topics like murder and drug use. To further up the ante, Season 6 will lean into more supernatural elements via a five-episode event known as "Rivervale." It will kick off on November 16, 2021, displaying to viewers a stranger, spookier side of the show.
As a result of this interesting twist on the "Riverdale" formula, a crossover with another beloved series — "The Chilling Adventures of Sabrina" — is about to become a reality. "Riverdale" showrunner Roberto Aguirre-Sacasa recently discussed the impending "Rivervale" storyline and made sure to tease Sabrina Spellman's (Kiernan Shipka) imminent arrival.
The Riverdale crew is in for one chilling adventure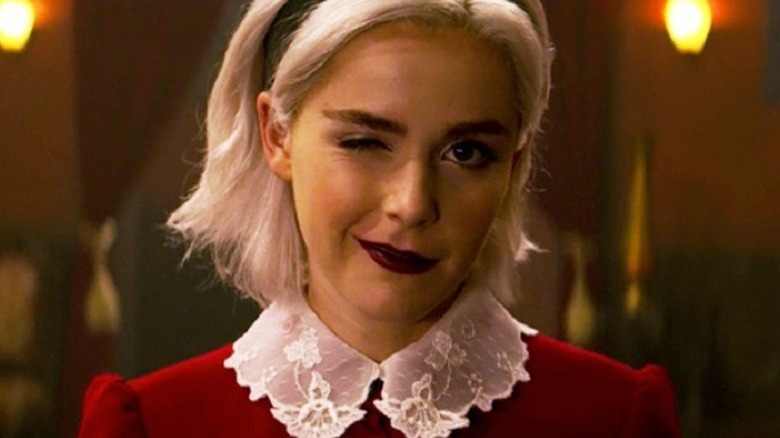 Netflix
Netflix's "The Chilling Adventures of Sabrina" is based on a comic series that began in 2014 under the Archie Comics banner. Although, unlike its more light-hearted counterpart, Sabrina Spellman's exploits have always been planted firmly in the realm of the supernatural. For the live-action adaptation, the young half-witch, half-mortal battled the forces of darkness while struggling to find her way in the world. Audiences responded well to the program, but sadly for them, it wrapped up in December of 2020 after a mere two seasons. Thankfully, it's set in the same universe as "Riverdale," so fans don't have to say goodbye just yet.
In an interview with TVLine, "Riverdale" showrunner Roberto Aguirre-Sacasa expressed how exciting it was to move in a more horror-inspired direction with the "Rivervale" arc. "I love those things, and we've never gotten a chance to do them," he said before touching on the "Sabrina" crossover episode. Aguirre-Sacasa referred to it as "amazing" and recalled that "it felt so natural...it felt both like [it was] worth the wait, and 'Why didn't we do this sooner?'" The installment in question is the fourth of Season 6 — "The Witching Hour(s)" – and Kiernan Shipka will reprise her Sabrina Spellman role.
For fans of "Riverdale," "The Chilling Adventures of Sabrina," or both, the "Rivervale" event is shaping up to be some must-see television.