Dynasty's Adam Huber Confirms What We All Suspected About Liz Gillies' On-Set Behavior
Kathy Hutchins/Shutterstock
Actor and singer Elizabeth Gillies' breakout role was portraying the sardonic Jade West on the Nickelodeon show "Victorious" for its four seasons from 2010 to 2013. Since "Victorious" wrapped up, Gillies took on a leading role in the short-lived FX comedy "Sex & Drugs & Rock & Roll" and appeared in films such as 2015's "Vacation" and 2018's "Arizona."
Her next big part came in 2017 when she landed the leading role of Fallon Carrington on the CW drama "Dynasty," which is based on the soap opera of the same name from 1980. The series has aired four seasons and has a fifth on the way, slated to premiere next month.
Fans of Gillies may be curious about what the actress is like in real life, including how she behaves on-set. Those who are wondering don't need to anymore as Adam Huber, who plays Liam Ridley on "Dynasty," has revealed in an interview what we suspected all along about Gillies' on-set behavior.
Gillies has helped Huber grow as an actor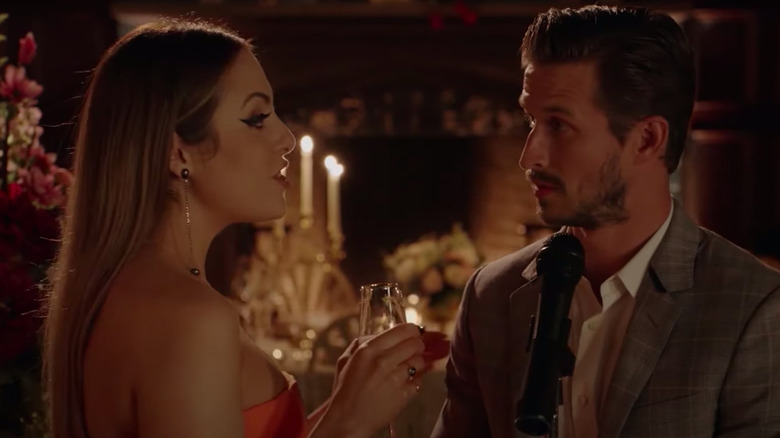 The CW
A few months ago, Adam Huber and Liz Gillies gave a joint interview to the Observer to talk about their experience filming together thus far. When writer Max Gao asked the pair what lessons they've learned from each other, Huber had nothing but positive things to say about Gillies, revealing that she's been somewhat of a guide to him in terms of what it's like to work on a TV show.
Huber said, "This is my first time being a part of a show, and Liz has been doing this for such a long time, so I've learned a lot of stuff from her. She's a seasoned vet, and just watching her do her thing and how she goes about finding the things in her character is really fascinating." The actor explained how much he trusts his on-screen partner and says she always gives him her honest opinion.
"I think that our friendship off the screen has also translated to on the screen," Huber continued. "We trust each other. We both want the same thing out of a scene, and I think we're both pretty giving with each other as actors."
Gillies then returned the compliment, saying, "I know if [Huber] tells me 'that was good' after a dramatic scene, I'll know I did a good job because Adam knows that stuff, and I know that he wouldn't just say that." It looks like Gillies is a professional on-set and has a great rapport with her co-stars.