The Actress Behind Sam From Danny Phantom Is Gorgeous In Real Life
"Going ghost" may sound like a dating app term, but fans of "Danny Phantom" know the phrase is exclaimed when it's time to transform and save the world from evil. According to IMDb, the supernatural Nickelodeon animated series aired from 2004 to 2007 and follows teenager Danny Fenton as he navigates being half-human and half-ghost.
Learning how to juggle high school and wield his superhuman powers, Danny enlists the help of his best friends, the edgy Sam Manson and tech-savvy Tucker Foley. The trio goes on various adventures to fend off villainous ghosts, and along the way, Danny falls in love with Sam.
Sam, an early adopter of the health-goth wave, has become a popular character among cosplayers in recent years due to her distinctive style and sarcastic personality. She's one of the most memorable characters from "Danny Phantom," though fans may not know the voice actress behind their favorite goth character is just as gorgeous in real life.
Grey Griffin is a popular voice actress and singer-songwriter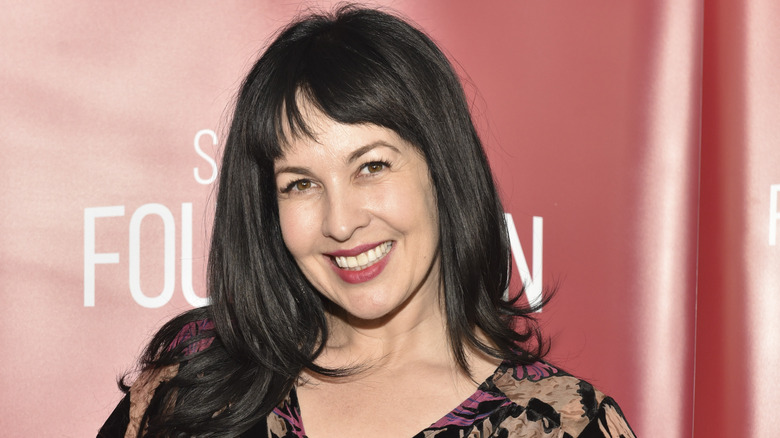 Rodin Eckenroth/Getty Images
Grey DeLisle, aka Grey Griffin, is a prolific voice actress known for voicing Sam Manson on "Danny Phantom." If the character's voice sounds familiar, it's because Griffin is also behind tons of beloved childhood characters from that era: From "Rugrats" to "Teen Titans Go!," she's done it all.
Most notably, the actress voiced Emily Elizabeth on "Clifford the Big Red Dog," babysitter Vicky on "The Fairly OddParents," Mandy on "The Grim Adventures of Billy & Mandy," and Daphne Blake on "What's New, Scooby-Doo?" Griffin has over 600 acting credits on IMDb spanning TV shows, movies, and video games, and has portrayed a wide range of characters over the years.
Recently, she replaced the late Russi Taylor as the voices of Martin Prince and Sherri and Terri on "The Simpsons." She's also set to voice Samara in the upcoming AMC series "Pantheon." In addition to staying booked and busy with voice acting, Griffin is also a Grammy Award-winning singer-songwriter and stand-up comedian, per her personal Instagram bio.