How The Little Mermaid Influenced Wonder Woman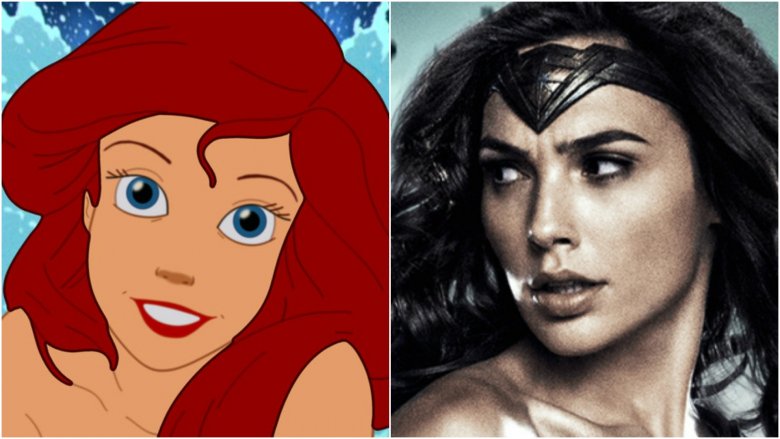 Disney/Warner Bros.
The upcoming Wonder Woman movie is a fish-out-of-water story, and there's a good reason for that.
Screenwriter Allan Heinberg told Entertainment Weekly that when he was brought on to pen the script early in 2015, he had a very specific pitch.
"The story as I see it is The Little Mermaid, specifically Disney's incarnation," he said. "This is a woman who has been raised in a very protective, sheltered life, she's curious about what life is like outside and she wants to have her own experience. She wants to be where the people are."
Heinberg worked closely with director Patty Jenkins and producer Geoff Johns for eight months, and Johns said they all wanted the movie to have a much lighter tone than previous DC superhero movies Batman v Superman: Dawn of Justice and Suicide Squad. So they looked to a second mermaid for more inspiration.
"There is a drop of Splash in it when it comes to the observations she has about our world," he said, referencing the 1984 comedy starring Daryl Hannah and Tom Hanks. "Some are light and fun. Some are poignant. But [Wonder Woman] is pointing out things that are absolutely true."
Jenkins previously said that another member of the Justice League also played a role in her vision for Wonder Woman. "One of the most definitive moments of my life was seeing Superman for the first time," she said, talking about the 1978 film starring Christopher Reeve. "It was life-changing. I remember seeing it so clearly. I was 7 years old and it was stunning. It was the most beautiful movie. I cried. What Star Wars was for a lot of people, that's what Superman was to me."
Did it all come together? It sure seems so. After early screenings, critics are saying it's not only the best DCEU movie to date, but one of the best superhero movies ever. 
We'll be able to judge for ourselves when Wonder Woman hits theaters on June 2. Until then, read up on the character's dark history.