Disney+'s Pinocchio - Everything You Need To Know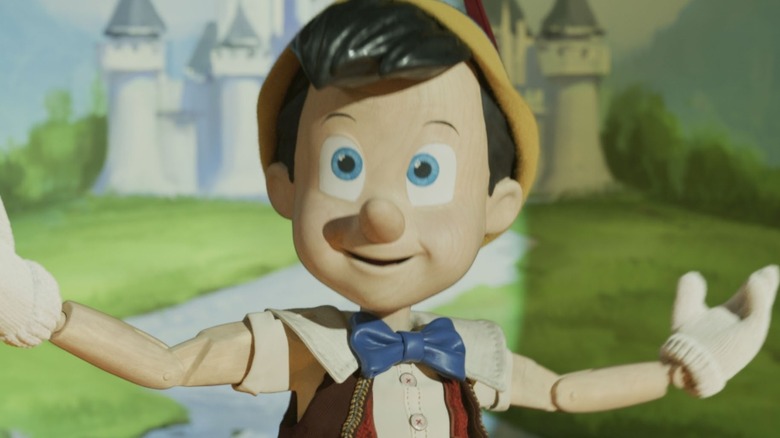 Disney+
Disney's live-action "Pinocchio" movie — starring Tom Hanks as Geppetto — was finally been released on September 8, 2022. The live-action film from the Mouse House was originally slated for a theatrical release, but the COVID-19 pandemic caused Disney execs to move it and several other films — including "Peter Pan" and "Cruella" — to a Disney+ premiere date.
The film includes a tremendous voice cast and live-action actors who made these 82-year-old characters come to life. The animation is fantastic and brings a new spin to the 1940s classic, with new songs and story choices fans of the original surely won't recognize. Now that "Pinocchio" is out and is earning views, we've broken down everything you need to know about the new film from whose in it, to how critics and audiences are responding. Also, this film is not to be confused with the other "Pinocchio" film coming out in 2022, which is directed by Guillermo del Toro and lands on a different streamer.
Who is in the cast of Pinocchio?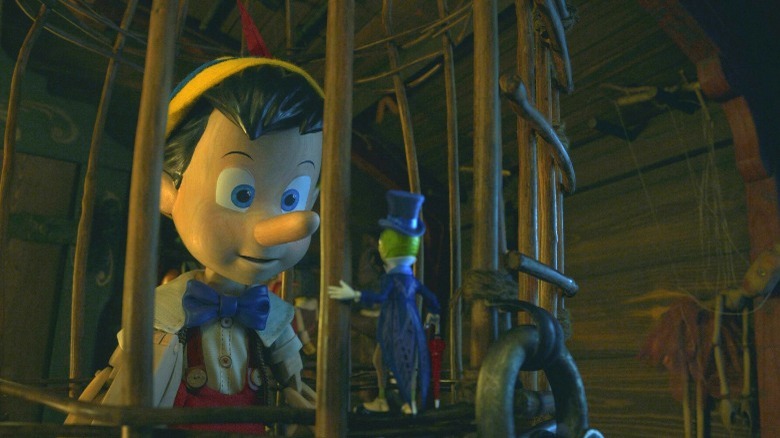 Disney+
Like most Disney re-tellings, "Pinocchio" features an all-star cast — this one led by Tom Hanks and Benjamin Evan Ainsworth. Hanks plays Gepetto, Pinocchio's creator, and he knew he wanted to be in the film from the get-go. "As soon I as I heard that Bob was doing it — Bob Zemeckis, I called him up cold and I said, 'Pinocchio,' literally one word. I said, 'Pinocchio,' and he said, 'Yeah,' and I said, 'Geppetto' and he said, 'Really?' and that was that," the actor told Entertainment Tonight. "To be in anything, to have a part in 'When You Wish Upon a Star?' Come on."
Voicing Pinocchio is Benjamin Evan Ainsworth, whose voice you might recognize from "The Haunting of Bly Manor" and "Son of a Critch." Additionally, Joseph Gordon-Levitt voices Jiminy Cricket, while Keegan-Michael Key lends his voice to fox Honest John. Cynthia Erivo stars as the Blue Fairy, with additional talent including Luke Evans as the Coachman and Angus Wright as Signore Rizzi.
What is the plot of Pinocchio?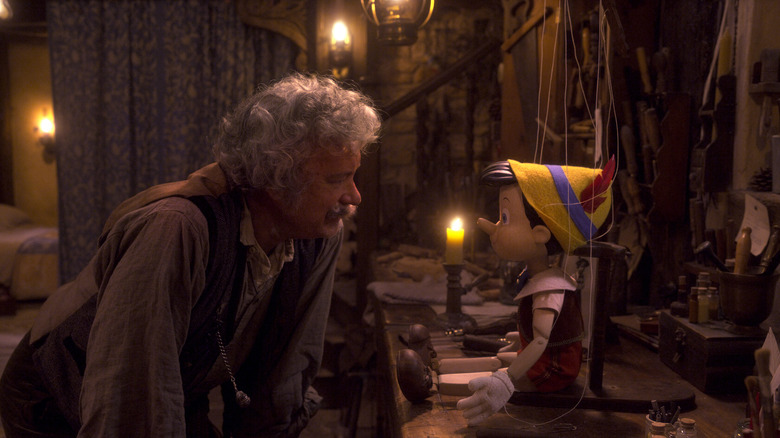 Disney+
The original 1940 film centered around Pinocchio's quest to become "a real boy" after being given a chance to do so by the Blue Fairy, and the live-action flick plays the same tune. Only after proving himself to be "brave, truthful, and unselfish" would he be able to achieve this fate. Along the way, Pinocchio is famously forced to avoid telling lies, or his nose will grow. The original movie is still one of the studio's most profitable animated features, with a lifetime gross of over $120 million, Deadline reports. The story is based on the 1883 children's novel "The Adventures of Pinocchio" by Italian writer Carlo Collodi.
There are some modern touches given to the live-action "Pinocchio," with mentions to influencers, Chris Pine, and a "Toy Story" easter egg (very appropriate, given its lead). As far as songs go, there's a little bit of a shake-up as "Little Wooden Head" and "Give a Little Whistle" are omitted from the film.  However, you'll still hear "When You Wish Upon a Star," "Hi-Diddle-Dee-Dee," and "I've Got No Strings." Additionally, just as the live-action "Aladdin" did, "Pinocchio" features new original songs.
What is Pinocchio rated?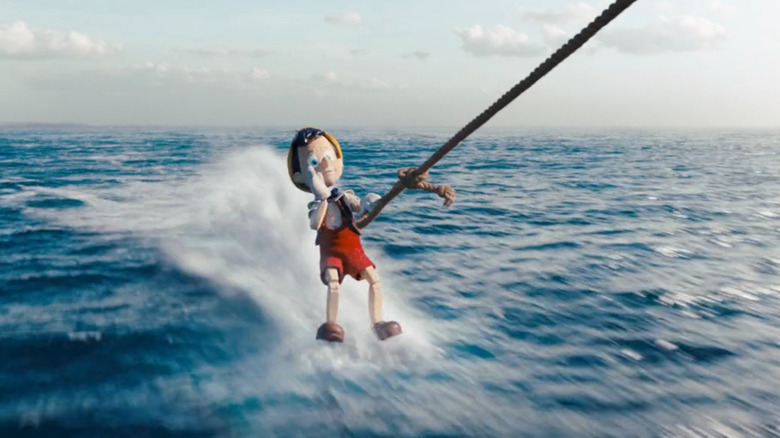 Disney+
"Pinocchio" is rated PG. According to Rating Board, this means that parents may consider some material unsuitable for their children. The original animated "Pinocchio" might have been rated G, but we're not sure it would be given the same scoring today, as it was a rather dark children's film. In the 2022 film, the MPAA PG rating is for peril/scary moments, rude material, and some language. 
There are some moments where Pinocchio is subjected to bullying, mentally and physically. As far as language goes, these words include words like jerk, loser, and brat. The phrase "H-E-double hockey sticks" is also uttered, but not the actual word. Additionally, some of the moments on Pleasure Island are what make this rating PG instead of G, as bad behavior is encouraged in the locale, where children run wild breaking rules. Generally speaking, PG films are appropriate for children ages eight and up, so parents can use their best discretion.
Who directed Pinocchio?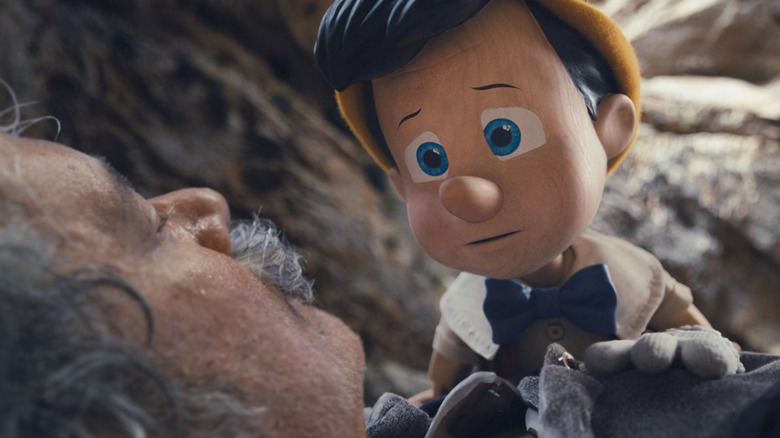 Disney+
"Pinocchio" is directed by Academy Award winner Robert Zemeckis. The director received an Oscar in 1994 for helming "Forrest Gump," another Tom Hanks film. Zemeckis was also involved in penning the script, writing it alongside Chris Weitz ("Rogue One: A Star Wars Story"). 
"Walt Disney was really clever. He always looked for stories to make movies of that were pretty much impossible to do as live-action movies," Zemeckis said. "'Pinocchio' is one of the most, if not the most beautiful animated features that
was ever made. I loved it so much." He added why he wanted to hop aboard the Disney live-action remake train, saying, "But now, since digital cinema has emerged, the puppet could be very much three-dimensional. It occurred to me that you could do a very plausible version of 'Pinocchio' as a live-action movie. And so even though I was concerned I was standing on hallowed ground, I thought that was a worthwhile project to do."
How was Pinocchio received by viewers and critics?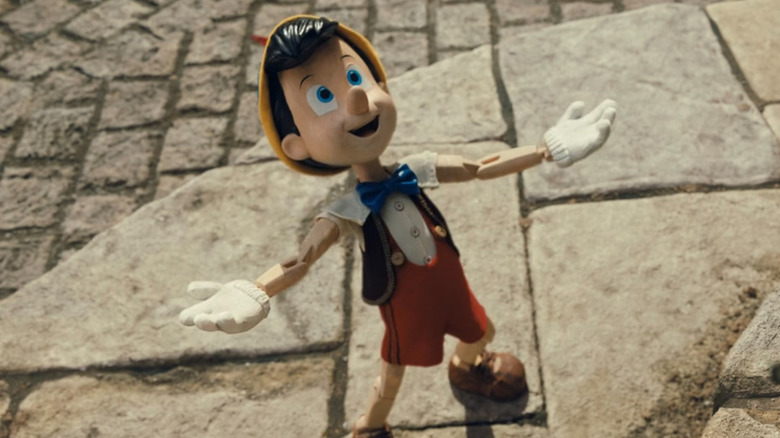 Disney+
Unfortunately, reactions to Disney+'s "Pinocchio" haven't been great. At the time of this publication, the film is sitting at a dismal 32% critic score on Rotten Tomatoes. That number will continue to fluctuate, possibly rising into the mid-30s or dropping into the high-20s when all is said and done. To make matters worse, viewers aren't enjoying it any better as the audience score is currently 48%. 
It appears as if critics and viewers are having trouble caring about this particular wooden puppet. "Though not without charm, and some splendid CGI, this scattershot grab-bag of good intentions results in a bit of an emotional flatline. This puppet will not tug on your heartstrings," Alex Godfrey of Empire wrote. "Something is off — the film is competently crafted, dutifully acted, clearly labored over with soul, and yet, like its star, lacks a beating heart," Adrian Horton from The Guardian added.
Where to watch Pinocchio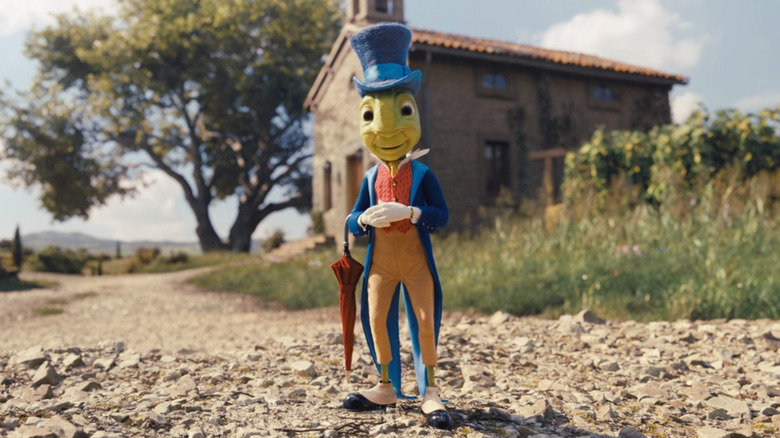 Disney+
"Pinocchio" is available exclusively on Disney+. As of now, there are no digital purchase options or hard copies available. That's likely to change over time, but "Pinocchio" will only be available to Disney+ subscribers for the foreseeable future. Other "Pinocchio" projects are also on the Mouse House streamer, including the 1940 original which comes with deleted scenes and featurettes. 2022's "Pinocchio" currently does not have any bonus features, but that could change in the future. 
Guillermo del Toro's upcoming "Pinocchio" film will not be available on Disney+ as that project will land on competitor Netflix. Audiences who love the wooden puppet will have to wait a few months before that film lands on December 9. Perhaps it will give them enough time to overcome the disappointment Robert Zemeckis' project seems to have delivered.