Why Drago Grande From Red Notice Looks So Familiar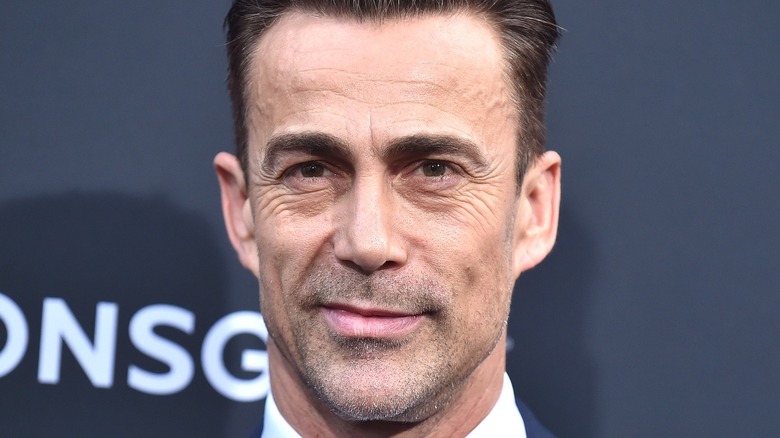 DFree/Shutterstock
On November 12, Netflix will debut its espionage action film, "Red Notice." A mix between a buddy-cop film and a spy thriller, the movie follows international art thief Nolan Booth (Ryan Reynolds) and FBI agent John Hartley (Dwayne Johnson), who reluctantly team up to take down another international jewel thief known as The Bishop (Gal Gadot) who has it out for both of them. The film promises plenty of action, and no small amount of witticisms. However, a lot of this wouldn't be possible without its supporting cast.
One of these supporting cast members is action film veteran Daniel Bernhardt, who plays the character Drago Grande. Even if you're an action fan, you might not recognize Bernhardt by name alone. However, his face will certainly be familiar. He has appeared in no small amount of popular action films, thanks to his expertise in multiple fighting styles including boxing, kickboxing, and taekwondo. In short, Bernhardt's one of Hollywood's go-to supporting actors for action roles, and he has a long history of being in some of the best action flicks around.
Bernhardt got his start replacing an action legend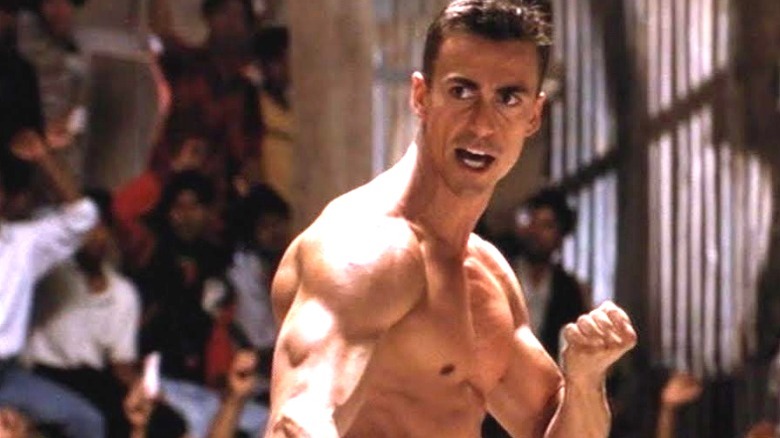 Lionsgate Entertainment
Though Bernhardt is currently more famous for his supporting roles in action films, he got his start picking up where Belgian martial arts star Jean-Claude Van Damme left off. In 1996, he landed his first acting role starring as thief turned martial artist Alex Cardo in "Bloodsport II: The Next Kumite" and the two following films. By this time, the "Bloodsport" franchise was little more than a B-movie series, but it proved to be an important foundational experience for Bernhardt.
"Everything that could go wrong went wrong," Bernhardt said in a 2020 interview with Kung Fu Kingdom. "Delayed, didn't have enough time, got injured, everything went wrong, and it still turned out great. And at the end, I said 'If I can do this, I can do anything.'" The actor elaborated on how it felt to take on the lead role in an action movie series like this, saying, "I was the lead in a major franchise, I had a lot on my back, and I did the best I could, and I had a lot of fun doing it."
It also proved to be a valuable networking experience, as this would also be how Bernhardt met ex-stuntman and "John Wick" director Chad Stahelski, who would go on to offer Bernhardt many of his later roles.
Bernhardt entered the Matrix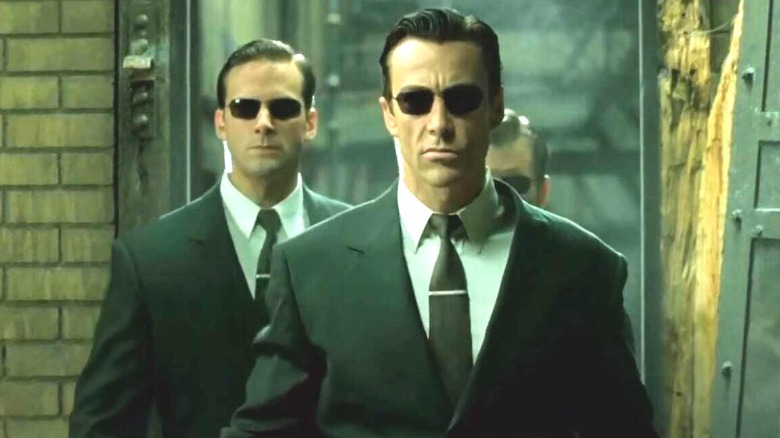 Warner Bros.
Bernhardt's friendship with Stahelski would prove to pay off in many ways. On top of being a frequent stunt coordinator on films that Bernhardt worked on, Stahelski also worked as a stunt double for Keanu Reeves. This led to Bernhardt landing a role as Agent Johnson in "The Matrix Reloaded," as he explained in the same interview with Kung Fu Kingdom. You might recall him as the Agent who fights Morpheus (Laurence Fishburne) on top of a runaway semi truck — a moment Bernhardt identified as one of his favorite fights ever.
In many ways, "The Matrix" would prove to be one of the biggest films in Bernhardt's career. It certainly was at the time. Not only was it one of the highest-budgeted films of his career, but Bernhardt also got to work with martial arts movie legend Yuen Woo-Ping. "You can't compare ['Bloodsport II' and 'The Matrix']," Bernhardt said. "You're talking about a $150 million movie that would be like $300 million today, and on "Bloodsport," we had nothing, we just did everything practical." While he didn't appear in the franchise's third entry, "Revolutions," he is set to return in its upcoming fourth, "Resurrections" (via Deadline).
Daniel Bernhardt, the bane of John Wick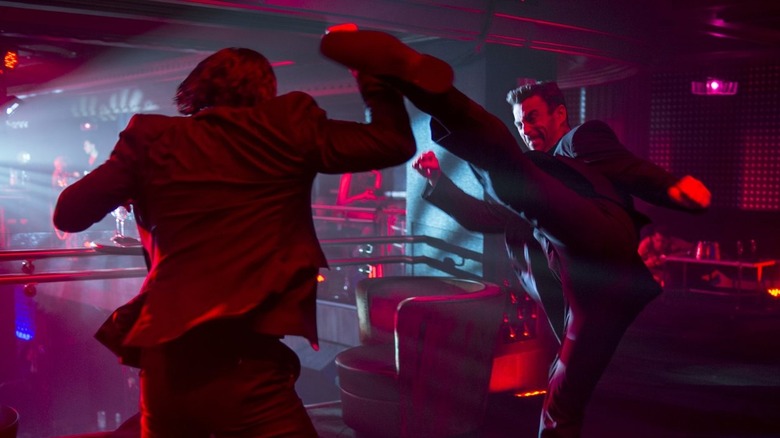 Lionsgate
Even when Bernhardt isn't trading blows in blockbuster sequels, his presence is never too far from mainstream consciousness. You can find him in familiar roles everywhere. He played Siro in "Mortal Kombat: Conquest," the 1999 live-action show based on the popular fighting game, was Kroll in the 2013 Jason Statham-led action-thriller, "Parker," and even appeared as an unnamed tribute in "Hunger Games: Catching Fire" (via IMDb).
In 2014, however, Bernhardt landed his next major role. His old friend, Chad Stahelski, needed someone to play a tough as nails, high-ranking Russian mobster in the first "John Wick" film, and he called on Bernhardt for the role. However, Bernhardt isn't just some nameless thug, as he plays Kirill, the right hand of the film's antagonist and one of the only people who has ever matched John Wick in a fair fight. Elaborating on his experience in the Kung Fu Kingdom interview, Bernhardt said that "The fight with Keanu in the nightclub in 'John Wick,' that's one of my favorite fights, because it was just so much fun to do, working with all my buddies, Chad Stahelski and David Leitch."
Bernhardt tackled both Marvel and DC in Logan and Birds of Prey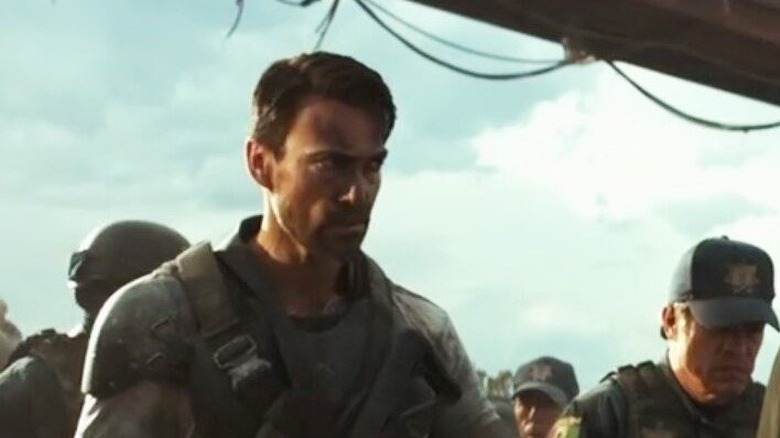 20th Century Fox
Nowadays, the allure of appearing in a superhero movie is too great for most actors to pass on, and Bernhardt is no exception. Plus, his massive action film resume makes him a perfect fit for just about every superhero flick under the sun. Despite that, Bernhardt didn't actually appear in a superhero movie until 2017, when he landed a role as Bone Breaker in "Logan." As one of the cybernetically-enhanced Reavers, Bernhardt helps hunt down Logan (Hugh Jackman) and Laura (Dafne Keen), also known as X-23, for a good portion of the movie. That is, until he gets killed off.
Thankfully, Bernhardt survives his next comic book movie appearance in 2020's "Birds of Prey," though he hardly comes out unscathed. Bernhardt plays the role of the first chauffeur for Roman Sionis (Ewan McGregor), a.k.a. Black Mask, and his character gets a few scathing lines insulting Margot Robbie's Harley Quinn before the crazed villainess breaks both his legs. While it is a short and sweet appearance, Bernhardt appears to have had fun playing the part.
In between his comic book ventures, Bernhardt earned action accolades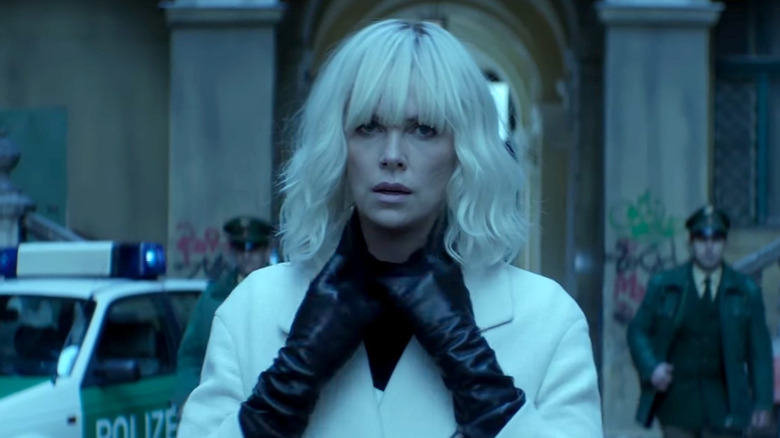 Focus Features
Shortly after filming "Logan," Bernhardt got the opportunity to appear in another David Leitch-directed action film, 2017's "Atomic Blonde." Working alongside Academy Award-winner Charlize Theron, Bernhardt took part in a one-shot fight scene that netted him and his colleagues a Taurus World Stunt Award for Best Fight. Recalling the brutal brawl to Kung Fu Kingdom, Bernhardt has nothing but praise for Theron's action work.
"She trained for like three months, and she couldn't have been more prepared. And she was so talented, the director David decided to do long shots, so we did maybe fifteen to twenty moves sometimes, and that's very difficult even for me, so kudos to her. I've been doing movie fights for twenty-five years, and doing that many moves is not easy." Unfortunately, Bernhardt's character isn't hugely important to the twisting spy plot of "Atomic Blonde," as he plays an unnamed Russian soldier at the height of the Cold War. Nevertheless, his work in "Atomic Blonde" arguably stands among Hollywood's best action sequences.
Bernhardt went cyberpunk in Altered Carbon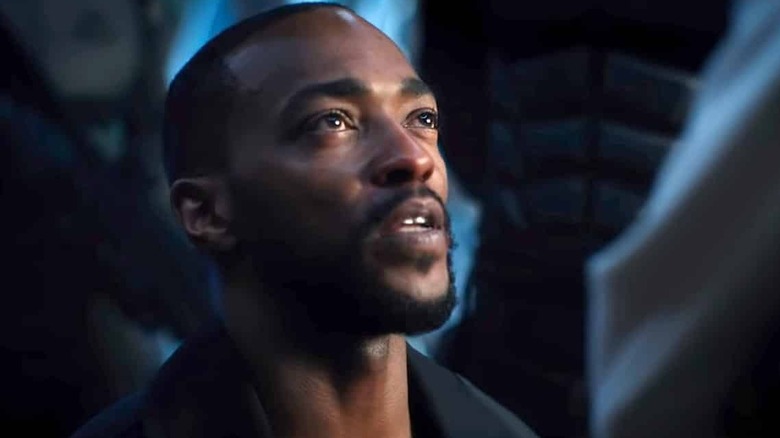 Netflix
In between major movie appearances, Daniel Bernhardt has maintained steady work in minor movie and TV roles. Over the years, he has appeared in "Agents of SHIELD," "Arrow," the "Lethal Weapon" TV series, and "Fast & Furious: Hobbs and Shaw." In 2019, he appeared as Ronny Proxin in several episodes of the Bill Hader-starring black comedy series "Barry." Between 2018 and 2019, however, he made his most prominent TV appearance yet as Jaeger in Season 2 of Netflix's cyberpunk series, "Altered Carbon."
Jaeger is one of the series' most crucial characters. As both a father figure and major antagonist to the show's protagonist, Takeshi Kovacs (Anthony Mackie), Jaeger has a major influence on the story's development. Most notably, he is a main reason why Kovacs betrays the Colonial Tactical Assault Corps, as he learns that Jaeger has been lying about finding a safe home for his sister, Reileen (Dichen Lachman). However, Bernhardt eventually gets replaced by actor Torben Liebrecht after Jaeger switches his "cortical stack" into a new body.
Bernhardt's most recent appearance is in the movie Nobody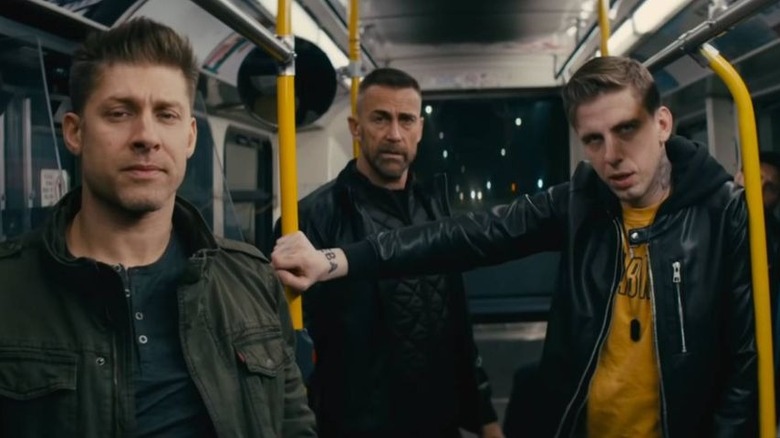 Universal Pictures
It's fitting that Bernhardt's most recent notable role before his appearance in "Red Notice" comes in a tribute film to the aged American action hero character type. The Bob Odenkirk film "Nobody" sees Odenkirk as a retired assassin who tries to relive his glory days despite being massively out of practice. Bernhardt's character, an unnamed thug, encounters Odenkirk's Hutch on a bus. Their ensuing battle — which the two break down together in a video from Fandango — illustrates just how rusty Hutch is by depicting a sloppy, yet nonetheless impressive brawl.
As co-coordinator for the film's stunts, Bernhardt worked closely with Odenkirk to make sure all the scenes went exactly right. In addition to helping train Odenkirk, who Bernhardt praised for his talent and dedication to the choreography, Bernhardt cleared almost every decision with Odenkirk before it was committed to film. Speaking with Fandango, Bernhardt said, "It was very important to us that Bob approved everything." "All so that we had a story, which was actually very important to Bob. You want to tell a story. You don't want to just hit, smack, there has to be a story in there. That's the most important thing for us." Look out for Bernhardt next in "The Matrix Resurrections."