Alice In Borderland Season 2 - What We Know So Far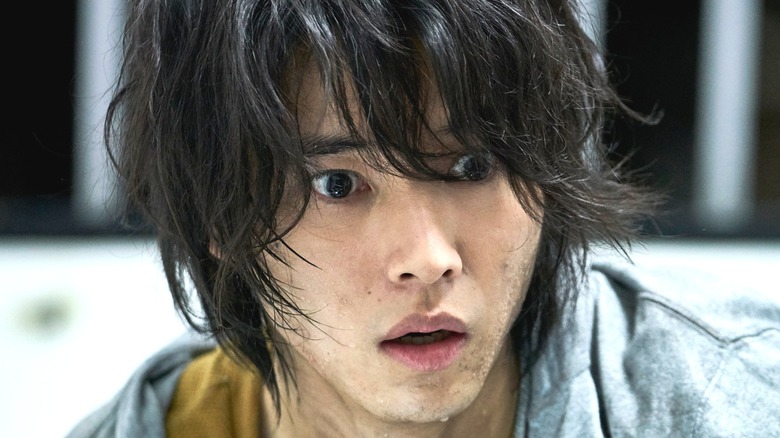 NetflixHaro Aso, Shogakukan/ROBOT/Netflix
When the first season of Japanese TV series "Alice in Borderland" debuted on Netflix in December of 2020, it was popular enough during its first week of availability to appear on the streaming service's Top 10 list in more than one country. Some months later, Netflix became home to the wildly successful "Squid Game." Since "Alice in Borderland" features a similar premise, the series then benefited from some renewed viewership (via Business Insider).
In short, "Squid Game" and "Alice in Borderland" resemble one another in that they each follow everyday people competing in a series of contests with their lives at stake. However, whereas "Squid Game" takes place in an exaggerated but theoretically possible version of Korea, "Alice in Borderland" exists partially in the realm of the supernatural, its alternate reality version Tokyo devoid of anyone but those entered into its video game-inspired competition.
Netflix announced its renewal of "Alice in Borderland" for a second season in December of 2020, just days after the series' premiere (via Variety), and well before the "Squid Game" bump that grew the show's audience considerably. Here's everything we know so far about "Alice in Borderland" Season 2.
When will Alice in Borderland Season 2 be released?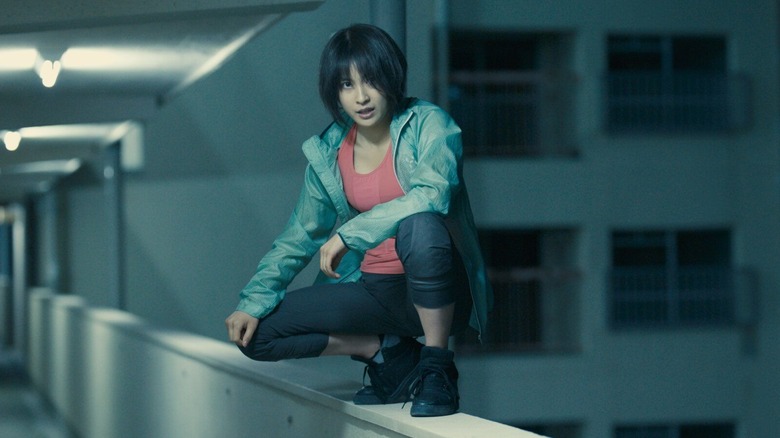 NetflixHaro Aso, Shogakukan/ROBOT/Netflix
On November 9, Netflix Japan detailed the second season of "Alice in Borderland" for the first time since its announcement, as part of a livestream event called Netflix Festival Japan. Among the various updates included for its slate of upcoming live action series, which is available in full on YouTube, is a teaser for "Alice in Borderland" Season 2.
Overall, this latest preview of the upcoming "Alice in Borderland" season contains little new information beyond confirmation that it's currently in the process of filming. Most notably, a release date for Season 2 appears in the upper left-hand corner of the screen during a short interview with series stars Kento Yamazaki and Tao Tsuchiya. That text reveals that "Alice in Borderland" Season 2 is scheduled to premiere in December of 2022. The date is followed by the word "zensekai," which means "the whole world" (via Nihongo Master), indicating that its release will not be exclusive to Japan but to subscribers everywhere.
Who will star in Alice in Borderland Season 2?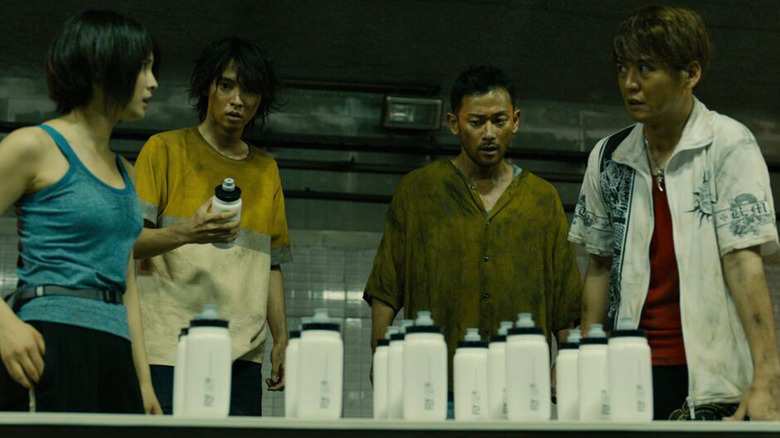 NetflixHaro Aso, Shogakukan/ROBOT/Netflix
Netflix has yet to officially detail the cast of "Alice in Borderlands" Season 2. Of course, its Netflix Festival Japan trailer features series leads Kento Yamazaki and Tao Tsuchiya, who portray skilled gamer Ryohei Arisu and mountaineer Yuzuha Usagi respectively. Given their presence in the initial marketing for Season 2 as well as their importance to the series' ongoing story, both actors can be expected to return.
Presuming that each of the surviving contestants upon the conclusion of "Alice in Borderland" Season 1 are coming back, Season 2 should likewise feature Shuntaro Chishiya actor Nijiro Murakami, Aya Asahina as Hikari Kuina, and Ayaka Miyoshi as Ann Rizuna. Furthermore, Riisa Naka is likely reprising the role of Mira Kano, who Season 1 teases will take on a more overtly villainous role come next season. Given the deaths of numerous characters introduced in Season 1, some entirely new faces may well join the upcoming season too.
What is the plot of Alice in Borderland Season 2?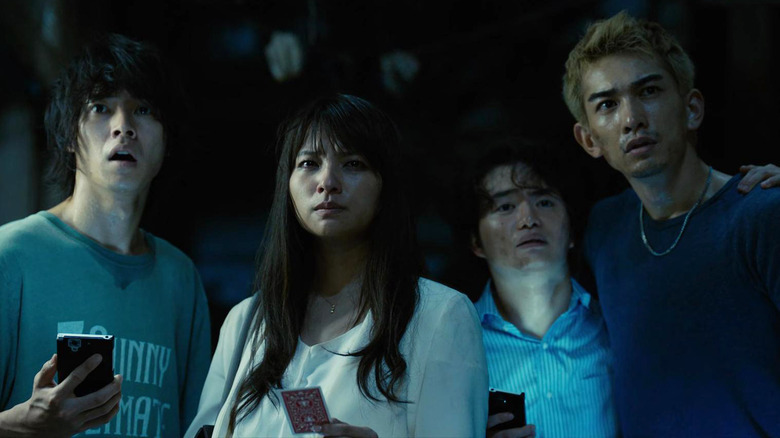 Haro Aso, Shogakukan/ROBOT/Netflix
Upon the opening of "Alice in Borderland" Season 1, Ryohei Arisu enters into an alternate reality in which he and a number of other contestants must win video game-inspired challenges or die. Both Arisu and his closest in-game friend Yuzuha Usagi ultimately survive the events of Season 1. That said, they learn that Mira Kano, who initially presents herself as a helpful presence, is one of the architects behind the games and takes pleasure in the deaths of its entrants. Furthermore, two contestants with whom Arisu forms a sort of bond — Asahi Kujo (Mizuki Yoshida) and Momoka Inoue (Kina Yazaki) — reveal themselves to be traitorous prior to their deaths late in the season. Arisu, then, will likely be moving into the next stage of the contest trusting few of his fellow competitors aside from Usagi.
Before it was adapted into live action, "Alice in Borderland" was a manga series by author Haro Aso. In a Reddit thread about the show's source material, user NewTeaBar estimates that Season 1 covers the events of roughly 29 out of a total 64 manga chapters. Should Netflix continue to pull directly from the series' source material, then, Season 2 could very well include the manga's ending. Or, should Netflix prefer to extend its hit series, new surprises could be in store for Usagi, Arisa, and each other remaining player fighting for their survival.