Actors You Forgot Guest Starred On Sex And The City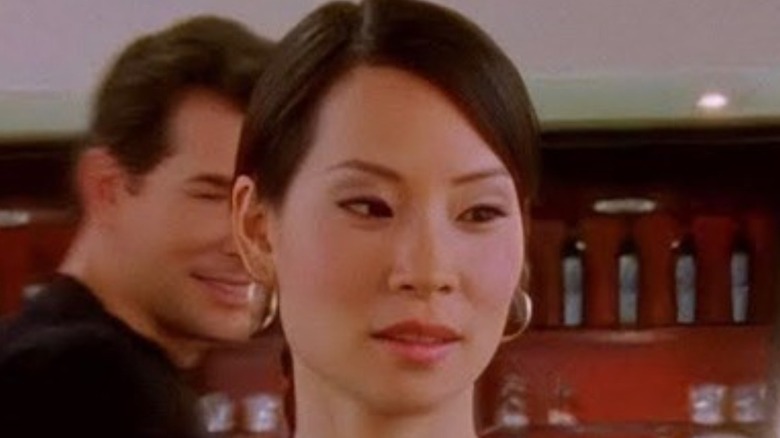 HBO
"Sex and the City" has remained part of the cultural conversation since its 1998 premiere. The show continues to air in reruns, and people are still eager to discuss Carrie, Miranda, Samantha, and Charlotte's lives. Beyond the original series, there have been two movies: 2008's "Sex and the City," roundly regarded as entertaining, and 2010's "Sex and the City 2," considered by most to be truly terrible. Undaunted, fans have been asking for more since the latter film left theaters.
Devotees got their wish with the announcement of 2021's "And Just Like That...," a 10-episode series that catches up with the characters years after the show's conclusion. It's made "Sex and the City" a bigger topic of discussion than it's been in years. While the revival is crowded with stars, the original series had more than its fair share of celebrity guests. Some flew under the radar, only gaining fame after the show ended, while others — like Matthew McConaughey, Vince Vaughn, and Jon Bon Jovi — were already mega-famous when they appeared. While no one could possibly forget those cameos, here are some actors you may have forgotten guest starred on "Sex and the City."
Bradley Cooper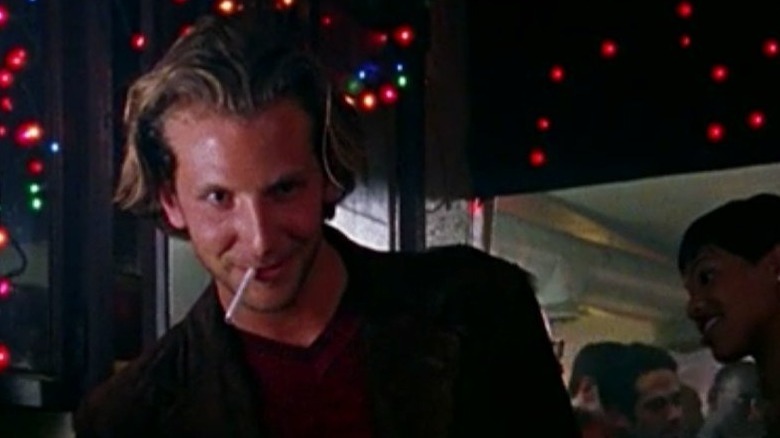 HBO
Bradley Cooper is a household name, having starred in huge movies like "A Star is Born" and "American Sniper," but he was pretty easy to miss back when he appeared on "Sex and the City" in 1999. In fact, "Sex and the City" is Cooper's first acting credit on IMDb. Who could have guessed that two decades later, Cooper would have multiple Academy Award nominations to his name?
Cooper appears as Jake in Season 2's "They Shoot Single People, Don't They?" In this episode, Carrie parties too hard the night before a photo shoot, and ends up looking like a hot mess on the cover of a magazine. Not only does she not look good, the mocking headline — "Single and Fabulous?" — has a question mark that haunts her for the rest of the episode.
Carrie, desperate for comfort, almost goes home with Jake. After they make out in his car, however, Jake stops for cigarettes, finds a copy of the magazine, and holds it up like a mirror. "And then I realized, if I went home with him, it would be the only time I'd ever slept with a man to validate my life," Carries says in a voiceover. He tries to get her to stay, but Cooper's sexy grin and golden waves are no competition for Carrie's self-worth.
Will Arnett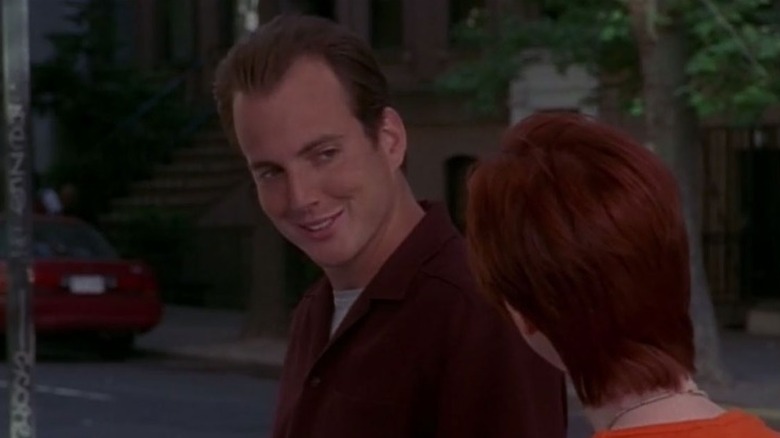 HBO
Will Arnett put his comedic chops to good use when he guest starred on Season 2's "La Douleur Exquise!" He plays Jack, a man Miranda meets at a bookstore. She soon finds out, however, that Jack likes to have sex in public places, starting with a tryst in an alleyway by Mark Twain's old house. They continue to have sex all around the city, which makes Miranda worry that Jack can only find sexual satisfaction through risk. She's happy when Jack agrees to do the deed at home ... only to find out Jack's parents are within earshot. When one of his parents walks in on them mid-act, it even seems to turn Jack on. Miranda, no fool, runs away for good.
This role on "Sex and the City" was one of Arnett's first: Back in 1999, he was not yet a big-name star. After his Emmy-nominated turn in "Arrested Development," the actor's fame skyrocketed. He has starred in multiple other TV shows since, including "Running Wilde," "Up All Night," and "The Millers." Arnett has also become an in-demand voice actor: He voices a truly unforgettable Batman in the Lego movies, plays the starring role on "BoJack Horseman," and pops up in way too many commercials to count.
Justin Theroux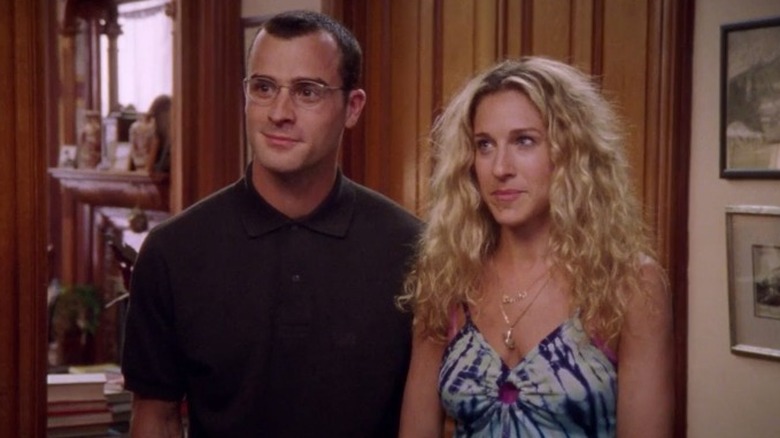 HBO
Justin Theroux must have dazzled someone on the "Sex and the City" set, because he was cast in a guest role not once, but twice. His first visit is rather forgettable: He plays Jared, a young author who has a quick thing with Carrie in Season 1's "The Monogamists." "I did a small part in the first one. You know, enters frame, says a few things and then leaves frame," Theroux told "Sunday Today" host Willie Geist. "And they were like, 'Why don't you come back?' And their idea was that they would just shave my head. And they're like, 'Voila! total transformation.'"
Come back he did, this time as Vaughn Wysel, yet another writer. Vaughn's focus is on short stories and, appropriately enough, he also falls short in the bedroom. Season 2's "Shortcomings" sees Vaughan win Carrie over with his intelligence, wit, and wonderful family. But not even Vaughn's fantastic mother Wallis (Valerie Harper) can eclipse the sexual problems he refuses to discuss.
Theroux has since become famous for his roles on programs like "The Leftovers" and "Maniac." Nonetheless, he may not be too famous to come back for the revival — in fact, Theroux seems entirely game. "Let me check my email or see if anyone called. I still have no email from Sarah Jessica," he joked to E! News.
Elizabeth Banks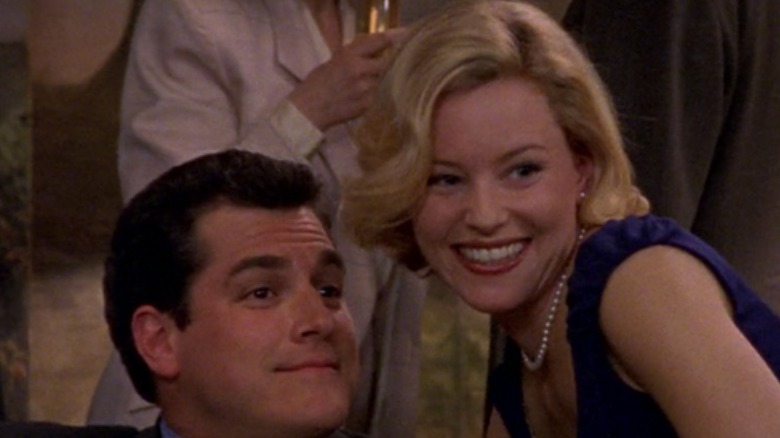 HBO
Elizabeth Banks is a highly accomplished actor, producer, and director, with a resume that includes hits like the "Hunger Games" movies, "Pitch Perfect," and "The Lego Movie." But before she was a multi-hyphenate powerhouse, Banks was a young talent with a dream. One of her first parts was a very small guest spot on a 2000 episode of "Sex and the City."
In Season 3's "Politically Erect," Carrie dates politician Bill Kelley (John Slattery) who is running for city comptroller. Charlotte is excited about this — not because of politics, but because she thinks it might be a good opportunity for her to meet a man. She flirts with a guy at a political fundraiser, only to find out he's already taken. Banks plays the man's wife, Catherine, who quickly comes over and whisks him away from Charlotte once she sees them talking. It's a throwaway role, but it still probably felt like a big get for the then-26-year-old.
Jennifer Coolidge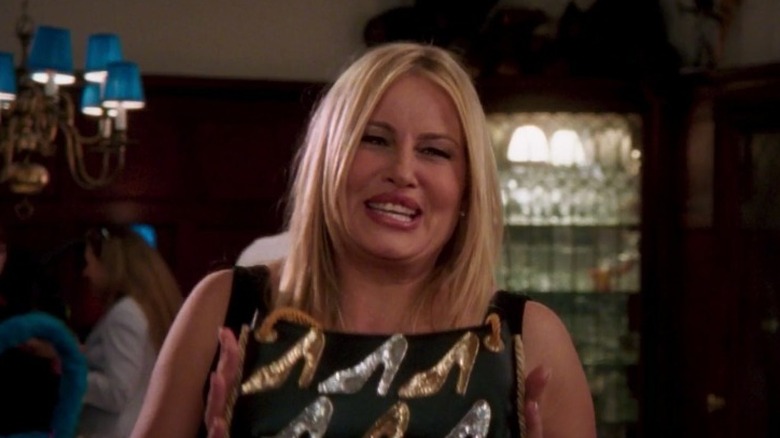 HBO
Jennifer Coolidge has been famous for years, but she's currently on the tip of everyone's tongue because of her spectacular role on HBO's 2021 series, "The White Lotus." Coolidge's other credits include scene-stealing turns in "Legally Blonde," "American Pie," and "Promising Young Woman," to name a few. She's also been a series regular on shows like "2 Broke Girls" and "Joey." 
Coolidge's "Sex and the City" appearance is a one-off, but a supremely memorable one. She plays Victoria in Season 6's "The Perfect Present," a friend of the crew who's launched a terribly unfashionable line of purses after a brutal break-up. Though Coolidge was quick to shut down calls for her to replace Kim Cattrall as Samantha in the revival, she's made it clear she is a supporter of the show. "You know, I was a huge, and still am, a huge 'Sex and the City' fan. It's one of those shows you can just watch the reruns and never get tired of them," Coolidge said on "Watch What Happens Live With Andy Cohen" in January 2021. Whether she's interested in returning as Victoria, however, remains to be seen.
Margaret Cho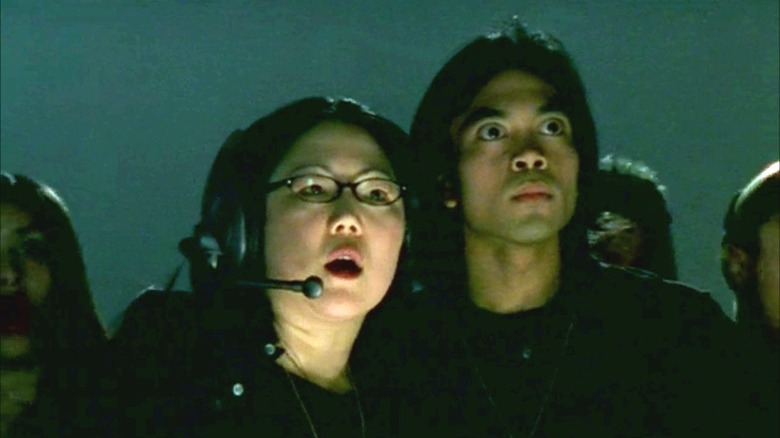 HBO
Margaret Cho is best known for her blistering stand-up, but her many acting credits are impressive unto themselves. In addition to being part of productions like "Drop Dead Diva," "Bam Bam and Celeste," and "30 Rock," Cho starred on "All-American Girl," the first primetime sitcom to feature an Asian-American family. Already a celebrity when she appeared on "Sex and the City" in 2001, Cho's guest stint arrives in Season 4's "The Real Me," one of the most memorable episodes of the entire series. In fact, the episode won Michael Patrick King a directing Emmy.
Carrie has been picked to walk in a fashion show alongside other New York City notables, clad in just a pair of panties, a coat, and high heels. Cho plays the zippy Lynne, who is producing the show and must deal with Carrie's unfortunate nosedive on the runway. "I curse a mean streak — curse like a sailor. It was very natural to me. The part was written for me, so it was very easy," Cho told AP Radio in 2001 (via ABC News).
Kat Dennings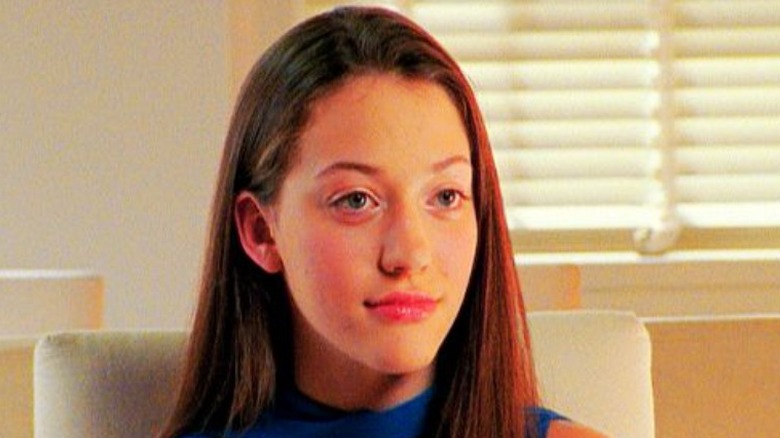 HBO
It's extremely rare for a child to have any sort of meaningful role on "Sex and the City," especially before Miranda and Charlotte have children. And yet, one of the show's most memorable celebrity guest stars, Kat Dennings, was a mere 14 years of age when she first graced screens as spoiled brat Jenny Brier. This was Dennings' first role, but no one would know based on how well she goes toe-to-toe with Kim Cattrall.
Dennings' appearance arrives in Season 3's "Hot Child in the City." Samantha is tasked with conducting PR for Jenny's bat mitzvah, and the wealthy New York teen knows exactly what she wants — and has no problem asking for it. "I want it all, I want it now, and I want you to give it to me," she declares prissily, much to Samantha's chagrin. Jenny and her friends turn out to not only be spoiled, but also quite sex-obsessed, to the point of being too much for even Samantha to handle.
In the years since her professional debut, Dennings has made a name for herself in both television and film. On the television side of things, she's been a lead cast member on "Raising Dad," "2 Broke Girls," and "Dollface." Even more notably, she plays the irrepressible Darcy in Marvel Cinematic Universe projects including "WandaVision" and the "Thor" movies. Her other film credits include "Nick and Norah's Infinite Playlist" and "The House Bunny."
Molly Shannon and Amy Sedaris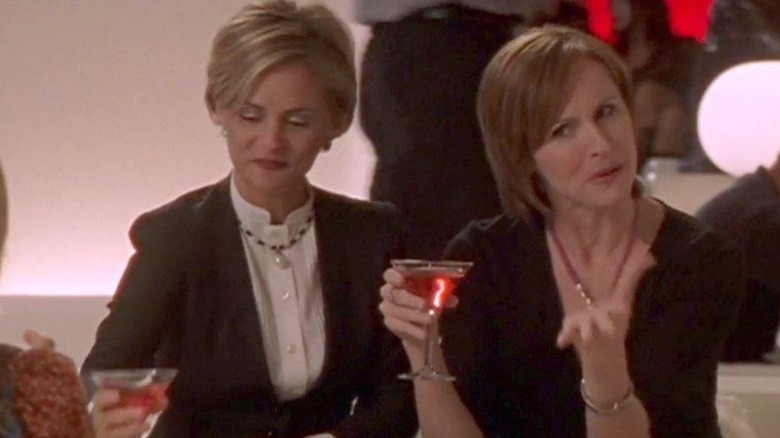 HBO
Molly Shannon and Amy Sedaris are two powerhouse comedic actresses with spectacular independent careers. At the time of their 2002 appearances, Shannon was fresh off of "Saturday Night Live." Her other credits included "Never Been Kissed," "Superstar," and "Wet Hot American Summer." Sedaris had been working for years as well, and already had "Strangers with Candy" under her belt.
Together, Shannon and Sedaris play Carrie's very enthusiastic book publishers, Lily Martin and Courtney Masterson. As Lily, Shannon appears in three episodes, and as Courtney, Sedaris is in four. All but one of the episodes are in the fifth season. Both ladies are big fans of Carrie's, but not always great at understanding what she wants — the book cover they suggest features Carrie totally naked on the streets of New York. They also struggle to calm their sky-high nervous energy, to hilarious effect. Both actresses have kept working steadily in the decades since their "Sex and the City" days: Sedaris made waves as Princess Carolyn on "BoJack Horseman," while Shannon went on to appear as a supporting character in Sarah Jessica Parker's other HBO show, "Divorce."
Bobby Cannavale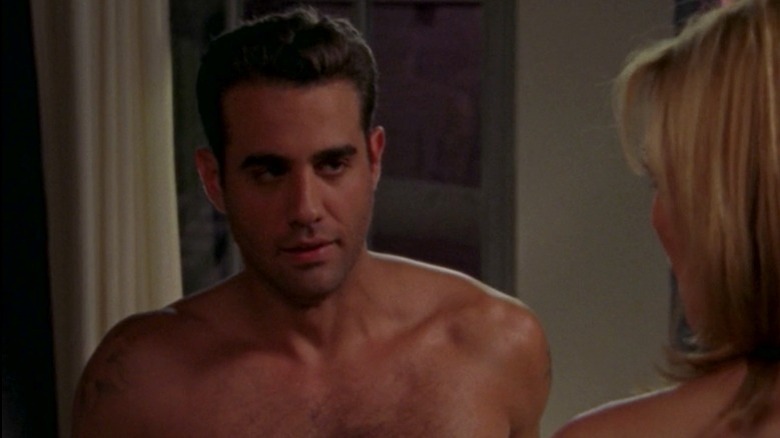 HBO
Good thing Bobby Cannavale has cultivated a commendable Hollywood career since his role on "Sex and the City" — otherwise, he might still be known as the "funky spunk" guy. Cannavale was somewhat well known when he popped up on the show back in 2000, having already started work on "Third Watch." But he was nowhere near being a household name. In the years since, Cannavale's star has continued to rise, most notably for his television work. His small screen credits include "Boardwalk Empire," "Nurse Jackie," "Vinyl," "Will and Grace," "Homecoming," and so much more.
Cannavale's "Sex and the City" episode is Season 3's "Easy Come, Easy Go." He plays Adam Ball, who becomes involved with Samantha until an, um, unfortunate biological factor causes them to have some friction in the bedroom. "Back when the show was still on, I ran into Michael Patrick King and I was like, 'I have a fantastic idea to bring this guy back!'" Cannavale told New York Magazine, around the time the first movie hit theaters. "He listened to it then and thought it was funny so maybe I should call him back up." While Cannavale may have missed his chance with Samantha, given the fact that Kim Cattrall is not in the revival, why not unleash his character on some other lady?
Lucy Liu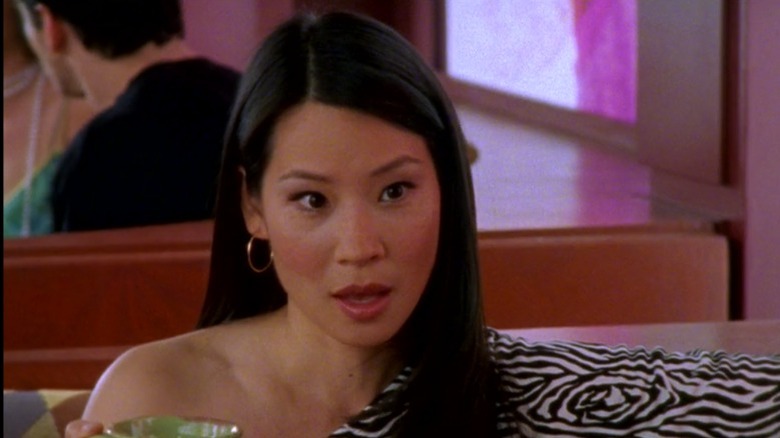 HBO
Lucy Liu appeared on "Sex and the City" in 2001, right around the time her hit show, "Ally McBeal," wrapped. Unlike the rest of the celebrities on our list, Liu plays a fictionalized version of herself, rather than an original character. Other actors did this as well, throughout the run of the show — Matthew McConaughey, Heather Graham, and the like — but Liu gives an especially juicy performance. 
Season 4's "Coulda, Woulda, Shoulda" features Liu as one of Samantha's celebrity clients. The two seem to get along swimmingly — until Samantha uses Liu's name to skip the line for a highly coveted Birkin bag. Liu finds out, calls her on it, and fires her, snatching the Birkin on her way out. The role plays into Liu's penchant for strong, emboldened women (see "Ally McBeal," "Kill Bill," "Charlie's Angels"): Samantha never knows what hit her. In 2008, Liu would go on to star in a short-lived "Sex and the City"-esque show of her own, entitled "Cashmere Mafia."
Alanis Morissette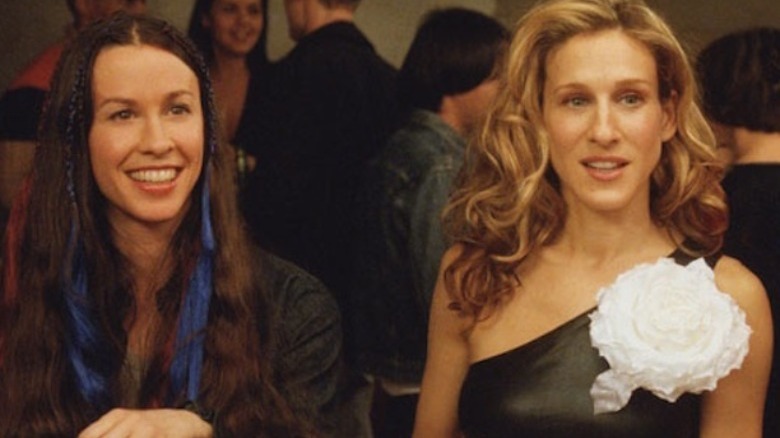 HBO
Alanis Morissette is such an incredibly gifted musician, many forget her talents extend to acting. She started in television at a young age, as herself on "You Can't Do That on Television." She's dabbled in acting on a few other occasions, including playing God in cult classics "Dogma" and "Jay and Silent Bob Strike Back." She also played herself on a 2002 episode of "Curb Your Enthusiasm," and had memorable arcs on the shows "Weeds" and "Nip/Tuck."
When it comes to "Sex and the City," Morissette's role is minor, but crucial. She appears as Dawn in Season 3's "Boy, Girl, Boy, Girl..." which focuses on bisexuality. While many elements of "Sex and the City" have aged well, this one has not. Dawn is a friend of Carrie's beau Sean, whose bisexuality Carrie has a major issue with. When Sean's friends decide to play a game of spin the bottle, Carrie has to decide whether she's willing to kiss Dawn, or whether she'll run out of the apartment. She ends up doing both.
Sarah Michelle Gellar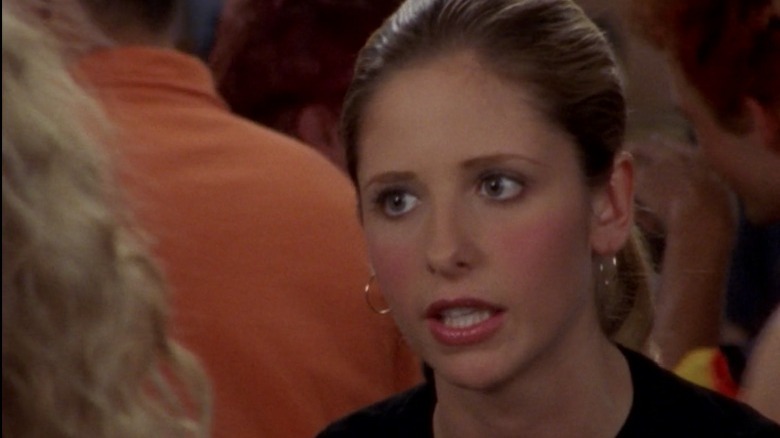 HBO
Sarah Michelle Gellar first became famous on the daytime soap opera "All My Children," a stint that netted her a Daytime Emmy Award. Her star rose even further when she assumed the role of Buffy Summers on "Buffy the Vampire Slayer," which aired from 1997 to 2003. It was during this time that Gellar also broke out as a movie star, thanks to appearances in flicks like "Scream 2," "I Know What You Did Last Summer," and "Cruel Intentions."
In the midst of all this success, Gellar guest starred on "Sex and the City." She plays Debbie in Season 3's "Escape from New York," which sees Carrie, Miranda, and Samantha visit Los Angeles after a small studio shows interest in turning Carrie's columns into a movie. Debbie is a junior executive who loves Carrie's work — "It's like I'm you," she says, "or I will be when I turn 30." Debbie brings Carrie in to meet with Matthew McConaughey, whose eagerness to play Mr. Big can't quite mask his inability to grasp Carrie's point of view.
Jim Gaffigan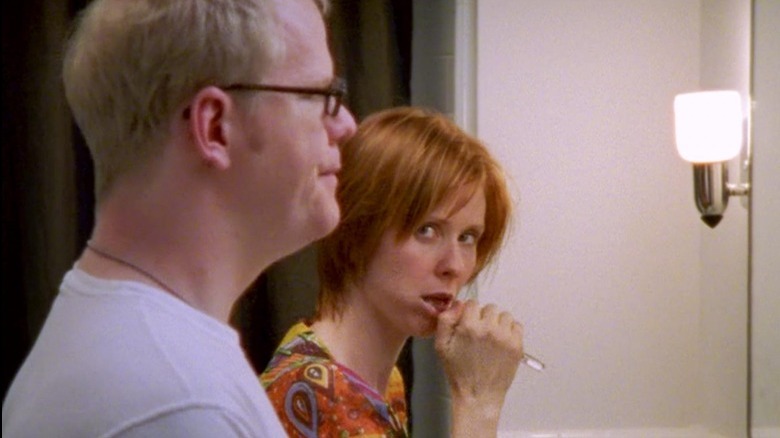 HBO
Jim Gaffigan had been doing stand-up for over a decade by the time he popped up on "Sex and the City," in Season 4's "Defining Moments." Still, this episode likely gave him a few fantastic moments for his reel. Gaffigan plays Doug, a man Miranda dates for a very brief period of time. "Defining Moments" is all about boundaries — something Doug has absolutely none of. Though she's not thrilled when he goes number one in front of her, Miranda is positively livid when Doug takes a number two with the bathroom door wide open.
Gaffigan has gone on to great things since filming this episode. His credits include "The Jim Gaffigan Show," "My Boys," and "Super Troopers 2." Still, nothing compares to Gaffigan's "Sex and the City" role — at least not when it comes to the audition process. "I didn't even have to take off my pants or anything. It was just me sitting on a chair, acting like I'm on the toilet, very casually," he recounted in 2019. "But at this point 'Sex and the City' was the biggest show, and, as a New York actor, you wanted to be one of the boyfriends. But it was weird ... sometimes as an actor you're like, 'I can't believe I'm doing this as a living.'"
Timothy Olyphant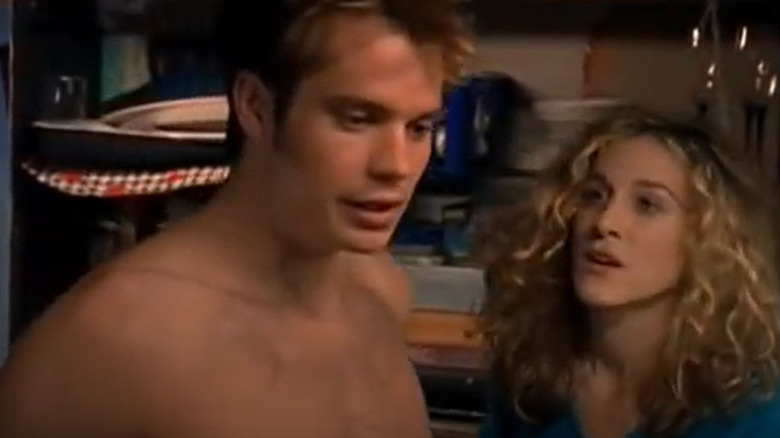 HBO/YouTube
In the first couple seasons of "Sex and the City," the ladies like to make a big show of the divide between people in their 20s and people in their 30s. The first time we really see this is in Season 1's "Valley of the Twenty-Something Guys." In this episode, both Carrie and Samantha become involved with younger men. For Samantha, it's a hot cook named Jon, and for Carrie, it's Jon's friend Sam, played by a then-relatively unknown Timothy Olyphant. While Sam is a good kisser and fun to be around, when Carrie eventually finds herself in his disgusting dump of an apartment, she hits the road.
The casting is a little ridiculous, given the episode wants to emphasize this great age divide: Olyphant is only a few years younger than Parker, being 30 to her 33 at the time of filming. Still, it's fun to look back at Olyphant in one of his earliest roles, '90s sideburns and all. Olyphant has gone on to star in highly acclaimed roles on television series such as "Deadwood," "Justified," "Fargo," and "Santa Clarita Diet." Who would have guessed this Manhattan boy toy would make such a great cowboy?