Book Of Boba Fett Featurette Is Still Hiding Something From Us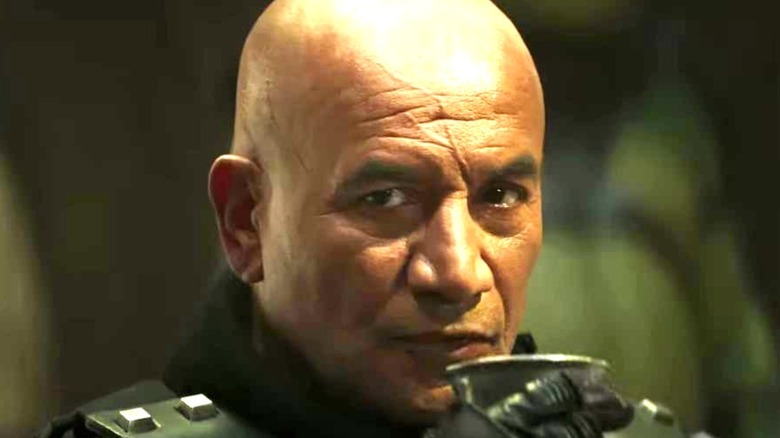 Disney+
"The Mandalorian" has been a massive success for the Disney+ streaming service so far — so much so that fans are clamoring for spin-offs starring their favorite characters. And while Boba Fett hasn't been the most featured supporting character on the show (he was only credited as the "cloaked figure" for his brief appearance in Season 1), he's won the hearts and minds of its fans to such an extent that he's getting his own spin-off show, "The Book of Boba Fett," set for the end of December.
Audiences were intrigued when the first trailer dropped on YouTube on November 1. Since then, fans have been scouring the trailer for details about what they can expect from the new show and talking about it a lot on social media. As much as that preview has gotten fans excited for the upcoming series, the new featurette for the show has skyrocketed fans to the next level of hype, but we can't shake the feeling that the series is still hiding things from us. 
If you haven't seen it yet, you can check it out right now, but don't expect any major reveals.
The Boba Fett featurette is definitely hype-worthy even though it tells us nothing about the plot
We've known since the YouTube trailer debuted that "The Book of Boba Fett" will be released on Disney+ on December 29. The featurette, which landed today, is certainly cool and hype worthy, but like the trailer, it seems to be heavy on the style and light on the story substance. What is Disney hiding? Could it be that "The Book of Boba Fett" is about to change the Star Wars universe forever when it drops?
Boba Fett may have only played minor roles in "The Empire Strikes Back" and "Return of the Jedi," as well as several other minor roles in the Star Wars canon, but it appears as though he will significantly pique fans interest when the show premieres. If Star Wars fanatics weren't chomping at the bit in anticipation before, we're sure this preview will bring more than a few new people on board — if only to figure out what Disney is keeping under wraps.