The Ending Of Brooklyn Nine-Nine Season 8 Explained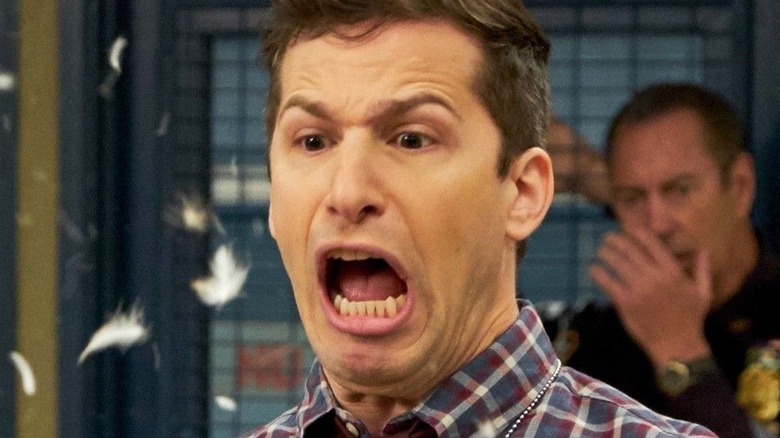 NBC
After eight years of entertaining millions of fans, Season 8 of NBC's police sitcom "Brooklyn Nine-Nine" has finally brought the series to a close. The season, which ran on NBC from August 12 to September 16 of this year and is now available through Hulu and Peacock Premium, takes on many tough social topics. From the need for police reform in the wake of George Floyd's death and the ensuing nationwide protests, to the trials of living in a country still recovering from a pandemic, "Brooklyn Nine-Nine" addresses these issues head on. Then, with nothing but respect, it bids its fanbase farewell.
Of course, the final season of "Brooklyn Nine-Nine" can't resist cracking a few jokes along the way. In fact, despite the many dire issues it tackles, it ends on a relative high note. This gives the show a very layered conclusion, with each character receiving a unique (but nonetheless happy) ending to their respective arcs. So, without further ado, here is everything that happens at the end of the final season of "Brooklyn Nine-Nine," explained.
There's only one last job to take care of before the end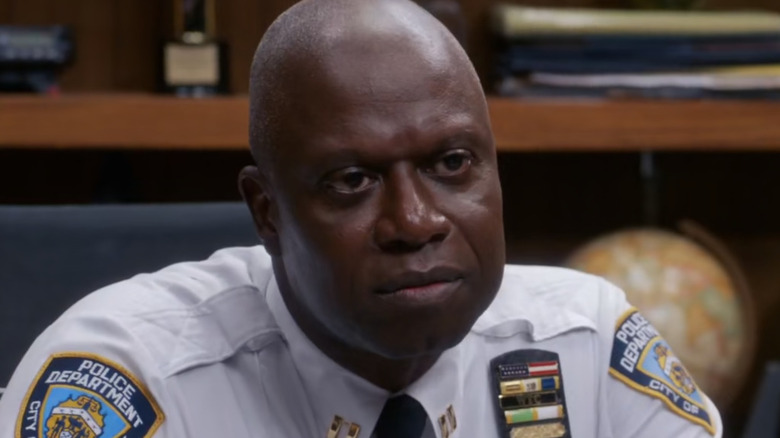 NBC
The last episodes leading up to the finale of "Brooklyn Nine-Nine" show the 99th precinct crew taking on some of their toughest challenges yet. In the wake of George Floyd's murder, which is fully addressed in the show, Detective Rosa Diaz (Stephanie Beatriz) leaves the force to become a private investigator and fight against the wanton police brutality that occurs throughout New York (and the country). Her and the rest of the precinct's struggles with a system that protects officers guilty of abuse make up a huge portion of Season 8. It ends with Amy (Melissa Fumero) and Captain Holt (Andre Braugher) spearheading a new department dedicated to reforming the NYPD. Of course, this doesn't immediately solve the problem, but it does show a promising sign of change within the police department.
With their biggest troubles out of the way, however, the precinct still has a very important job to do. Together, they have to throw one last heist in honor of Amy and Holt's departures. Heist episodes have been a beloved tradition within the precinct since the show's first season, and they always includes a multitude of unexpected twists. The Season 8 heist is no different, as all departing members of the squad try to manipulate the heist so that they may give their "perfect goodbye." Unfortunately, all of their schemes end up colliding, resulting in a chaotic mess that somehow ends with the precinct's most incompetent cops, Hitchcock (Dirk Blocker) and Scully (Joel McKinnon Miller), coming out on top.
Some characters move on to better things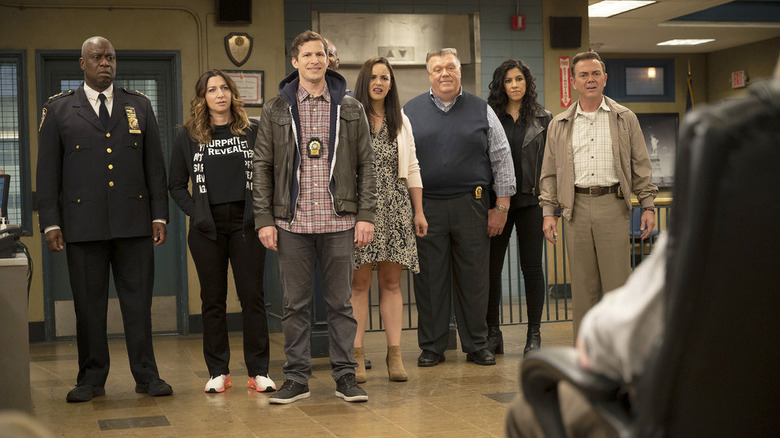 NBC
Despite Hitchcock and Scully's unexpected win, the entire precinct manages to end their heist night on a high note. The series' protagonist, Jake Peralta (Andy Samberg), reveals midway through the heist that he also plans on leaving the precinct, so that he can focus on raising his and Amy's infant son. Of course, he attempts his own "perfect goodbye" during the heist — which fails brilliantly — but the sentiment is not ignored.
As the crew celebrates their final heist, each person exchanges heartfelt words with the others. Jake receives high praise from Captain Holt, whom he considers a father figure. Terry (Terry Crews) has just been promoted to Captain as Holt's replacement, and he puts his faith in Boyle (Joe Lo Truglio) to help handle the bustling precinct. Finally, Amy and Rosa exchange loving sentiments as dear friends before the squad collects their things and takes one final trip together down the precinct's iconic elevator. Also, Gina (Chelsea Peretti) probably stole some diamonds from the evidence locker. Though they may never work together again, each squad member moves on to bigger and better things.
Even so, nothing really changes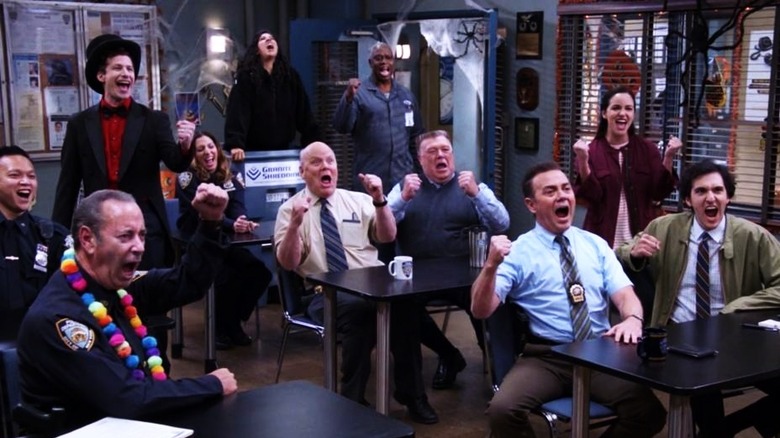 NBC
If you thought that the main characters of "Brooklyn Nine-Nine" breaking up means that they stop being friends, you're dead wrong. In a touching little epilogue, the series' last moments focus on the iconic team from the 99th precinct roughly one year later. Terry has stepped fully into his new role as captain, while Boyle has (in his own way) become the new Jake. He even has an overly eager sidekick at his side, mirroring his own relationship with his ex-partner in crime prevention. Just as Terry is wrapping up the morning meeting, however, something unexpected happens.
Jake, in full showman attire, returns to announce the beginning of this year's heist. After all, allowing Hitchcock and Scully to be the final victors is a travesty, and he isn't the only returning face either. Holt, in full janitorial disguise, wheels in a plastic dumpster containing Rosa, while Amy pokes her head in from the ceiling above. While the show "Brooklyn Nine-Nine" may be over, the friendships, memories, and traditions the characters forge along the way will continue on in the minds of fans.