The Biggest Unanswered Questions From Brooklyn Nine-Nine Season 8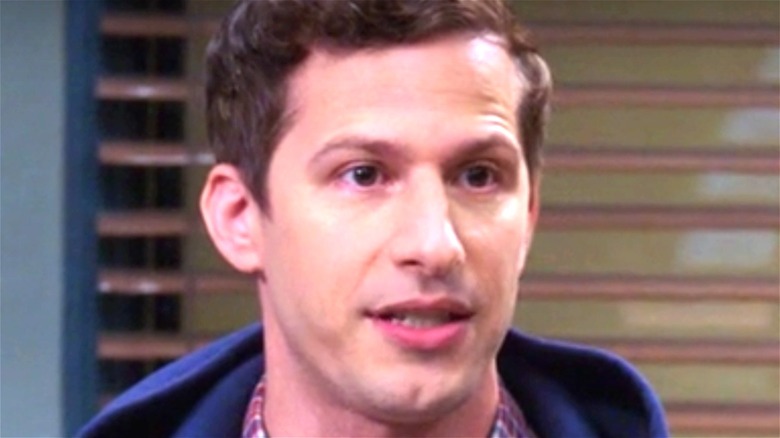 NBC
It's fair to say that the final season of "Brooklyn Nine-Nine" wrapped up the series with a neat little bow. Most, if not all, of the series' dangling plot threads gets resolved by the end, and each character gets their own proper sendoff before the final credits roll. It's all very heartwarming, and has its fair share of emotional moments that make it feel like a true conclusion.
Even as the show attempts to satisfy fans, however, there are still plenty of questions that "Brooklyn Nine-Nine" leaves unanswered. Many of these questions even relate to situations that begin in Season 8. Unfortunately, most of the biggest questions will probably go unanswered, at least for the time being, as one thing that the finale of "Brooklyn Nine-Nine" makes clear is that just because things are ending, doesn't mean the future won't hold new surprises. Nevertheless, fans will be wondering about these remaining questions for some time.
What happens with the police reform?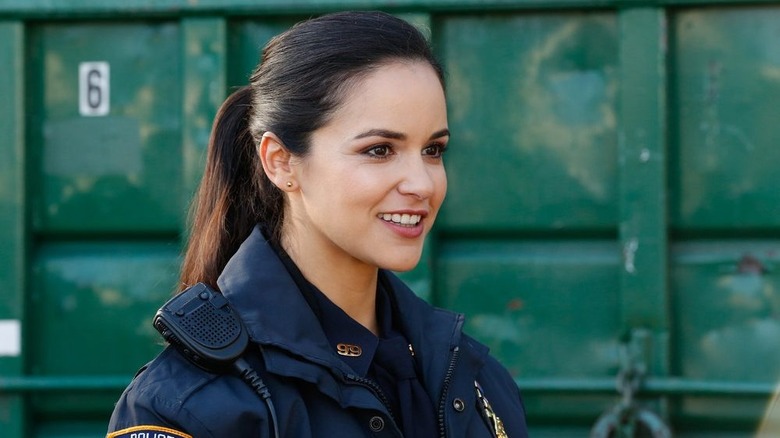 NBC
One of the most pressing issues faced by the 99th precinct throughout Season 8 is the squad's push for police reform. Following the George Floyd protests throughout 2020 (via The New York Times), which the show includes and addresses, tension between police and citizens is at an all-time high, something that the police on "Brooklyn Nine-Nine" mean to alleviate through a new program for police reform spearheaded by Amy (Melissa Fumero). Unfortunately, we never truly see the fruits of these labors.
Granted, the season technically ends before we can see Amy really do her thing with the new reform program. Although the final epilogue scene, which takes place one year after the Season 8 finale, could have done something subtle to show us how far the New York Police Department has come thanks to Amy's work. It's safe to assume that in the universe of "Brooklyn Nine-Nine," things get better as a result of the reform program, but fans will likely never know for certain.
How is Doug Judy fairing in Amsterdam?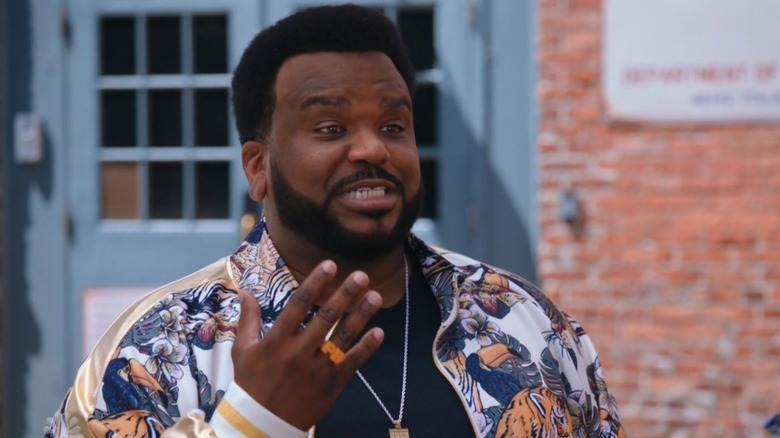 NBC
While the finale of Season 8 is dedicated to giving everyone in the 99th precinct a good sendoff, an earlier episode in the season does the same for one of its most beloved recurring characters. Doug Judy (Craig Robinson), the Pontiac Bandit and Jake's (Andy Samberg) best friend/arch rival, finally escapes the law once and for all. At the end of the episode "PB&J," it is revealed that Jake ever so subtly aids Judy in his escape by slipping him a pen so that he may "mind freak" himself out of his handcuffs. Judy then escapes to Amsterdam with his wife.
We never see exactly what Judy gets up to in Amsterdam, aside from eating stroopwafels. Hopefully, he manages to go straight and live a happy life with his family. In a perfect world, Judy is putting his musical and creative talents to good use. Judy has a talent for making people "smush" like no other, and in Amsterdam's infamous Red Light District, his talents for setting the mood would not go overlooked. Though, knowing Judy, it's just as likely that he's off jacking Dutch cars like there's no tomorrow.
What kind of relationship will Jake have with his son?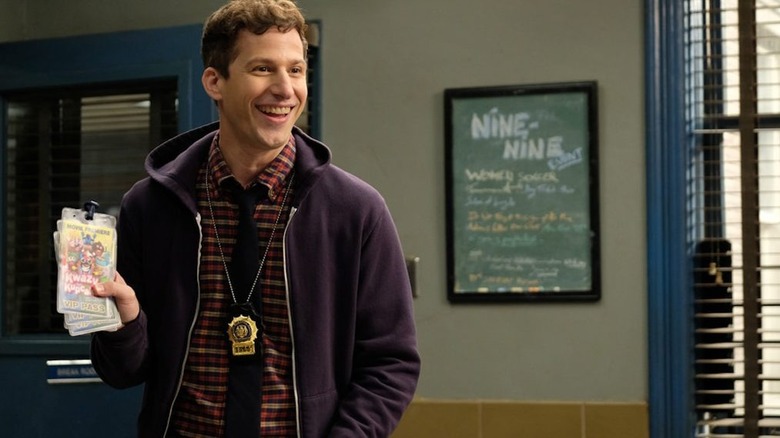 NBC
In the final episode of "Brooklyn Nine-Nine" Season 8, it's revealed that Jake will join Amy, Holt (Andre Braugher), and Rosa (Stephanie Beatriz) in leaving the precinct for good. Unlike the others, who go off to work on police reform, retire, or work as a private investigator, respectively, Jake leaves his job to do the one thing he always said that he never wanted to — be a dad. Indeed, now that he and Amy have their infant son, Mac, Jake decides to do all that he can to be a good father figure, and that means becoming a stay-at-home parent.
Much like Amy's police reform program, Jake's tenure as a dad is mostly skipped over before the epilogue. Even then, the epilogue only contains one brief scene inside the 99th precinct, and while both Amy and Jake are there, Mac is not. So, while fans can still assume that Jake has been playing "super dad" while off camera, it's not something that fans ever get to see. On top of that, fans will never get to see Mac grow up as they do with Boyle's (Joe Lo Truglio) son, Nikolaj. Knowing all the troubles that Jake has had with his own father growing up, it would have been a treat to see him do the opposite and be a good father for his own son.
How is Rosa's love life?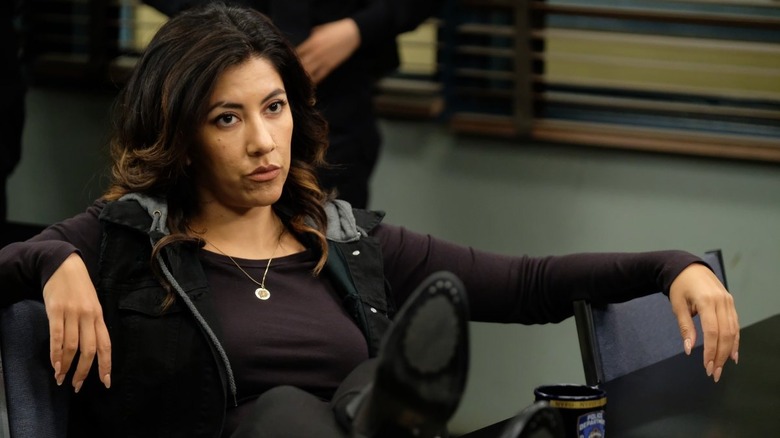 NBC
The final episode of Season 8 of "Brooklyn Nine-Nine" holds a few other surprises beyond Jake's departure. For instance, Rosa's old flame Adrian Pimento (Jason Mantzoukas) returns for a brief cameo. That is, until he flies off to Canada in order to take over a pack of wolves (and a diamond mine), barehanded. This happens in the midst of one of the squad's infamous heists so that Rosa can steal the prize from Amy in a stunning betrayal. 
After Adrian's departure, however, Rosa expresses remorse that she can never be with Adrian again, but this also turns out to be a ruse. If there's anything Rosa has learned over the past eight seasons exploring her sexuality, it's that she doesn't need a partner to feel happy. In fact, she openly scoffs at the idea that love is required for someone to live a fulfilling life. Even so, she continues to pull Amy's leg by insinuating that she is about to move in with her girlfriend, a woman named Deborah.
By the end of the episode, fans are left wondering whether any of Rosa's statements are serious. Obviously, her and Pimento are over, but what about Deborah? Is this all fabricated as well, or is Rosa really infatuated with some lucky lady? Unfortunately, it seems like we will never know for sure, and the show's writing makes it clear that fans don't need to see a love interest to know that Rosa is living life to the fullest.