Heels Season 2 Release Date, Cast, Trailer, Plot And More Details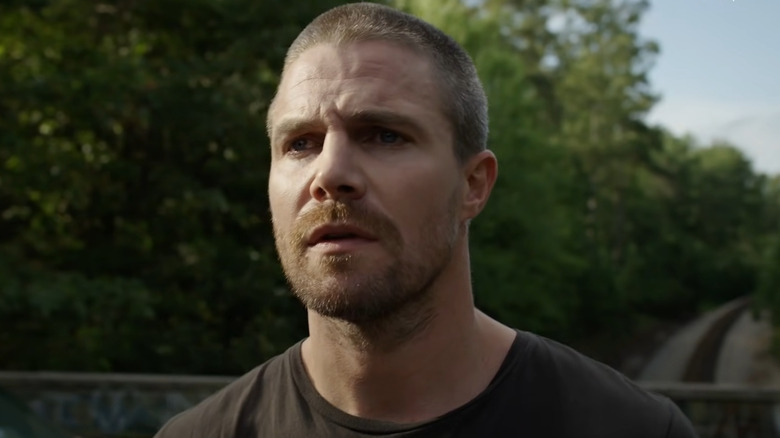 Starz
"Heels" has been one of the biggest surprises on television this year. Starz's wrestling-themed drama, which was created by "Loki" head writer Michael Waldron, stars "Arrow" alum Stephen Amell and "Vikings" star Alexander Ludwig as two brothers who perform in their father's wrestling promotion in Georgia and deal with all the drama that ensues. The show earned critical raves, getting a 96% certified Fresh rating on Rotten Tomatoes. It was also quickly picked up for Season 2, per Deadline.
It looks like Starz has found another hit alongside other shows such as the historical romance "Outlander" and the sequel series "Power Book II: Ghost," and who knows — maybe this series could get some Emmy consideration when the time comes next year. Ever since the Season 1 finale aired on October 10, 2021, fans have been clamoring for even more of the Spade family's story. Here's your handy guide on everything we know so far about the forthcoming second season of "Heels."
When will Heels Season 2 be released?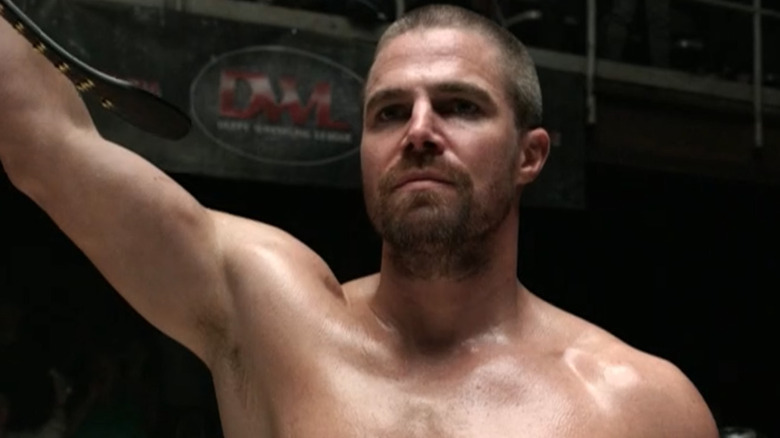 Starz
At PopCon in November 2022, Stephen Amell gave an interview to nbd_elemirate (via Wrestling Inc.), where he said, "We wrapped filming on the first of July. It could have come out basically around now, but it will probably come out at the early part of next year." He said something similar in January 2023, telling Michael Rosenbaum on his podcast, Inside of You (via TVLine), that it would be released in the "first or second quarter" of the new year. The "Heels" Twitter account promised in March 2023 that new episodes would arrive in the summer.
However, he did note that there's a reason it's taking so long to get Season 2 up and running. "Heels" airs on Starz, which was purchased by Lionsgate in 2016. Now, the two are parting ways, and that's causing all sorts of red tape issues behind the scenes, as the two studios try to determine which projects end up with which studio.
On May 11, 2023, Deadline reported that Starz had finally locked in a date for the premiere of "Heels" Season 2. The first episode will be made available on Starz's app at the stroke of midnight on Friday, July 28, followed by a cable TV premiere on the Starz channel later that same day at 10 p.m., in the Eastern and Pacific time zones, both in the U.S. and in Canada.
What is the plot of Heels Season 2?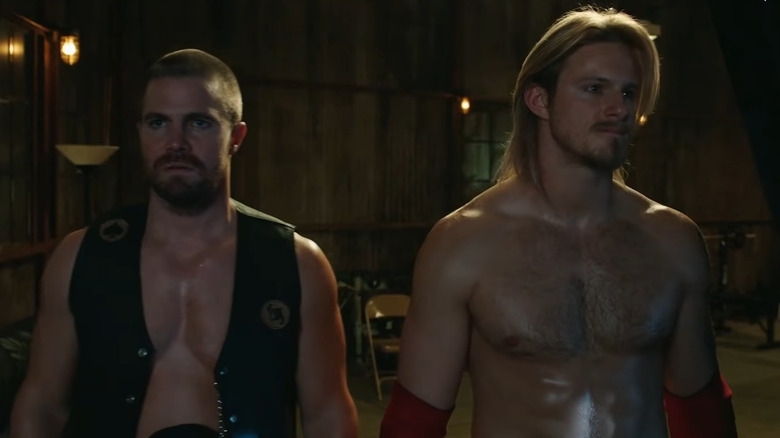 Starz
According to some plot details teased by Starz to Deadline, the next span of episodes are set not long after the events that ended Season 1, with Crystal becoming the champion of the Duffy Wrestling League, but with Ace and Jack, the good guy or "face" of the theatrical operation and the villainous "heel," accordingly, arriving at an impasse and on bad terms. After a popularity-generating showcase at the South Georgia State Fair, the Duffy Wrestling League finds itself more popular than ever, with Jack and company considering a lucrative TV deal with a streaming service. But all that possibility may not pay off in the least, what with Ace deciding to leave Duffy, as well as his brother.
Season 2 may take an extended look at just how things went so wrong between the wrestling brothers. On April 1, 2023, star Stephen Amell tweeted a nearly two-minute long clip from a Season 2 "Heels" episode featuring Jack and Ace. It's a flashback to happier, friendlier, and ambitious times, long before the characters' Season 1-ending out-of-the-ring fight. Additionally, Jack's marriage to Staci is in trouble, and it seems like "Heels" Season 2 may focus on this dynamic, as it pertains to Jack attempting to redeem himself with both his wife and his brother/competitor. There's also been speculation on whether Ace will end up quitting the DWL, even if it is for just a short period of time since the show really wouldn't be the same (or even possible) without him in the ring.
Who is starring in Heels Season 2?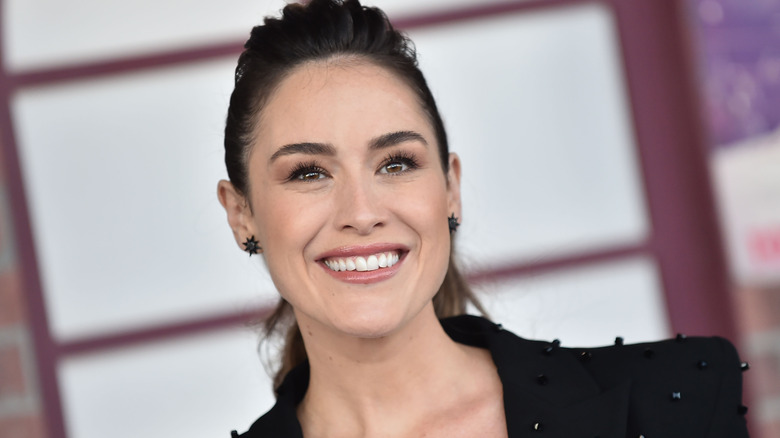 DFree/Shutterstock
"Heels" stars Stephen Amell and Alexander Ludwig will return for Season 2, reprising their roles as brothers Jack and Ace Spade, respectively. Amell rose to fame with his starring role as Oliver Queen/Green Arrow in the CW series "Arrow" while Ludwig has had roles in prominent franchises such as "The Hunger Games," 'Bad Boys," and "Vikings." Also returning will be Alison Luff as Staci Spade, Mary McCormack as Willie Day, Kelli Berglund as Crystal Tyler, Allen Maldonado as Rooster Robbins, Roxton Garcia as Thomas Spade, David James Elliott as Tom Spade, Alice Barrett Mitchell as Carol Spade, Joel Murray as Eddie Earl, and Chris Bauer as Wild Bill Hancock.
Alongside the returning main cast members, recurring stars Trey Tucker and Robby Ramos, who respectively play Bobby Pin and Diego Cottonmouth, have been promoted to the regular cast. That could mean we'll be seeing more of them in the 2nd season of "Heels." And based on photos taken on set, it looks like CM Punk is returning as Ricky Rabies, and he'll be joined by his real-life wife and wrestling superstar AJ Mendez as Elle Dorado. You can also expect to see Josh Segarra ("Scream VI") and Emmy Raver-Lampman ("The Umbrella Academy"). Plus, another on-set pic showed Dave Bautista hanging out with Stephen Amell, so keep an eye out for Drax the Destroyer.
Who is the showrunner of Heels Season 2?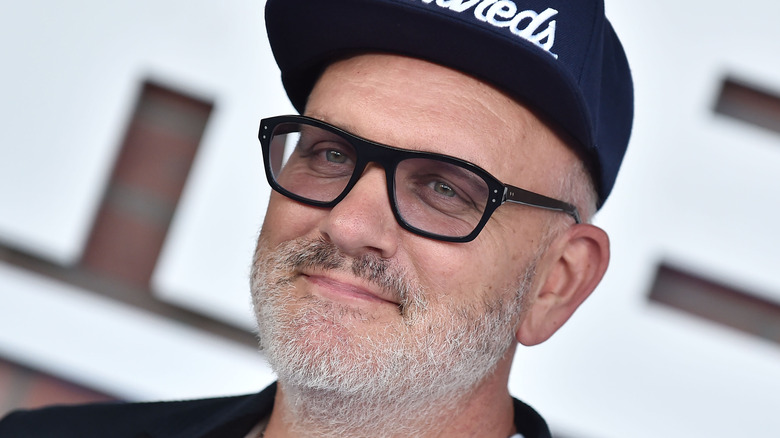 DFree/Shutterstock
Michael Waldron created "Heels," just one impressive resume entry in a breakout career period that also includes creating "Loki," a Disney+ original Marvel Cinematic Universe series. Waldron also wrote the screenplays for the blockbuster sequel "Doctor Strange in the Multiverse of Madness," the upcoming "Avengers: Secret Wars," all while balancing his duties with "Heels" and throwing in a "Rick and Morty" script along the way. Also an executive producer for "Heels Season 1," Waldron will be back in that advisory capacity, while leaving the day-to-day showrunning duties of his creation to Mike O'Malley, a "Heels" producer who also oversaw the series' first slate of episodes. A TV veteran behind the camera as well as in front of it, O'Malley wrote for "Shameless," created "Survivor's Remorse," and acted on "Yes, Dear," "Glee," and on "Heels," as Florida Wrestling Dystopia promoter Charlie Gully. He'll reprise that role in Season 2, too.
Is there a trailer for Heels Season 2?
On June 29, 2023, two years after the conclusions of its first season and less than a month before the arrival of new episodes, Starz released a trailer for Season 2 of its wrestling drama "Heels." It would seem that after the personally cataclysmic events of Season 1, Jack Spade is left reeling. Underscored by the appropriately epic and searching Lynyrd Skynyrd classic "Free Bird," he details his identity crisis, not even sure who he is with his wife and son leaving him and suffering a falling out with his brother, and wrestling operation partner, Ace. "I'm gonna figure it out," he promises. Meanwhile, while Jack figures things out and Ace tries to forge an unsure path forward without wrestling in his life, the rest of the DWL's braintrust aggressively grows the promotion into a burgeoning success. They'll bring in some new wrestlers in Season 2, particularly some formidable and show-stopping female grapplers and a mysteriously cloaked figure, too. All those elements will mix, if not collide, when the new "Heels" episodes hit Starz on July 28, 2023.
Where to watch Heels Season 1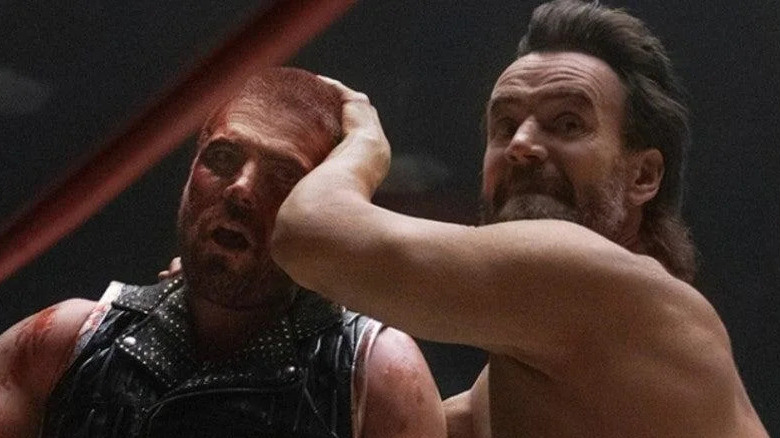 Starz
Long a distant third-place competitor or worse behind competitors like HBO and Showtime, Starz has long been an also-ran amongst the premium, extra-free cable programming services that offer an enticing mix of newly released cinematic movies and provocative original programming. In the 2010s and 2020s, Starz has made a commitment to fostering new shows and new voices, forming a brand identity as an outlet for quirky, low-key, well-made, and strongly acted series that can go head-to-head in terms of quality with most anything on one of its cable TV rivals or an upstart streaming service. Starz has evolved into a home for cerebral, genre-bending, action-heavy fare, distributing projects as diverse and exciting as "Ash vs. Evil Dead," "Spartacus," "Outlander," "Black Sails," and "Heels," a series created by one of Disney and Marvel's top writers (Michael Waldron), about a rarely examined aspect and subculture of a very popular form of entertainment: an independent, hardscrabble wrestling promotion out of the South. Season 1 of "Heels," and its upcoming Season 2, are both available on Starz's streaming app and on-demand services.