When Will Chicago Med Season 6 Release On Netflix?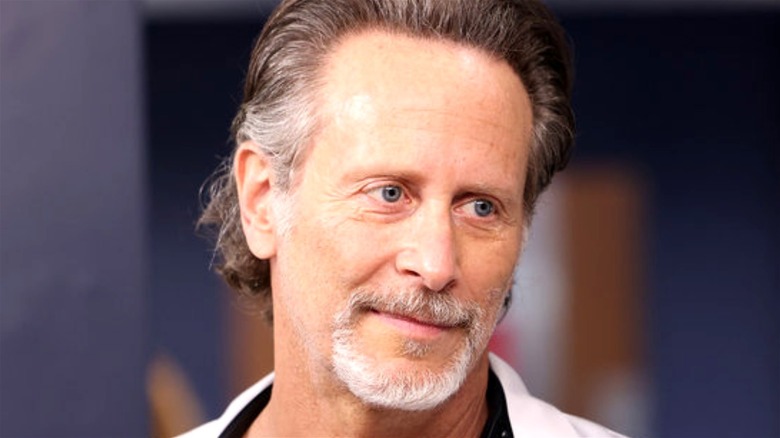 George Burns Jr./NBC
The popular NBC medical drama "Chicago Med" continues to draw in tons of viewers seven seasons into its broadcast history. The series combines the thrills of "Chicago Fire" with the kind of character development that's a hallmark of show creator Dick Wolf's "Law & Order" franchise and tosses in all of the medical drama any "ER" veteran might want. Unsurprisingly, the program is a reliable hit for NBC — "Chicago Med" was the 17th most-watched show in America during its 6th season in 2020, per Variety.
With all of that popular acclaim standing behind it, fans of the show are likely quite anxious to watch or rewatch the 6th season of "Chicago Med." But while Netflix already has most of the show uploaded and ready to stream, there isn't any sign of Season 6 on the website at all. Since the season concluded back in late May 2021, viewers might be curious as to why they can't stream it immediately. When will fans be able to stream Season 6 of "Chicago Med" on Netflix? Here's what we know so far.
Expect to see Chicago Med on Netflix by summer 2022
Netflix has not advertised a concrete date of availability for Season 6 of "Chicago Med," but thanks its upload schedule for previous seasons, we can make an educated guess as to when fans might be able to watch it. Per What's on Netflix, the website usually uploads two fresh seasons of series it doesn't own — like "Chicago Med" — on a bi-yearly basis. That means that every two years, subscribers to the platform will get two seasons of a show at the same time. Should Netflix stick to this established pattern, it's likely that the 6th and 7th seasons of "Chicago Med" will be uploaded to Netflix together. The most likely date for this to occur would be the summer of 2022, after Season 7 of the show finishes airing on NBC.
If fans are frustrated by this staggered schedule, they can always watch the series on NBC's own streaming platform, Peacock. Peacock tends to start hosting episodes of "Chicago Med" the day after they air on broadcast television, and it's currently the only platform streaming Seasons 6 and 7 of the show. Unfortunately, Netflix subscribers likely have a fairly long wait ahead of them before they'll get to see "Chicago Med"'s latest two seasons, but it's surely a one that will be worth their while.