The Harder They Fall Review: Red Dead Revolvers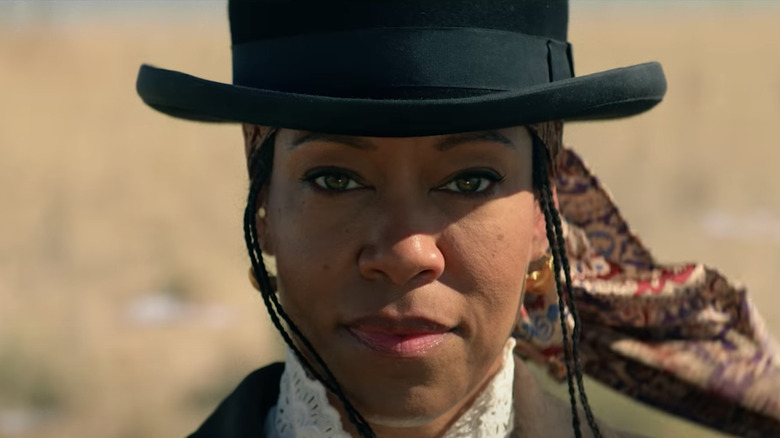 Netflix
Cool, clever and elevated by solid, screen-dominating acting throughout, "The Harder They Fall" announces the presence of rookie writer/director Jeymes Samuel with authority. Aside from a few plot stumbles, this is a movie worth repeat viewings — and makes Samuel a talent worth watching, having made the finest western to come out of Hollywood in some time, and one of the top-tier Netflix movies to ever premiere on the service.
It feels appropriate that the film is produced by Lawrence Bender, who facilitated such early Quentin Tarantino classics as "Reservoir Dogs" and "Pulp Fiction," remaining with the filmmaker up through "Inglorious Basterds." Here, Bender has found another director with a similar talent for making films that feel fresh, playful and most importantly ... alive. Like Tarantino, Samuel (a British filmmaker with an affinity for music videos and westerns) is a writer/director with a great ear for dialogue who extracts distinctive, memorable characters from actors who seem genuinely gleeful in delivering his material.
"The Harder They Fall" announces itself as something unique from its first title card, which reads: "While the events of this story are fictional ... These. People. Existed."
What comes next is a tale told predominantly in the old west town of Redwood, a sort of safe space where Black cowboys rule the roost and there seem to be just as many strong, independent women in control of their own destinies. While many of the names you hear were indeed living, breathing people, much of this is heightened reality — similar to hitmen in matching suits and ties, or restaurants with twist contests — but you'll eagerly buy into the concept, because this world is so rich with possibility and an infectious sense of play.
The story serves up two main characters — on one side is the ruthless Nat Love (Jonathan Majors) out to seek revenge for the murder of his parents and on the other is Rufus Black (Idris Elba), the equally ruthless outlaw who killed them — and somewhere around a baker's dozen of memorable supporting characters. Rufus, back in Redwood after an extended stay in prison, is determined to turn the town into a Black utopia — no matter how many people he has to shoot in cold blood to make it happen. Love is hellbent on revenge and surrounded by others with equally compelling backstories.
Among this group is the legendary lawman Bass Reeves (Delroy Lindo, who continues to only get better with age), Nat's tough-as-nails love interest "Stagecoach" Mary Fields (Zazie Beetz, in what should be a star-making turn), no-nonsense Cuffee (Danielle Deadwyler), the sharp-shooting, sweet-singing Bill Pickett (Edi Gathegi) and cocky quick-draw Jim Beckworth (RJ Cyler). On the other side of the street stands Rufus Black loyalists Trudy Smith (Regina King, similarly continuing to get better with each performance in an already marvelous career), brutish Angel (Jacobi Howard), quick-draw Cherokee Bill (perhaps you can already see where he and Beckworth are headed), and a few dozen hired guns. Also in the mix is the rival Crimson Hood gang (with the likes of Damon Wayans Jr.) and Wiley Escoe (Deon Cole), a spurned Black loyalist whose affiliation remains uncertain.
Looking down the barrel of a gun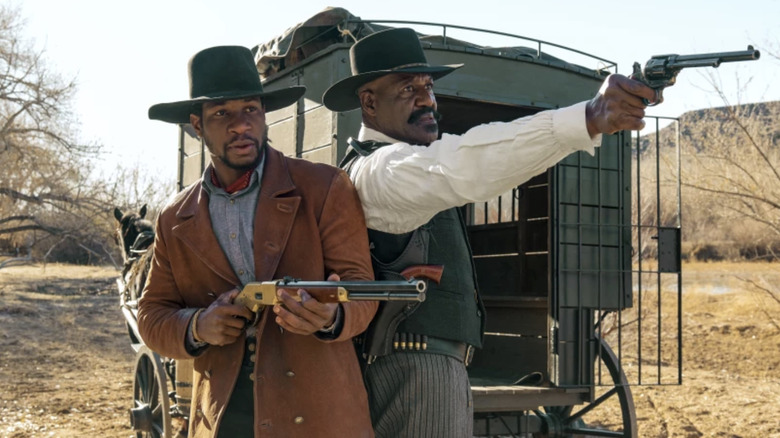 Netflix
Each of those aforementioned actors is an absolute firecracker in the film, given memorable lines to chew on, scenes to inhabit and room to breathe — no easy feat in a film with this many stars. What Samuel also does well is properly control another star of the film — the film itself.
From that opening scroll through a wide range of cinematic shenanigans (Leone-inspired freeze frames, Tarantino-inspired shots of the camera looking up, film-like starts and stops with projector noises, even fourth-wall breaking), this is a movie that loves being a movie. There's even a scene where the Black characters head off to rob a bank in a much-discussed neighboring "white city" — only to have them pull up, wide-eyed, into a bleached out frontier town where everything (even the dirt) is bright white and the screen bears the words: "Maysville (It's a white town)." Somehow, Samuel walks this line just right, keeping things carefree and irreverent, never grating or self-congratulatory.
Which brings us to another strength of "The Harder They Fall" — beyond the fine acting, beyond the smart dialogue (Cuffee: "Mr. Love, my momma always told me to respect my elders, so I'm not gonna say what I'm thinking." Love: "That's all right. I can read your mind." Cuffee: "Then I'm sorry you had to hear that.") the use of music in the film is downright brilliant. It engages, fuels the scenes, and brings a contemporary flair to the Old West that will keep even people who hate cowboy movies interested. Equal parts hip-hop, reggae, and "Magnificent Seven," perhaps the best needle drop comes in a showdown between Beetz and King. Reminiscent of a technique often employed in Majors' excellent "Lovecraft Country," the soundtrack cuts to a live performance that makes you wonder where it's all going ... and after singer Fela Kuti explains the song a bit, he says it's called "Let's Start What We Have Come into the Room to Do," and the music kicks in just as these two characters — alone in a room — begin their fight to the death.
If such boundary-breaking outlandishness scares you, don't worry. Samuel finds time for all the hallowed hallmarks of the west, from train robberies to main street shootouts, barroom confrontations to sizzling sticks of dynamite. You'll likely sense the presence of everything from the "Man With No Name" films to "McCabe and Mrs. Miller" and Johnny Cash's "A Boy Named Sue," but there's still plenty of originality to be found here as well.
The only big gripe with the movie is a sort of unforced error. Characters like Rufus Black show no mercy — until a few instances when he does, and they all of course come back to haunt him. Characters like "Stagecoach" Mary are smart, always one step ahead — until the script needs her not to be. The central portion of the film, when Mary gets herself captured, is so off-balance with the rest of the movie that you'll find yourself thinking there must be a master plan about to be revealed. But nope — she just did something dumb, walking into the lion's den, and now the script has its damsel in distress that needs to be rescued.
I drink alone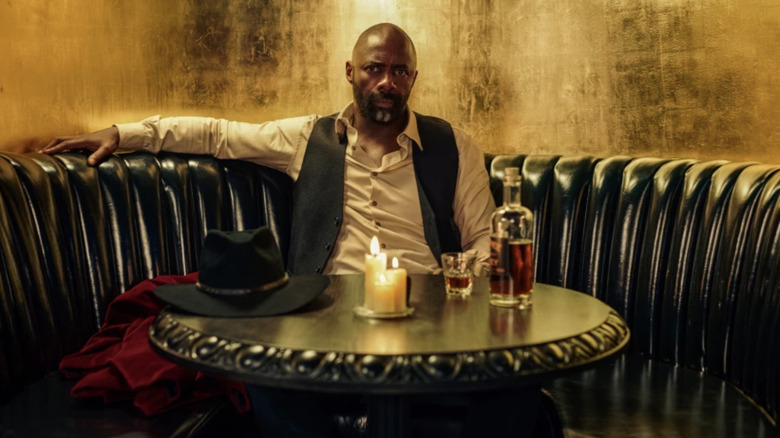 Netflix
Such occasional laziness is a shame, because the rest of the film is extremely clever. Rather than getting sidetracked by an exploration of the treatment that people who looked like these characters endured in the late 1800s, the dialogue makes powerful references that say just as much. At one point, a cowboy is committing a robbery and when encouraged by a white officer to turn back before it's too late, he replies: "We done already hurt a couple people. And you're just going to let us get away Dred Scott free?" Later, a Black villain reprimands another, saying, "A man like you will have us all subservient till the end of our days, so's long as you can buy yourself a house and them gold teeth."
Finally, one other notable element needs to be mentioned that might sound superficial, but can't be denied: These characters look great. The costumes are wonderful, evocative of each character's personality from Reeves' all-business bowties to Cuffee's androgynous ensembles to the prison garb of Rufus and the hats worn by the women (Trudy goes for a bowler hat, while Mary seems determined to take back the stovepipe from Slash). This also leads to the film's terrific final shot, which caps (sorry) off an excellent finale.
"The Harder They Fall" is a breakthrough for Netflix. The streamer's "movies" have predominantly fallen into two categories that never seem to intersect: stiff awards bait ("Roma," "Mank,") and low-hanging, unashamed attempts at mainstream success ("Bright," "6 Underground," "Thunder Force," its Adam Sandler movies). More so than perhaps any Netflix film before it, "Harder" exists in the space between, one where any moviegoer should be thrilled to find a film so smart, well-executed, and flat-out fun to watch.