The Shia LaBeouf Dramedy Hidden Gem You Can Stream On Hulu
Is there any actor whose career has taken more unexpected twists and turns than Shia LaBeouf? After achieving breakout success as a Disney Channel star on "Even Stevens," fans watched him grow into the blockbuster movie star at the center of the "Transformers" franchise, only to then see him become one of Hollywood's most notoriously eccentric actors.
Indeed, LaBeouf has spent a large amount of time throughout the past decade focusing on performance art. Some of his weirder exploits have included him spending 24 hours in an elevator, sitting alone in a room with a bag over his head, and the infamous #TakeMeAnywhere campaign, which allowed fans to find him, pick him up, and take him wherever they wanted (via TIME).
However, in addition to his off-screen antics, LaBeouf has also turned in some truly memorable performances in recent years. In fact, one underrated LaBeouf-led film from 2019 is available to stream now on Hulu. Here's why it is worth seeking out.
The Peanut Butter Falcon is a charming adventure film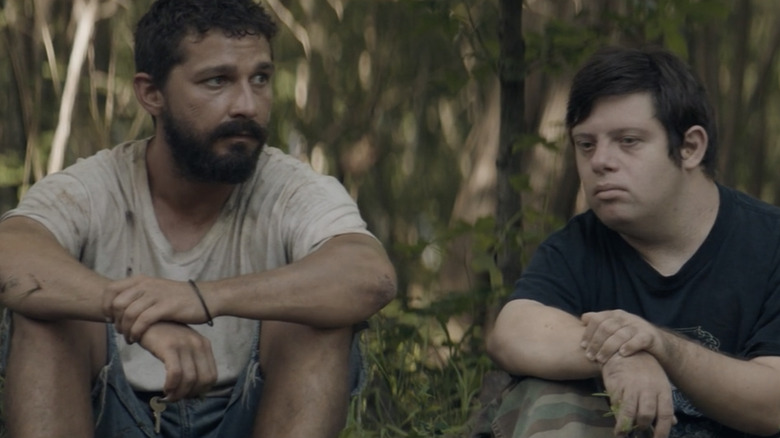 Roadside Attractions
In his more recent work, Shia LaBeouf has portrayed characters with greater depth and flaws than those he played earlier in his career. His performance in 2019's "The Peanut Butter Falcon" is a great example of that.
The film follows Zak (Zack Gottsagen), a 22-year-old with down-syndrome, as he escapes from his state-sponsored care facility and sets out to pursue his dream of becoming a professional wrestler. Along the way, he joins forces with Tyler (LaBeouf), a man on the run.
The two decide to travel together in order to find a wrestling school led by Zak's favorite pro wrestler, the Salt Water Redneck (Thomas Haden Church). Over the course of their journey, the two bond and Tyler begins to teach Zak about the world as they travel further and further into the American south. LaBeouf's performance anchors the whole film, and it's worth watching just for the delightful, moving chemistry that he and Gottsagen have together on-screen.
"The Peanut Butter Falcon" currently holds a 95% critics score on Rotten Tomatoes, and received some notable awards recognition in 2019. Fortunately, if you didn't get a chance to see it when it was first released, its presence on Hulu now makes it more easily accessible than it's ever been before.