What AHS Fans Really Thought About Tate And Violet's Relationship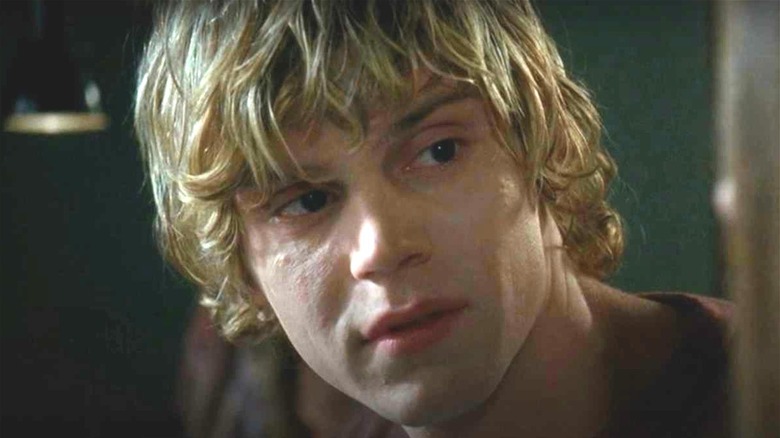 FX
Created through the combined efforts of Brad Falchuk and Ryan Murphy, the anthology series "American Horror Story" — which entertains fans with changing actors, time frames, and overall themes each season — has enjoyed a wild, successful run. Over the years, the show has been nominated for over 389 awards, and has managed to take home an impressive 128 (via IMDb). It all started, though, with the first season back in 2011 — known as "Murder House" — which followed Ben Harmon (Dylan McDermott), Violet Harmon (Taissa Farmiga), and Vivien Harmon (Connie Britton) as they move into a strange new home. 
Unfortunately for the Harmons, the house acts as a literal portal to Hell, and the home is full of deranged spirits, abominations, and the lost souls of the previous occupants. One such specter, Tate Langdon (Evan Peters), has a dark and violent reason as to why he is currently a ghost, and his actions set in motion events that don't completely come to fruition until "American Horror Story: Apocalypse." 
One of the more positive aspects of Tate, though, is his relationship with Violet. Or is it? Years later, this complex relationship continues to be a point of debate.
What did fans think of Violet and Tate's relationship in AHS?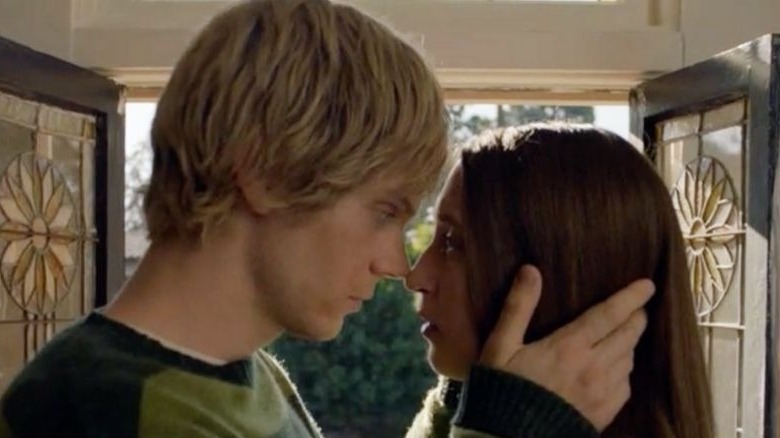 FX
During a recent informal poll on Reddit, original poster idk_so_whatever postulated the question, "Did Tate really love Violet" and the response was overwhelming. Garnering 61% of the vote, it seems that everybody agreed that Tate really did love Violet, but there were several stipulations to their votes. The most important being that Tate, for all intents and purposes, shows some attributes most keenly used to describe psychopaths. Reddit user SimonSaysx added, "I voted yes but I don't think it was a healthy love," while fellow fan jjeeeeppeerrss replied, "In his own sick way. I think he did."
Violet and Tate had an interesting dynamic in the "Murder House" season. Tate had lived in the previously mentioned house, and he was killed by police after being the perpetrator of a school shooting, where he murdered 15 people. Violet felt alienated in the new home, and eventually committed suicide and became trapped in the house, much like all of the other phantoms. It later comes out that Tate has been used by the dark forces of the "Murder House," and he commits an unspeakable atrocity against Violet's mother. These two remain separated till the events of "Apocalypse," where their affections are finally rekindled.
Reddit user jackseppelin concluded the conversation by arguing that, "Tate doesn't really have a choice. That adds a level of monstrosity to the actions he takes bc he is the only one with the full information. Messing with the dad and Violet I think adds to the case that what he loves is the captive audience, the smidge of power he can take back being captive to that particular afterlife. sadboy villain." 
Ultimately, fans agreed that Tate did love Violet, but they also agreed that his love was problematic.
If you or anyone you know is having suicidal thoughts, please call the National Suicide Prevention Lifeline​ at​ 1-800-273-TALK (8255)​.