Shows Like Shameless That Drama Fans Need To Watch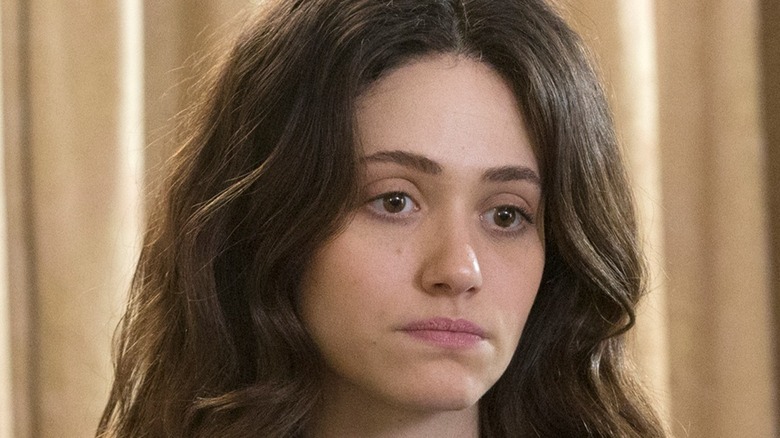 Showtime
Even in our supersaturated modern media landscape, it can hard when a long-running show goes off the air. Showtime's "Shameless" just left our lives in April, and for fans, the grief might only be in the bargaining stage. Though it may have overstayed its welcome a little bit, especially after losing its female lead when Emmy Rossum left the show in 2018, "Shameless" maintained a certain lived-in, ramshackle quality that stayed true to its spirit until the end. It certainly avoided the ignoble endings of other Showtime hits that ran too long, like "Weeds" or "Dexter," which botched its first finale so badly it's coming back to try it again.
The Gallagher family was unlike any other on TV. These aren't the uber-wealthy Roys of "Succession" or Kardashians to be kept up with; they're a multigenerational, unflinching depiction of poverty, dysfunction, and (as the title suggests) shamelessness. Even though it was based on a British show, "Shameless" embodied a certain kind of huckster American Spirit, and had a real sense of place in the Canaryville neighborhood of Chicago. As one of the more chaotic decades in recent memory unfolded, the Gallaghers kept us company and reminded us of our own flawed, rapacious humanity. 
To fill the void, here are the shows like "Shameless" that drama fans need to watch.
The Sopranos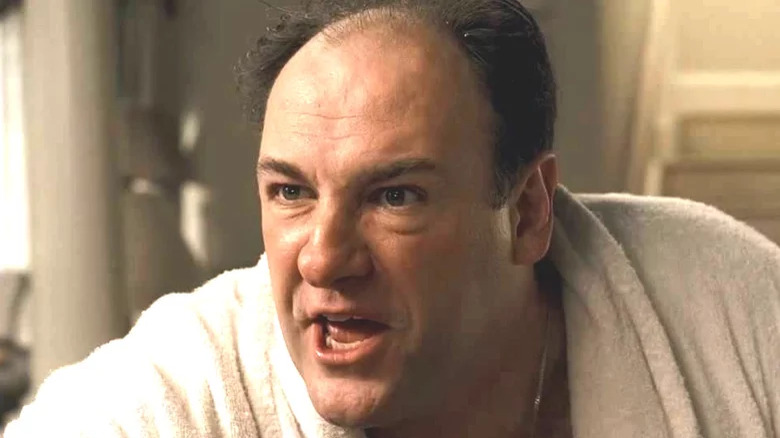 HBO
Any show that revels in immorality like "Shameless" lives in the eternal shadow of "The Sopranos." When Tony Soprano, a dangerous mob boss played with perfect humanity and menace by James Gandolfini, killed a man in the fifth episode of the show, it reverberated throughout all of television. Creator David Chase had to fight with the powers that be at HBO, who were so panicked that the protagonist of a show would commit murder that they claimed "you're just going to ruin him," he told The Hollywood Reporter. But instead of shocking an outraged public into changing the channel, committing to the darker side of Tony Soprano drove the show to new heights, and ushered in a golden era of TV rife with antiheroes.
"The Sopranos" is also a great study in the passing on of generational trauma, as the series begins with Tony Soprano entering therapy, where he starts to unpack growing up with a mother whose toxicity continues to haunt him. It was the first show to really demonstrate how a cable drama, unburdened by the conventions and limitations of broadcast standards, could tell a story that was both violent and humorous. "Shameless" followed in the footsteps of "The Sopranos" a few years after it ended, swapping mob violence for small-time grifting, but maintaining the same black-hearted, smiling spirit.
Fleabag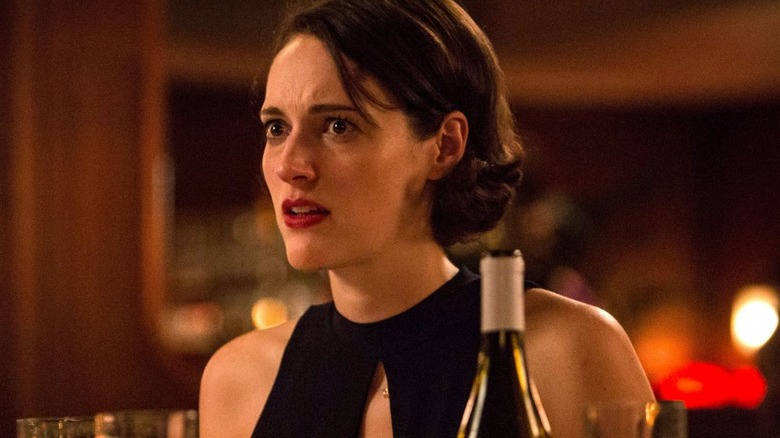 Amazon Studios
If you prefer your family dysfunction with way fewer names to remember, consider the drama in "Fleabag." In fact, you never precisely find out the main character's name as she spends two seasons navigating personal tragedy, a busy and uninhibited love life, and a strained relationship with her father, sister, and stepmother. The second series, which expanded the drama to include a forbidden romance with a priest, won Phoebe Waller-Bridge a trio of Emmys for producing, writing, and starring in the show.
It's all the debauchery and chaos of "Shameless," with a fun meta-textual twist: Fleabag communicates with the audience directly, "Ferris Bueller"-style, throughout the whole show, narrating her perspective on all we see. A wonderful device that's sold by the inviting, conspiratorial energy of Waller-Bridge's eyes, every time the fourth wall is broken we as the audience reflects on our relationship to what we're seeing. Do we love Fleabag because we identify with her, or are we touched that she confides in us? Eventually, the rapport with the audience itself becomes a part of the storytelling, and a rumination on the ways Fleabag and all of us are performing. 
The Riches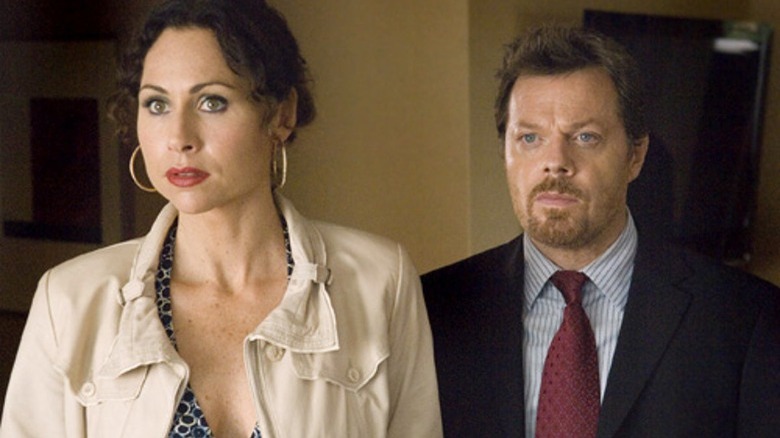 FX
For all their scheming, it never occurred to the Gallaghers to just straight-up steal the American Dream by engaging in wholesale identity fraud. That's what the family on FX's "The Riches" pulled off, giving up a life of traveling grifts and cons to pose as a conveniently dead wealthy couple that just moved to Baton Rouge. A wonderful drama that was cut unfortunately short by studio machinations after the 2007 writer's strike, "The Riches" was anchored by comedian and actor Eddie Izzard and Minnie Driver in her first starring TV role. As a bonus, Noel Fisher co-starred as their oldest son, a few years before he stole scenes as Mickey Milkovich in "Shameless."
The Malloy family on "The Riches" begin the show carrying on the tradition of "Irish travelers," descendants of Romani-like groups of Irish immigrants from the 1800s known for an itinerant way of life. It's easy to imagine the Gallaghers, also of Irish descent, as their long-lost cousins, since they have as much trouble staying on the grid despite living in the same place.  Even though "The Riches" didn't last as long, it's a colorful, fun show that should scratch that "Shameless" itch for you.
Weeds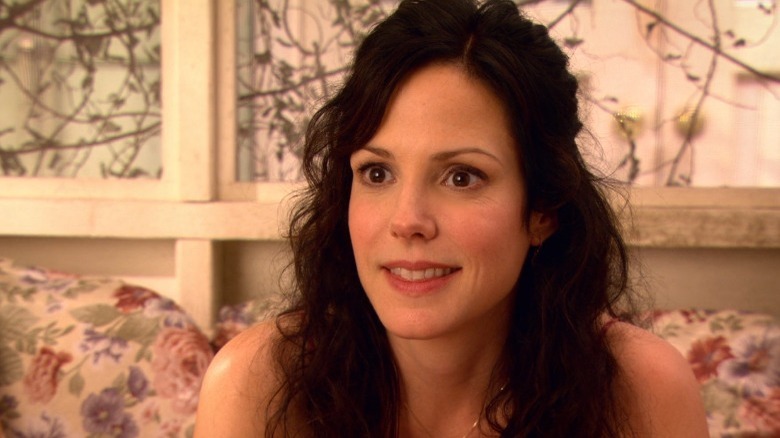 Showtime
Nancy Botwin from "Weeds" could give Frank Gallagher a real run for his money in a "Worst Parent" competition. Sure, she begins the show with the best of intentions, only turning to pot dealing to provide for her two sons after the sudden death of her husband. But over the course of seven seasons, Nancy embarks on a very Walter White-esque journey of moral compromise as she sleeps with and betrays rival dealers, more or less burns down her entire subdivision in suburban Los Angeles, marries three men who just happen to end up dead, and eventually involves her sons in drug dealing and murder. 
Throughout all this, Nancy displays a suitably "Shameless" lack of remorse. Mary-Louise Parker played Nancy as a complicated, ambitious, and selfish woman, driving home the idea that antiheroes don't have to be male to be captivating. Creator Jenji Kohan would go on to make "Orange Is the New Black" for Netflix, setting a new bar for female representation and storytelling.  
The finale of "Weeds" aired in 2012, and is actually an extended flash forward to the year 2022. It correctly predicted that many states would have legalized recreational marijuana by that time, although it failed to anticipate the pandemic.
Ozark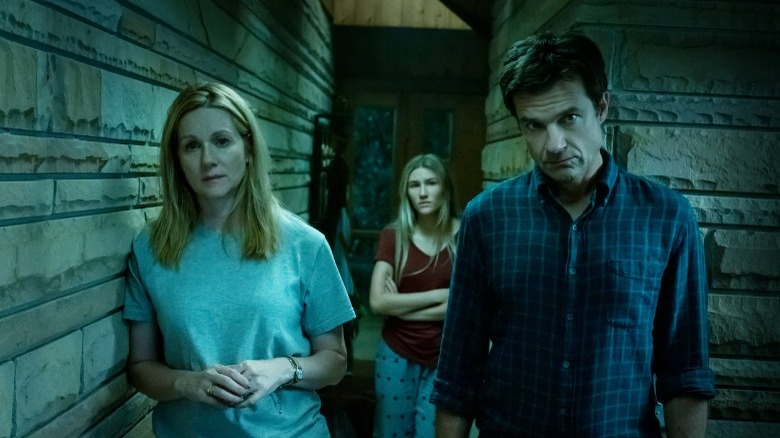 Netflix
It's lucky for the Gallagher family that they're too small-time to get into business with any drug cartels during "Shameless," although Fiona's love interest Jimmy is nearly killed several times after marrying the daughter of a drug lord. "Ozark," which has run for three critically acclaimed seasons and counting on Netflix, begins with the seemingly well-to-do Marty Byrde on the hook for millions of dollars of cartel money, and his family only gets in deeper and deeper with some truly terrifying characters as the show continues. As they move to Missouri and begin to build an empire on laundered cartel money, they become enmeshed with the very Gallagher-like Langmore family.
"Ozark" has some occasional humor, but is a much bleaker show than "Shameless," all the way down to the pallid blue cinematography. Both shows are unflinching in the way they depict a life of crime affecting multiple generations, as the Byrde children get their lives upturned along with their parents — eldest daughter Charlotte develops a Fiona-like independent streak and eventually seeks legal emancipation. And just like some of the most compelling moments on "Shameless" involving the Gallaghers' absent mother, Tom Pelphrey has a stunning, realistic depiction of bipolar disorder that is the highlight of "Ozark" Season 3.
Six Feet Under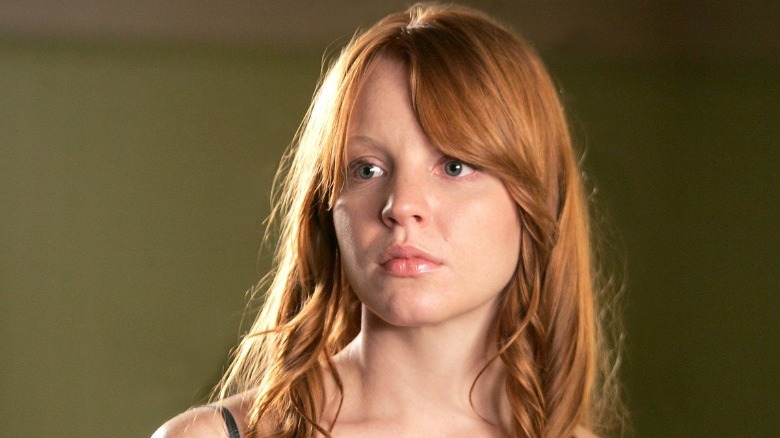 HBO
"Six Feet Under," despite receiving plenty of acclaim and awards during its five-season run, seems like a forgotten part of the Golden Age of TV that began in the 2000s. Compared to other HBO dramas like "The Wire" or "The Sopranos," it gets less attention these days. Still, it's no less compelling. If you're missing "Shameless," the story of the Fisher family will feel similarly nuanced and complicated. 
After the death of the family patriarch, the Fishers deal with deeply repressed feelings for one another as they navigate running the family business, a funeral home. The thematic rumination on death really sets "Six Feet Under" apart. Each episode begins by depicting the death of the person the Fishers help send off that week. For five seasons, the capricious nature of death lends extra meaning to the story. The Fishers have occasional visions of the dead souls they're sending off, along with their dead father. It's a show that grapples with mortality unlike any other, and it all builds to one of the most critically acclaimed finales of all time.
Transparent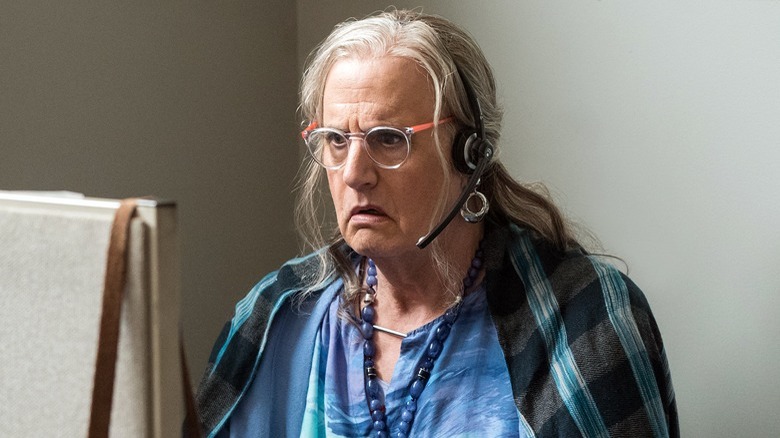 HBO
Although its legacy has been marred somewhat by star Jeffrey Tambor's abrupt departure from the show after misconduct allegations, Amazon's "Transparent" was a groundbreaking depiction of gender identity during its run from 2014 to 2019. Inspired by their own parent coming out as transgender, Joey Soloway created the show, offering a nuanced look at not just trans issues, but also deep questions about Jewish faith, polyamory, sibling dynamics, and much more. Just like "Shameless," it showed the many different forms love can take, and covered a lot of emotional ground in just four seasons.
"Transparent" ultimately wrapped up with a feature-length musical finale in lieu of an entire fifth season after Tambor's departure, so it didn't have as much time as "Shameless" to tell its story. But its pioneering use of transgender and non-binary crew wherever possible, as well as transgender consultants for the lead role, mark it as one of the most original and unique shows of this age of television.
Maid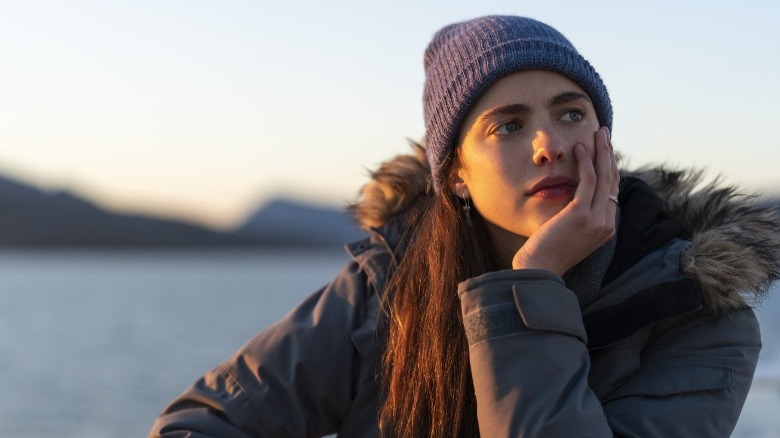 Netflix
Though their methods aren't always moral or above-board, the Gallagher family shows just how hard it can be to scrape together enough to survive day to day. Netflix's recent miniseries "Maid," based on the bestselling memoir of a single mother, makes this struggle even more detailed and deeply felt. In fact, John Wells, the developer and executive producer of "Shameless," also produced "Maid" and directed four of the episodes. Margaret Qualley stars as Alex, who leaves an abusive boyfriend and gets a job cleaning houses to (barely) make ends meet. She begins an arduous journey of balancing care for her 2-year-old child with the demands of full-time work, as well as navigating the labyrinth of red tape and legal forms she needs to qualify for government aid.
"Maid" eventually makes the oppressiveness of Alex's situation start to warp the reality that we see: the forms she has to fill out start to include personally judgmental terms, and when she's in court fighting for custody of her daughter, all the judges and lawyers just say the word "legal" over and over. And the most anxiety-inducing touch for anyone who's ever worried about overdraft fees: Every time she makes a purchase, Alex's bank account balance appears onscreen. 
It's Always Sunny in Philadelphia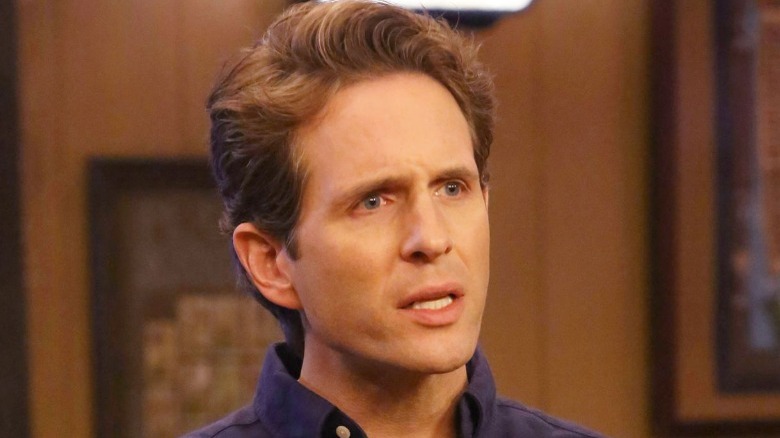 FX
"It's Always Sunny in Philadelphia" is basically a gonzo, consequence-free version of "Shameless." Obviously, it's a sitcom with a radically different tone than "Shameless" had as a premium cable drama, but it's easy to imagine the shows exist in the same world. Characters on "It's Always Sunny" are rife with crazy schemes, drug addictions, and unhealthy romantic obsessions that would all be right at home on "Shameless," but each episode more or less resets to the status quo, with the exception of some sublime running gags.
Both shows have selfish, absentee father figures named "Frank," and prominent storylines where characters fake their own deaths. And at 15 seasons and counting, "It's Always Sunny" should keep you steeped in "Shameless"-like mayhem for a good long while if you haven't made the plunge before.
Years and Years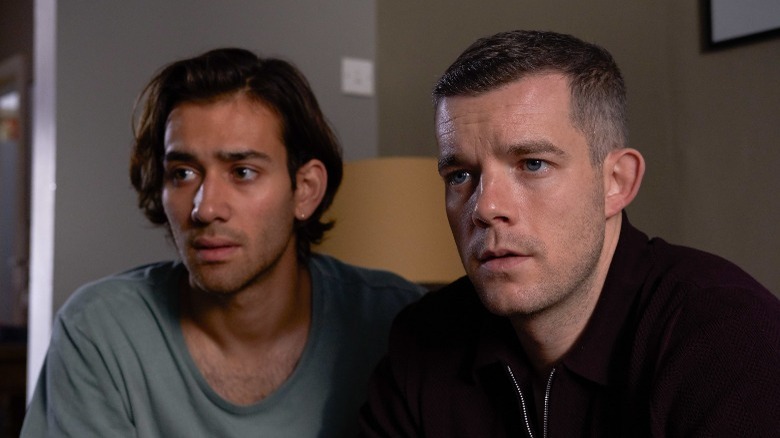 HBO
If you'd like the satisfaction of spending more than a decade with a cast of characters, but don't have the patience for another 11 full seasons, try HBO's "Years and Years," a satisfying miniseries from 2019. Just as "Shameless" traced the fallout of the late 2000s economic recession all the way through COVID-19 in 2021, "Years and Years" follows the Lyons family through 15 years of upheaval over the course of six episodes. Creator Russell T. Davies combined his penchant for human dramas like "Queer as Folk" with his speculative science fiction work on shows like "Doctor Who" to create a unique story that creates a chillingly plausible vision for the future.
A nuclear explosion, a conservative demagogue, and technology that frays at the foundations of human identity all throw the various Lyons family members for a loop. The threads of the story converge expertly as the instability in the world comes between them in very personal ways. It's a story that's only grown more relevant as we all live through an ongoing global crisis and rising technological isolation.
Atlanta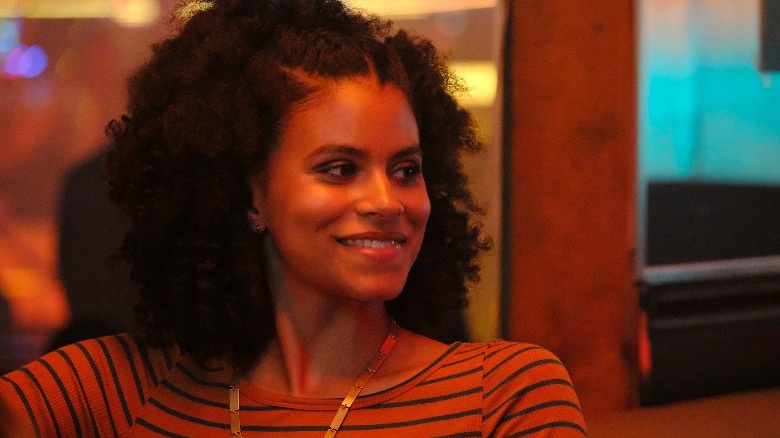 FX
Few characters are more aptly named than Donald Glover's main character "Earn" Marks, who is perpetually dealing with poverty and outright homelessness. He convinces his cousin, an up-and-coming Atlanta rapper named "Paper Boi," to let him be his manager, and even with occasional strokes of luck, is always on a Kafkaesque quest for stability. He takes his girlfriend Van out for dinner, only to be upsold back into insolvency by the restaurant at every turn. He tries to trade his phone in for some quick cash, only to be suckered into a series of barters for a sword and then a pit bull.
"Atlanta" quickly expands into a roaming, unpredictable show that follows any of the main cast on their own surreal journeys. It seamlessly includes a fictional network that's much like "B.E.T.," with its own hilarious fake commercials, and magical realist elements like an invisible car. No matter what absurd turns the show takes, however, it retains a real sense of authenticity and place, and keeps its characters rooted in quiet desperation to make ends meet as they find themselves.
Lodge 49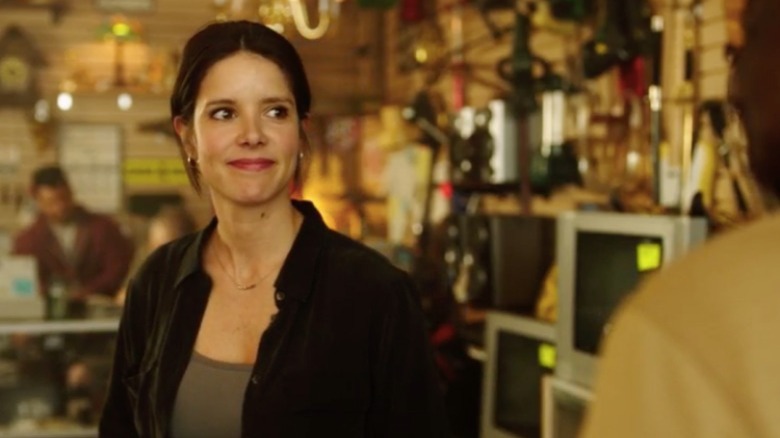 AMC
The characters in "Lodge 49" bounce between temp jobs, multi-level marketing schemes, and the pawnshop in an endless carousel of debt. Set in sunny Long Beach, California, "Lodge 49" is about twin siblings Sean and Liz Dudley, both adrift financially and emotionally after the sudden death of their father. In true "Shameless" deadbeat fashion, Dad's parting gift to them was a failing pool-cleaning business and a mountain of debt. They soon lose both the family home and the family storefront. Though it focused less on the depraved edges of human behavior, "Lodge 49" deals with a similar sense of impending disaster as it follows the Dudleys from station to station in life.
What softens the sharp edges of poverty and struggle is community. Instead of The Alibi Room of "Shameless," "Lodge 49" has Sean Dudley stumble into a chapter of the fictional "Benevolent Order of the Lynx," a Mason-like society based in community service and ancient traditions. Eventually, in meeting the other down-and-out characters who are part of the Lodge, our heroes are drawn into a bizarre quest to Mexico for ancient scrolls that may contain the key to unlocking Bitcoin. But "Lodge 49" isn't about the destination — just like "Shameless," where the chemistry between the characters and the sense of community and place are more important than which character ends up where. "Lodge 49" was unjustly canceled after two seasons, but its spirit will stay with you like an old friend you've known your whole life.