The Criminal Minds Star You Missed In The Hunger Games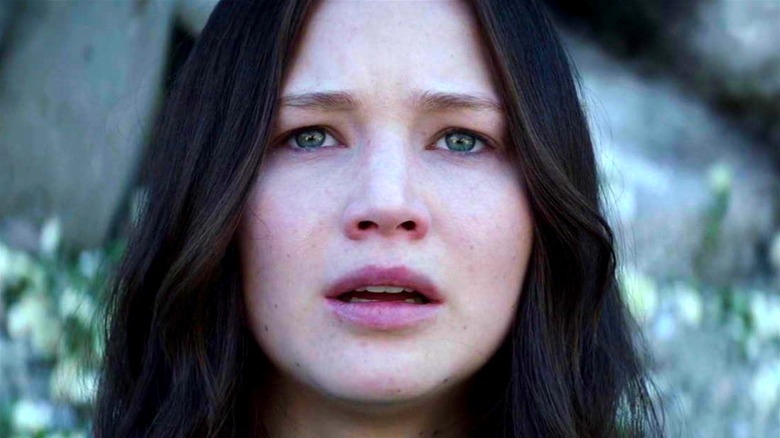 Lionsgate
With four movies in total and an expansive storyline filled with many different characters, it's to be expected for fans of "The Hunger Games" to forget a few characters here and there. On top of that, some characters are so transformative — like Elizabeth Banks as Effie Trinket — that you can barely recognize the actor who plays them. Alongside Banks, the "Hunger Games" franchise features many talented actors. While Jennifer Lawrence, Josh Hutcherson, and Liam Hemsworth lead the show, there are also people like Sam Claflin, Natalie Dormer, Woody Harrelson, Amandla Stenberg, and Jack Quaid in supporting parts, many of whom you know from other major roles in television and film. 
In fact, there is one actress from the films who has slowly built up a major career on television, with substantial roles in series like "Empire," "The Tomorrow People," and "Criminal Minds," and that's Meta Golding. In the latter series, Golding plays Jordan Todd, an FBI agent who is introduced in Season 4 as a temporary replacement in the BAU while Jennifer "JJ" Jareau (A.J. Cook) is on maternity leave. After facing intense trauma due to the nature of the BAU's work, Jordan decides to return to her position with Counter Terrorism at the end of the season.
While Golding's role on "Criminal Minds" was short, it was definitely memorable, and so was her performance in the "Hunger Games" film series. But who does Golding play?
Meta Golding played the vicious Enobaria in The Hunger Games
Meta Golding, who plays a talented FBI agent in "Criminal Minds," pulls a 180 in "The Hunger Games: Catching Fire," when she first appears as her bloodthirsty character, Enobaria. In case you've forgotten, Enobaria is from the elite District 2 and participates in the third Quarter Quell 75th Hunger Games, which forces previous Hunger Games' victors to fight against each other in another battle to the death.
Enobaria's trademark feature is her sharp, canine-like teeth that she uses to scare and hurt her opponents. The character is known for using her teeth to rip out a competitor's throat during the 62nd Hunger Games, which Enobaria won (via The Hunger Games wiki). After her victory, she has them sharpened down to be even more dangerous. In the 75th Hunger Games, Enobaria is one of the few who survives and is taken back to the Capitol, and after the death of President Snow (Donald Sutherland), she joins the rebels. 
With such great acting and a unique character design, it's no surprise some people don't recognize Golding's turn as Enobaria in "The Hunger Games."