The License Plate That Cost American Pickers $1,000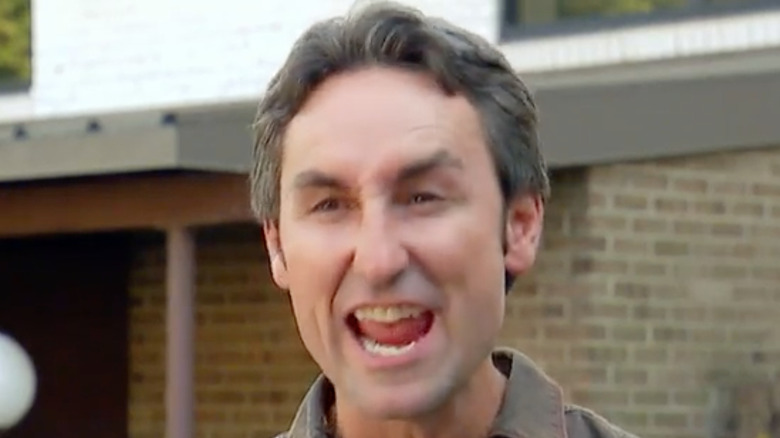 History
After more than 20 seasons on History, the stars of "American Pickers" have developed as much of a reputation for their willingness to dig through clutter as they have their tough bargaining skills. However, one Season 4 episode may have fans of the series questioning whether original series stars Mike Wolfe and Frank Fritz actually know what they're doing (Spoiler alert: yes, they do). In an episode cleverly titled "Automative Archeology" (a clear play on the name of Mike and Frank's shop, Antique Archaeology), the duo travel to Fowlerville, Michigan, a small town that lies about 60 miles northwest of Detroit. Here is where they meet Toney Thomas, a man with enough stuff to fill an entire barn (via Autoweek).
Like they usually do, Mike and Frank take their time looking for whatever they can find, hoping for treasure amongst piles of junk. After surveying the area and buying a handful of items, Toney brings out an old leather license plate that he says "is one of the rarest ones you'll ever see." Mike is taken aback at the item and ultimately agrees to buy it for $1,000. Of course, this leads any reasonable person to ask the question: Why would Mike agree to spend so much money on a license plate?
Leather license plates are very rare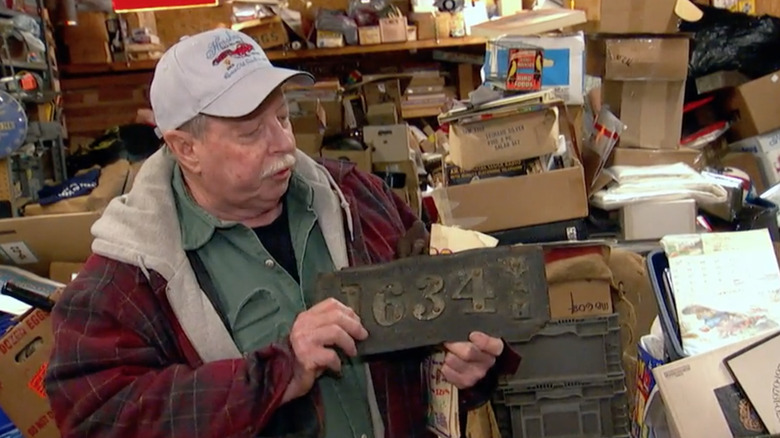 History
According to an interview with license plate expert Steve Hammatt on Jay Leno's Garage, the rules for license plates were a bit less stringent before all 50 states started issuing physical license plates directly. The routine used to be that the government would issue a number for the vehicle and then instruct each vehicle owner to ensure that the number was, in some manner, displayed. 
This system led to all manner of confusion as individuals chose to show the numbers in different ways, with some even choosing to just write it on the vehicle itself. One popular method of building a license plate in the early 20th century was by having a tradesman make it out of leather. Of course, modern license plates are made from aluminum and have been for quite some time, making any original leather license plates very valuable as antiques of a bygone era.
This is part of the reason that Mike Wolfe on "American Pickers" is willing to spend so much money on Toney Thomas' license plate. Toney is also able to provide a definitive paper trail that leads back to the 1908 Oldsmobile on which the leather license plate was originally adorned, giving the item even more value. After buying it for $1,000, Mike is able to resell it for $1,200, earning himself and the rest of the Antique Archaeology crew a $200 profit.