Simon Pegg, Nick Frost Announce Production Company, New Movie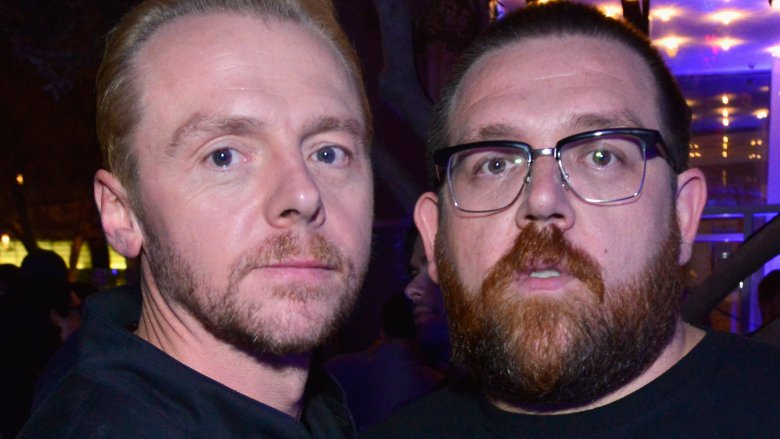 Getty Images
The dynamic duo join forces once again.
As reported by Deadline, British actors and screenwriters Simon Pegg and Nick Frost have started the film and television production banner Stolen Picture. But that's not all. Pegg and Frost also announced that Stolen Pictures' first film will be Slaughterhouse Rulez, a comedy-horror directed by Crispian Mills (A Fantastic Fear of Everything) from a script he penned with Henry Fitzherbert (Love & Friendship). The upcoming pic marks Pegg and Frost's return to the genre.
Deadline provided a synopsis for the film:
"Slaughterhouse Rulez is set in an elite boarding school where boys and girls are groomed for power and greatness and they're about to meet their match. The story's hero, Don Wallace, is a wide-eyed new boy from a modest background forced to navigate a baffling new world of arcane rules and rituals, presided by sadistic sixth formers. Matters of status are aggressively enforced and conversation with school goddess Clemsie, are strictly forbidden. But this ancient and ordered world is about to be shaken to its foundations–literally–when a controversial frack site on prize school woodland causes seismic tremors, a mysterious sinkhole and an unspeakable horror is unleashed. Soon a new pecking order will be established as pupils, teachers and the school matron become locked in a bloody battle for survival."
Stolen Picture is based in the U.K., and will reportedly seek out projects for international audiences and "produce a variety of scripted entertainment" that aligns with the duo's "unique brand."
Fans likely recognize Pegg and Frost from their film collaborations Shaun of the Dead, Hot Fuzz, and The World's End, all of which are directed by Edgar Wright. The bundle of flicks has become known as the "Three Flavours Cornetto" trilogy. Pegg and Frost also co-wrote and starred in the 2011 alien comedy Paul, which also features Seth Rogen, Bill Hader, Kristen Wiig, and Jason Bateman.
No additional details on Slaughterhouse Rulez have been given, but we'll keep you posted as we learn more. In the meantime, take a look at some other actors who always appear in each other's films.