The Period Mystery Hidden Gem That You Can Find On Hulu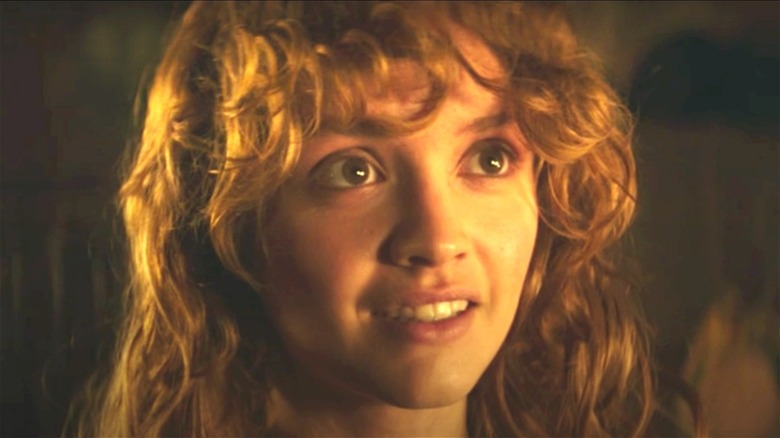 Lionsgate/Hulu
If you love murder mysteries that are set in the past and imagine real-life figures in fictional situations, there's one hidden gem of a movie from 2016 that you should probably check out.
The film in question is set in Victorian London shortly before the beginning of Jack the Ripper's reign of terror, when a different, fictional serial killer is already preying on the people of the impoverished Limehouse district. Over the course of its runtime, the film follows Scotland Yard Inspector John Kildare (Bill Nighy), a dogged detective trying to catch the movie's central killer, as his investigation results in him crossing paths with a music hall star accused of poisoning her husband on the same night as one of the Limehouse murders.
Equipped with evidence that narrows his investigation down to four suspects, including the previously mentioned music hall star, an actor and comedian, a novelist, and a philosopher, Nighy's Kildare must race against the clock and try to uncover the identity of his target before it's too late.
That's the basic plot of "The Limehouse Golem," an underrated murder mystery that deserves more attention than it got when it was initially released. Fortunately, it's available to stream now on Hulu.
The Limehouse Golem is a gripping Victorian-era mystery
Directed by Juan Carlos Medina, "The Limehouse Golem" boasts an impressive, all-star cast, including Bill Nighy ("Love Actually") as John Kildare, Olivia Cooke ("The House of the Dragon") as Elizabeth Cree, Douglas Booth ("Jupiter Ascending") as Dan Leno, Morgan Watkins ("Kingsman: The Secret Service") as George Gissing, and Henry Goodman ("Captain America: The Winter Soldier") as Karl Marx. The film, which is based on the 1994 novel "Dan Leno and the Limehouse Golem" by Peter Ackroyd, is written by Jane Goldman, a screenwriter who has worked on the "Kingsman" franchise (via IMDb) but may be best known now for writing the "Game of Thrones" prequel that HBO chose not to move forward with.
"The Limehouse Golem" was, unfortunately, not given a wide theatrical release in America when it first debuted and only made around $2 million worldwide at the box office (via BoxOfficeMojo). However, its paltry box office performance was more the result of poor marketing and distribution decisions than a sign of the film's quality. In fact, "The Limehouse Golem" currently holds a 74% critics score on Rotten Tomatoes, and is a uniquely effective thriller in its own right.
If you enjoy movies like "From Hell" and shows like "The Alienist," you should definitely check out "The Limehouse Golem."